This Week in Music, September 24, 2013: Elton? Don't Shun Him, He's Still a Piano Player.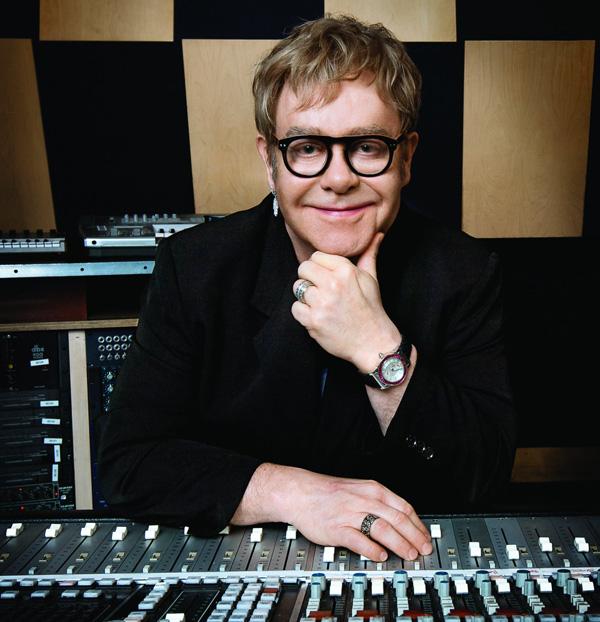 Elton John: The Diving Board
New release (Capitol/Universal; tour dates)
"I realized that I had to go back to go forward again. I needed to strip away the excesses and get back to the core of what I do as an artist. That's what The Diving Board represents. I'm incredibly excited about every aspect of this album: the performances, T Bone Burnett's production, Bernie Taupin's lyrics, and the songs we've created. The Diving Board is the album I've been waiting to make for decades."
Not so fast, Reg.
Before anyone calls Elton John's 30th studio album a comeback, they should take into account the fact that the pianist has actually been coming back since 2001, when he released the excellent Songs from the West Coast. Between then and now, he issued three other commendable efforts: Peachtree Road (2004), The Captain & the Kid (2006), and his collaboration with Leon Russell, The Union (2010).
Admittedly, though, The Diving Board is different. Producer Burnett, who saw Elton at the Troubadour in 1970 during his week-long American debut, wanted to re-create the vibe of that memorable stand's piano-bass-drums lineup. Good news: T Bone has largely succeeded. The performances are eminently natural, with Elton's piano dominating the sound the same way it did more than 40 years ago. Of course, his singing voice is huskier now, but listeners should be used to that by now.
It's a little more difficult to accept (T Bone's? Elton's?) decision to bypass bassist Matt Bissonette and drummer Nigel Olsson, members of the current touring band, in favor of Raphael Saadiq and Jay Bellerose—particularly since Olsson anchored the 1970 band. (Troubadour bassist Dee Murray died in 1992.) Saadiq and Bellerose are reliable but sometimes a bit sedate, as on the double bass and brushed drums of "Oscar Wilde Gets Out," a recording that builds but never seems to climax. The trio format also means the exclusion of guitar, other than some welcome electric slide on a couple of numbers (except, again, it's played by Doyle Bramhall II, not the veteran-and-ongoing Davey Johnstone).
Listening to an album that has but two songs with an extra bit of pep—"Take This Dirty Water" and "Mexican Vacation (Kids in the Candlelight)"—you might find yourself wishing the musicians would occasionally crank it up and let 'er rip. Alas, such is not The Burnett Aesthetic, even though the producer himself has said he wanted to channel the "wild intelligence" of the Troubadour shows. If you're looking for something sorta wild like that and not just Wilde, I recommend cueing up "Birds" and "The Wasteland" from West Coast.
But enough. Time to accentuate the positive—which is easy to do, because The Diving Board is another fine latter-day Elton album.
Ha! Surprised you there, didn't I?
Even considering the high quality of his recent track record, Elton at 66 surprises us with artistry reminiscent of Elton at 26. There's the delectable tunefulness of "A Town Called Jubilee," "The Ballad of Blind Tom," and "Home Again." There's the beautiful, long-line construction of "The New Fever Waltz." And there's the joy of reveling in the reverie that closes "Voyeur."
Always, Elton is nimble on the keys. Especially engaging: the funky jumps he gradually adds to the verses of that "Jubilee" town, and his splendid solo there, too. It's a distinct pleasure to be able to refocus on Elton's playing, whether via the songs just mentioned or the backed-only-by-piano "Oceans Away" or the three short instrumental interludes—the best of which, "Dream #3," is a modest dazzler. Meanwhile, Taupin's reportorial-cum-reflectional lyrics are customarily comfortable, with that "Blind Tom" ballad coming across like another story from Goodbye Yellow Brick Road.
It would be nice if even a small fraction of the millions of Elton fans who scooped up albums like that one would take a leap of faith for The Diving Board. Put another way: Could we get a third of his 3.6 million Facebook friends to like him enough to buy his new music? At an age when many of his contemporaries have either faded away or burned out, Elton John is still composing, singing, and playing. Still actually creating something. And now, much more so than in some previous decades, he's sounding like Elton John again.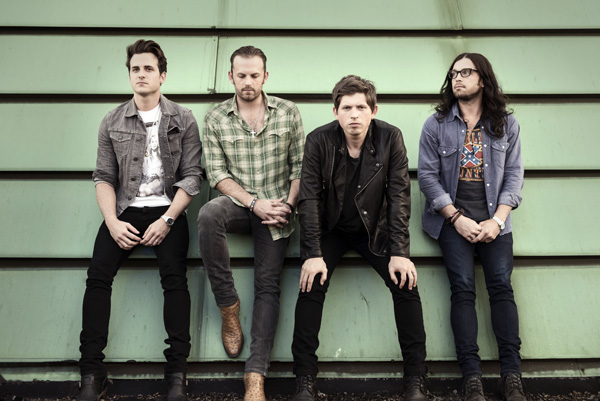 Kings of Leon: Mechanical Bull
New release (RCA; tour dates)
Photo by Dan Winters
It's good to realize there are bands still around that know something about performance dynamics. Take, for example, Kings of Leon and "Supersoaker," the opener here. When the Followill clan begins to play, the song is already drenched in tense, jittery guitars. Then the sound airs out a bit for the start of the first verse, until the track gets saturated again. But just when you expect the band to dive headlong into the chorus, almost everything drops away to allow vocalist Caleb to sing two crucial lines before the actual chorus arrives. And later, when it's supposedly time for the Big Guitar Solo, the band instead takes a mellow, pointillistic break.
Clearly, a lot of thought went into the arrangement of that track. Same goes for the album as a whole. Other examples to take: the suspense in the slowburn of "Beautiful War," the clucking verses of "Temple," the circular picking on "Wait for Me" and "Comeback Story," the nifty interplay between bassist Jared and drummer Nathan on "Family Tree" and "Tonight," the space in "Rock City" that enables Caleb to fully emote and lead guitarist Matthew to scratch out three short but tingling themes/solos.
Some of the credit should go to Angelo Petraglia, who has co-produced every album since Because of the Times. At the helm on his own this time, he has basically become the band's fifth member, and it's an understatement to say he's in tune with the ebb and flow, with the push and pull of the guitar strings.
Not that Mechanical Bull never goes balls-out: One listen to "Don't Matter" and "Coming Back Again" will leave you reelin' from those rockers. Still, these guys are Kings because they know how to handle their fire with finesse.
Sting: The Last Ship
New release (Cherrytree/Interscope/A&M; live residency)
Photo by Frank Ockenfels
When it comes to pop/rock musicians trying to co-create musicals for Broadway, few enjoy the success that Duncan Sheik had with Spring Awakening and that Cyndi Lauper is having with Kinky Boots. Just ask John Mellencamp, whose circuitous route with Ghost Brothers of Darkland County might never actually reach the Great White Way. Or ask Bono and The Edge about their experiences with Spider-Man: Turn Off the Dark, or Paul Simon about The Capeman. (On second thought, maybe don't ask them.)
The prospects for The Last Ship—scheduled for a Chicago tryout next summer before landing on Broadway in the fall—would seem to be bright. The director is Joe Mantello, who won both a Drama Desk Award and an Outer Critics Circle Award for Wicked. The writers of the musical's book are Brian Yorkey, who with Tom Kitt received the Pulitzer Prize for Drama for Next to Normal, and John Logan, who won a Tony for Best Play for Red and has also written or co-written screenplays like Gladiator, Hugo, and Skyfall. The choreographer is Steven Hoggett, fresh from Once and American Idiot.
And then, of course, there's Sting, who wrote the music and lyrics, previewed on this album. The idea for the musical had its genesis in his 1991 release, The Soul Cages, but the 12 songs here are new, with the title concept of The Last Ship signaling the end of the shipbuilding industry in the Newcastle area of England. To quote the press materials, Sting is "drawing upon his memories of growing up in the shadow of the Swan Hunter shipyard in Wallsend. His personal reminiscences illuminate universal truths—the complexity of relationships, the passage of time, and the importance of family and community—to form an affecting, complex parable for our modern times."
Affecting? Yes. Complex? Not too much, thankfully. Over the years, there has always been the fear that when Sting is in serious-composer mode, his art songs will turn out to be excessively arty for art's sake. But that's not the case with The Last Ship. Presumably mindful of the need to connect with musical-theater audiences, he has created a batch of tunes that speak straight to the heart while entertaining the mind.
The lyrics of the title track open the album by segueing miraculously from Mary Magdalene arriving at the empty tomb of Jesus to "the roar of the chains and the cracking of timbers . . . as a mountain of steel makes it way to the sea." From there, "Dead Man's Boots" has a father trying to bestow his working ways upon his son. "And Yet" explains the "strange magnetic pull" of the protagonist's hometown. "August Winds" blends the changing of seasons with the comings and goings of boats. Each track on the album not only reveals its place in the musical but also proves it can stand on its own, from the flickering-torch song of "Practical Arrangement" to the delicate waltz of "The Night the Pugilist Learned How to Dance."
The rhythms and tones of chanteys are always suggested, until they come to the surface for "Ballad of the Great Eastern" and then burst into life for "What Have We Got?" That would seem to be a fitting place to end this saga, but before a reprise of the title track, Sting serves up two of the best pieces he has ever written: the grand, haunting "I Love Her but She Loves Someone Else" and the right-to-die plea "So to Speak."
I, for one, am eager to see how all of this will be fleshed out onstage with the team of Mantello, Logan, Yorkey, and Loggett. In the meantime, as an album that deftly delivers olde English folk song with a popular-music sensibility, The Last Ship is another high-water mark in the career of Wallsend's Gordon Sumner.
Other new releases
Icona Pop: This Is . . . Icona Pop
(Artist Company TEN/Big Beat/Atlantic; photo above by Frederik Etoall)
Just how ubiquitous is "I Love It"? Even Cookie Monster has "covered" it. (Observe.) Not only that, but the track appears on both albums by the duo of Caroline Hjelt and Aino Jawo: Icona Pop, issued last November in their native Sweden, and now the international release This Is . . . Icona Pop, which also borrows "We Got the World" and "Ready for the Weekend." Otherwise, This is new, and it's good to hear such relatively grown-up tracks as "Girlfriend," "Just Another Night," "Hold On," and "Light Me Up," all of which are much better than being subjected to the Chipmunk vocals on "Weekend." Throughout—speaking of iconic pop—the music here is close to what the female half of ABBA would sound like if they binged on Krispy Kremes and became dancing, cheerleading electroqueens. Advisory: Listening to this album on headphones may cause vertigo. But then, why would you be listening on headphones? Just let it blast, in the club or the bedroom.
WHAT TOOK YOU SO LONG? FIRST STUDIO ALBUM IN . . .
Mazzy Star: Seasons of Your Day (Rhymes of an Hour) . . . 17 years
Clannad: Nádúr (ARC) . . . 15 years
Cher: Closer to the Truth (Warner Bros.) . . . 12 years
WHAT'S THE HURRY? SECOND RELEASE THIS YEAR
Alan Jackson: The Bluegrass Album (ACR/EMI Nashville)
SOME OTHER WELL-KNOWN NAMES
David Bromberg Band: Only Slightly Mad (Appleseed)
Drake: Nothing Was the Same (Republic)
Dream Theater: Dream Theater (Roadrunner)
Sammy Hagar & Friends: Sammy Hagar & Friends (Frontiers)
Yoko Ono/Plastic Ono Band: Take Me to the Land of Hell (Chimera)
INDIE STUFF
Au Revoir Simone: Move in Spectrums (Instant)
Deer Tick: Negativity (Partisan)
Lovers: A Friend in the World (Badman)
Noah and the Whale: Heart of Nowhere (Caroline)
Frankie Rose: Herein Wild (Fat Possum), former Dum Dum Girl, Vivian Girl
Nik Turner: Space Gypsy (Cleopatra)
BONES ABOUT IT
Chvrches: The Bones of What You Believe (Glassnote), pronounced "Churches"
Sarah Jarosz: Build Me Up from Bones (Sugar Hill)
SOUTHERN ROCK AND BEYOND
Gov't Mule: Shout! (Blue Note)
Ha Ha Tonka: Lessons (Bloodshot)
THE WORLD
The Silk Road Ensemble with Yo-Yo Ma: A Playlist Without Borders (Sony Masterworks)
Rokia Traoré: Beautiful Africa (Nonesuch)
TRIBUTES
Glee Sings the Beatles (Columbia)
Neal McCoy: Pride—A Tribute to Charlie Pride (Slate Creek)
Venissa Santí: Big Stuff—Afro-Cuban Holiday (Sunnyside), Billie Holiday, that is
Various Artists: Crucible—The Songs of Hunters & Collectors (Liberation)
SOUNDTRACKS
Metallica: Through the Never (Blackened)
Various Artists: Muscle Shoals (Republic)
DVDs
Black Label Society: Unblackened (Eagle Vision), also on Blu-ray
Bryan Ferry: Live in Lyon (Eagle Vision), also on Blu-ray
Green Day: ¡Cuatro! (Reprise)
The Smashing Pumpkins: Oceania, Live in NYC (UMe), also on Blu-ray 3D
Allen Toussaint: Songbook (Rounder), live at Joe's Pub, CD+DVD Deluxe Edition
FOR YOUNGSTERS (AND OLDER)
Lloyd H. Miller: S.S. Brooklyn (lloydhmiller.com), historical
Mister G: ABC Fiesta (Coil; mistergsongs.com), bilingual
Various Artists: Raise a Record (Rogue Island), benefit for hospitalized children
JAZZ
Spyro Gyra: The Rhinebeck Sessions (Crosseyed Bear)
CLASSICAL
Brahms Beloved (Telarc), Symphonies Nos. 2 and 4, with Clara Schumann lieder
Mozart: The Magic Flute (shop.berliner-philharmoniker.de/zauberfloete.html), DVD, Blu-ray
Antonio Pompa-Baldi: The Rascal and the Sparrow—Poulenc Meets Piaf (Steinway & Sons)
Yoshiki: Yoshiki Classical (Ingrooves)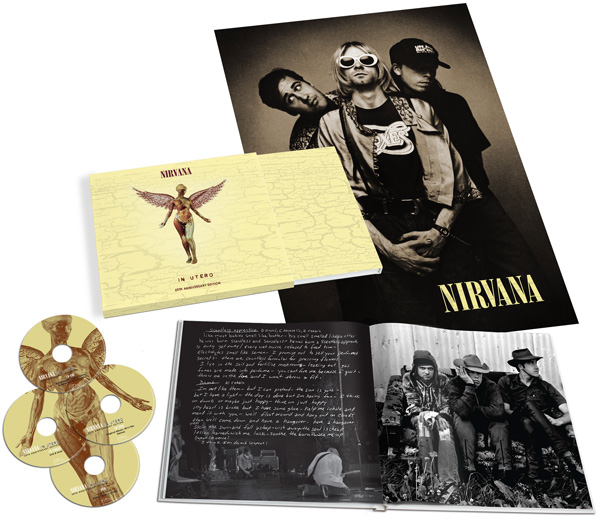 Nirvana: In Utero
Reissue (Geffen/UMe)
It's better than Nevermind. It also matches Bob Mould's Black Sheets of Rain in both power and despair. Yet listening to Nirvana's In Utero is the very essence of catharsis.
You can purge all over again with this 20th Anniversary Super Deluxe Edition. The first two CDs expand on the original album with demos, B-sides, compilation tracks, and alternate mixes (done then and now). The third CD and the DVD have the 17-track Seattle performance Live and Loud, with the DVD adding four rehearsals, a Director's Cut of the "Heart-Shaped Box" video, and seven bonus live segments from various locations. Also inside: Kurt Cobain's handwritten lyrics, a letter from producer Steve Albini to the band, and liner notes by Bobcat Goldthwait.
Other reissues and archival releases
The Waitresses: Just Desserts—The Complete Waitresses
(Omnivore; photo above by George DuBose)
On two CDs: "I Know What Boys Like," "Christmas Wrapping," "Square Pegs," and everything else, including all of 1982's Wasn't Tomorrow Wonderful? and (the EP) I Could Rule the World If I Could Only Get the Parts, 1983's Bruiseology, and four bonus tracks.
The Band: The Last Waltz (Rhino), reissue of four-CD box set
Ray Charles: Ray Charles Forever (Concord), remixed/remastered hits
Aretha Franklin: Who's Zoomin' Who? (Funky Town Grooves/Razor & Tie), Deluxe Edition
Gary Graffman: The Complete RCA and Columbia Album Collection (Sony Classical)
Lenny Kravitz: Are You Gonna Go My Way (Virgin/UMe), Deluxe Edition
Tom McDermott: Bamboula (Mink), collection curated by Van Dyke Parks
Elliott Murphy: Lost Generation & Night Lights (Raven), two albums on one CD
And from Sundazed, on CD or 180-gram LP:
Captain Beefheart and His Magic Band: Safe as Milk (mono)
The Mamas & the Papas: The Mamas & the Papas (mono)
The Mamas & the Papas: Deliver (stereo)