This Week in Music, September 17, 2013: Costello wants to play with the Roots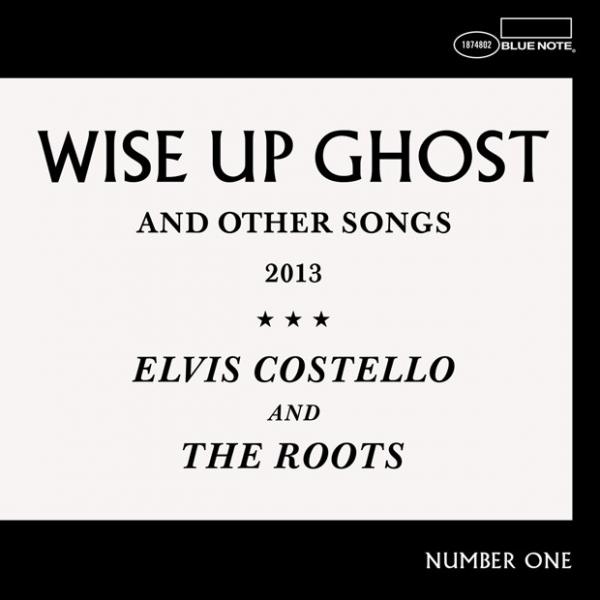 Elvis Costello and the Roots: Wise Up Ghost
New release (Blue Note; Costello tour dates)
Photo of Elvis and ?uestlove by Danny Clinch
With its trebly, drum-slapping, relatively lo-fi production, Wise Up Ghost actually sounds most like My Aim Is True, among all other Elvis Costello albums. The pre-Attractions backing band on that record was the California-to-London country outfit Clover. Here, it's Jimmy Fallon's house band, the Philadelphia-to-Manhattan hip-hop crew the Roots, led by drummer Ahmir "?uestlove" Thompson, who's also the musical director of Fallon's Late Night.
Costello, Thompson, and Steven Mandel are credited with the production and, in nearly every case, the composition of the songs. In keeping with the hip-hop-flavored situation, they incorporate samples from some of Costello's past recordings. Much more prominently, though, they borrow old Costello lyrics, to the point where four of the songs are basically self-covers with new names: "Refuse to Be Saved" (alias "Invasion Hit Parade" from Mighty Like a Rose), "Stick Out Your Tongue" ("Pills and Soap" from Punch the Clock), "Wake Me Up" ("Bedlam" from The Delivery Man, with a refrain from the title track of The River in Reverse), and "(She Might Be a) Grenade" ("She's Pulling Out the Pin," another Delivery song).
Of course, the self-covers have mostly new music as well as new names — and throughout, the Roots ripple supremely, from the delicious syncopations of "Walk Us Uptown" to the slow soul of "Tripwire." That said, Thomas is no Pete Thomas. Furthermore, I'm not always happy with the strings; on "Sugar Won't Work," particularly, their appearance in the chorus (along with Costello's over-crooning) isn't in keeping with the verses (whose guitar and rhythm section point and poke like the best of the Meters). These are relatively small drawbacks, however, for an album that celebrates the easier side of early '70s funk and R&B — an era that, after all, occurred only a few years prior to My Aim Is True.
Besides, the album's three best tracks are home runs. First there's "Cinco Minutos Con Vos," one of the places where the strings really work, because everything else is here, too: deep bass groove, sweet horns, heavy wah-wah guitar, and an exquisite, semi-quivering duet vocal from La Marisoul, lead singer of the L.A.-based Mexican-American band La Santa Cecilia. Then there's the deliciously disturbing title track, which begins with an ominous descending piano figure that's eventually joined by stinging guitar before the full Roots enter with a buzzy, jazzy backdrop, resulting in a cinematic, longform creation that's a distant relative to something like "I Want You" from Blood & Chocolate. And last but not least, the album closes with "If I Could Believe," a primo Costello ballad done straight — all the better to feature poignant lyrics like these:
If I could believe
Two and two is five
Two wrongs make a right
Well then, man alive
Lost in my insolence and sneers
That might sound like prayers
If I could believe
Richard X. Heyman: X
New release (Turn-Up)
Photo by Nancy Leigh
Yes, it's his middle initial. It also represents his 10th solo recording. But as those of us who've been following Richard X. Heyman for more than 20 years now have come to expect, X marks the pop. Not just any old pop, mind you. This is the real thing: vintage Beatlesque/Byrdsian bonbons that will leave you saying, 'Yes, they do make 'em like they used to!' "
At least Heyman does (and all by himself, playing every instrument). With the 2011 release of his ambitious double CD, Tiers/And Other Stories, he had certainly made enough to deserve a long break. But here he comes again, and if his new album can be faulted for anything, it would be this: At 15 songs, it has a little too much of a very good thing. Yet there are so many details to love along the way: the restless piano on "Please Be Mindful," the eloquence of the simple guitar solo on "Somebody Has Finally Found Me," the humble tambourine that spurs the choruses of "Mourning." And for listeners who might feel they've had their pleasant fill when they're, say, 10 songs into the 15, all I can say is: That's a shame, because you'd miss Track 11, "If You Have to Ask," as perfect a confection as you could ever hope to hear.
Other new releases
Potty Mouth: Hell Bent (Old Flame; photo above by S.C. Atkinson)
This isn't the utter punk blast you might expect from a band called Potty Mouth and a debut album called Hell Bent. Instead, the sound is leavened with air, dissonance, and single-note guitar lines — among some of the elements that have distinguished the best all-female (or female-dominated) alt-rock bands over the years, from Throwing Muses to Sleater-Kinney to Erase Errata. However, these gals could use more time in their Western Massachusetts woodshed. Lead guitarist Phoebe Harris, rhythm guitarist Abby Weems, bassist Ally Einbinder, and drummer Victoria Mandanas are all decent players (even if Mandanas overrelies on her ride cymbal), but almost every track has the same skipping rhythm and rising/falling chord structure. And over the course of a full album, Weems's inexpressive vocals ultimately fade to blur. Still, this Potty has potential. Here's hoping the follow-up takes a cue from the instrumental and vocal dynamics of the superior closing track, "The Better End."
WHAT TOOK YOU SO LONG? FIRST STUDIO ALBUM IN . . .
Starship: Loveless Fascination (Loud & Proud/Roadrunner)
. . . 24 years, by the Mickey Thomas version of the band
Sebadoh: Defend Yourself (Joyful Noise)
. . . 14 years
Berlin: Animal (Something-Music/Universal)
. . . 8 years, with sole original survivor Terri Nunn
Jonny Lang: Fight for My Soul (Concord)
. . . 7 years
DJs/PRODUCERS
Avicii: True (Island)
Forest Swords: Engravings (Tri Angle)
Trentemøller: Lost (In My Room)
"POP" AND BEYOND
Grouplove: Spreading Rumours (Canvasback/Atlantic)
Islands: Ski Mask (Manqué)
MGMT: MGMT (Columbia)
múm: Smilewound (Morr)
Someone Still Loves You Boris Yeltsin: Fly by Wire (Polyvinyl)
THE SINGER/SONGWRITER TYPE
Bill Callahan: Dream River (Drag City)
Five for Fighting: Bookmarks (Wind-up)
Garland Jeffreys: Truth Serum (Luna Park)
Jack Johnson: From Here to Now to You (Republic)
Lori Lieberman: Bricks Against the Glass (Drive On)
Johnathan Rice: Good Graces (SQE)
Lucy Rose: Like I Used To (Thirty Tigers, U.S. edition)
Tony Joe White: Hoodoo (Yep Roc)
COVERS
Mike Doughty:
Circles Super Bon Bon Sleepless How Many Cans? True Dreams of Wichita Monster Man
Mr. Bitterness Maybe I'll Come Down St. Louise Is Listening I Miss the Girl Unmarked Helicopters
The Idiot Kings So Far I Have Not Found the Science
(Snack Bar/Megaforce)
The album title gathers together the names of 13 songs that Doughty "re-imagines" here, taken from the catalog of his former band, Soul Coughing.
Tommy Keene: Excitement at Your Feet (Second Motion)
Among the tributees: the Bee Gees, Donovan, Mink DeVille, Guided by Voices, the Rolling Stones, Television, the Who.
DUM DUM GIRL vs. DISNEY GIRL
Sisu (led by Sandra Vu): Blood Tears (Mono Prism)
Zendaya: Zendaya (Hollywood)
SINGLE-WORDED BAND NAMES NOT ALREADY MENTIONED ABOVE
Anathema: Universal (Kscope; live on CD+DVD, Blu-ray, or DVD+Blu+2-CD)
Blouse: Imperium (Captured Tracks)
Delorean: Apar (True Panther Sounds)
Placebo: Loud Like Love (UMe)
Tantric: 37 Channels (Pavement)
FORMER SCREAMING TREES MEMBERS CALLED MARK
Mark Lanegan: Imitations (Vagrant, covers)
Mark Pickerel and His Praying Hands: Tess (Candy Cross)
IN THE GARDEN OF EDEN
The Devil Wears Prada: 8:18 (Roadrunner)
Eve to Adam: Locked & Loaded (3 for 5/Sony RED)
The Naked and Famous: In Rolling Waves (Republic)
IN THE REALM OF COUNTRY
The Band of Heathens: Sunday Morning Record (BOH)
Billy Currington: We Are Tonight (Mercury Nashville)
Tim O'Brien and Darrell Scott: Memories and Moments (Full Skies)
FOR LITTLE ONES
Mr. Palindrome: Smiley Face Sticker (mrpalindrome.com)
A tunesmith who's also a wordsmith, with topics including not just palindromes but also alliteration and onomatopoeia.
JAZZ
Steve Cole: Pulse (Artistry)
Kenny Garrett: Pushing the World Away (Mack Avenue)
CLASSICAL
Renée Fleming: Guilty Pleasures (Decca)
Jonas Kaufmann: The Verdi Album (Sony Classical)
"ROOTS/JAZZ/CLASSICAL-CROSSOVER"
Sultans of String: Symphony! (Red River/Sony RED)
The Band: Live at the Academy of Music 1971
Archival release (Capitol/UMe)
Issued in 1972, Rock of Ages chronicled the Band's end-of-1971 stand in New York City, distilling the four concerts down to a double live album. That release has now been rehydrated, as it were, to create a new set of 4 CDs and 1 DVD.
Discs 1 and 2 include performances of all songs represented in the Academy repertoire. Discs 3 and 4 serve up the soundboard mix of the New Year's Eve show — "uncut, unedited, taken straight from the master recordings, and presented in full for the first time." The DVD has 5.1 versions of the tracks from Discs 1 and 2 (mixed by Bob Clearmountain) plus filmed performances of "King Harvest (Has Surely Come)" and "The W.S. Walcott Medicine Show." It all comes in a 48-page hardbound book with previously unseen photos, a reproduction of Rolling Stone's original Rock of Ages review by Ralph J. Gleason, and an essay by Robbie Robertson.
For those on a budget, the first two discs are also available as a standalone 2-CD set.
Grateful Dead: Sunshine Daydream
Archival release (Grateful Dead/Warner Bros.)
Per the press release: "On August 27, 1972, fresh off their now-legendary European tour, the Grateful Dead traveled to Veneta, Oregon, and reunited with the Merry Pranksters to throw a benefit concert for the Kesey family's Springfield Creamery. The show, which was recorded and filmed but never released, has since become the most-requested live show in Grateful Dead history."
It's now available in various configurations. The standard retail release offers 3 CDs and 1 DVD. The Deluxe Edition of that — a Dead.net exclusive, shown above — adds a bonus documentary, a 40-page booklet, and a tie-dye slipcase. (There's also a Blu-ray version of the Deluxe Edition.) Alternatively, you can opt for a 4-LP set on 180-gram vinyl or an audio-only digital download.
Other reissues and archival releases
Peter Gabriel: Live in Athens 1987 (Eagle Vision)
Standalone version (on DVD or Blu-ray) of the concert that was first released in 2012 (on CD and DVD) as part of the 25th-anniversary reissues of So. (Added here: the opening set by Youssou N'Dour and Le Super Etoile de Dakar.) Bonus DVD: the 2004 edition of Play, which featured 23 videos mixed in 5.1, primarily by Daniel Lanois.
Tift Merritt: Traveling Alone (Yep Roc)
Last year's album reappears in an Expanded Edition with an illustrated, hardbound lyric book and a bonus recording of 10 previously unissued acoustic tracks, Traveling Companion. Available on 2 CDs or 3 LPs.
Captain Beyond: Live Anthology, Official Bootleg
— Limited Edition of only 1,000 copies, on 2 CDs: 1971, 1972, and 1977
Alex Chilton: A Man Called Destruction (Ardent)
— 1995 album
Roky Erickson: Don't Slander Me; Gremlins Have Pictures (Light in the Attic)
— 1986 albums
The Alan Parsons Project: I Robot (Legacy)
— includes bonus CD with 14 tracks, 9 of them previously unissued
Various Artists: 12-12-12 The Concert for Sandy Relief (Sony)
— previously released on CD, now on DVD (no Blu-ray)
In addition, five more Pablo reissues are available in Concord's series of Original Jazz Classics Remasters:
Duke Ellington and His Orchestra: The Ellington Suites
Dizzy Gillespie, Joe Pass, Ray Brown, Mickey Roker: Dizzy's Big 4
Oscar Peterson & Stéphane Grappelli: Skol
Zoot Sims:Zoot Sims and the Gershwin Brothers
Art Tatum: The Art Tatum Solo Masterpieces, Vol. 1