This Week in Music, October 29, 2013: Arcade Fire's "Reflektor" (or, the trials and tribulations of a rock critic, part 896)
Arcade Fire: Reflektor
New release (Merge)
Photo by Guy Aroch
Readers looking for a review of the complete Reflektor, the fourth album by Arcade Fire, will have to look elsewhere. My apologies. I did try to get the music in time for this post, really I did. But here's what it's like for most rock critics in 2013:
A week or so ago, I went through publicity channels to request an early, press-only, digital copy of the album. At the time, it wasn't available.
A few days ago, word spread on the Web that "an official stream" of Reflektor was active on YouTube—the entire 85-minute double album, playing over scenes from the 1959 film Black Orpheus.
By the time I got there, the sound had been shut off. Twenty-four hours later, the picture was gone, too, replaced by a message advising: "This video is private."
Another version appeared on YouTube, supposedly, but it required you to download a file and save it to your hard drive. Sorry. Won't go there.
But wait: NPR.org has snagged the album for its First Listen platform? Well, not the studio album but a broadcast of a live performance by the band from Capitol Studios in Los Angeles. And not a performance of the full Reflektor but "highlights" only. And not occurring a day or so in advance but the night before the album's release on October 29. Perhaps you heard it. I didn't. Alas, some of us freelance critics have to hold down a part-time job, too, which is where I was during the broadcast.
Here's what, like the majority of the general public, I have heard. Five of the album's 13 tracks:
"Reflektor"—dance to dense, always catchy.
"We Exist"—hypnotic keyboard riff, grand climax.
"Here Comes the Night Time"—almost pointillistic until the big rave-up.
"Normal Person"—delirious rocker, AF-style.
"Afterlife"—richy cinematic.
And don't get me wrong: I love what I hear. But amidst all the outside stuff—the backdrop of Win Butler and Régine Chassagne's trip to Haiti, the inspirations of Orpheus and Eurydice and Kierkegaard, the recording in Louisiana and Jamaica, the co-production of Markus Dravs and James Murphy, the interactive video, the guerrilla marketing, the six-member lineup (shown above) doubled to 12 for the white/black-attired extravaganzas on Saturday Night Live—it's sometimes difficult to remember that Reflektor is an album, by a band.
Which is why I'm tending to focus on "Afterlife," for the bittersweetness of its underlying melodies, and for the creative clarity of its lyrics:
Afterlife.
Oh my God, what an awful word.
After all the breath,
and the dirt, and the fires are burnt.
And after all this time,
and after all the ambulances go,
and after all the hangers-on
are done hanging on in the dead light of the afterglow,
I've gotta know…
Can we work it out?
If we scream and shout,
till we work it out?
That's enough musical fire for me.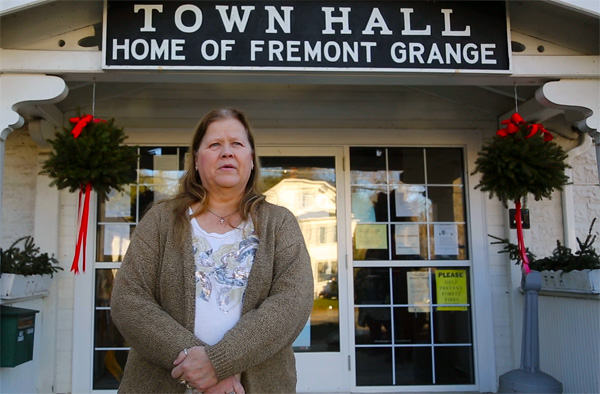 Dot Wiggin Band: Ready! Get! Go!
New release (Virus/Alternative Tentacles)
Photo by Don Mount
"There are many things I wonder!"
So begins Dot Wiggin in the liner notes for Ready! Get! Go!, her return to the music industry after 44 years. Fans of so-called Outsider Music know her as Dorothy Wiggin, who wrote "Things I Wonder," "Who Are Parents?," "My Pal Foot Foot," and the rest of the material for the Shaggs, a trio with her sisters Betty and Helen. Their only official album, Philosophy of the World, was released in 1969 (when Dorothy was 21). Rediscovered by NRBQ's Terry Adams and Tom Ardolino, it was reissued in 1980. And the rest is, if not history, at least a thing of wonder.
Last year, "lifelong Shaggs fan" Jesse Krakow asked Wiggin to attend a tribute to the band (doubling as a local benefit) at the Fremont (NH) Town Hall, site of long-ago dances where the girls played. "One thing led to another," Wiggin says, and here we have the Dot Wiggin Band, with Dorothy on lead vocals (but not guitar), backed by Krakow and others.
Not all of the songs are "new." There are re-recordings of Shaggs tracks (1969's "My Cutie" and "Love at First Sight"), songs that Wiggin had written for the band but were never recorded (1970's "Your Best Friend" and "Speed Limit 2"), and old sets of lyrics now completed with music by Krakow (1977's "The Fella with a Happy Heart," 2002's "Banana Bike"). Among the remaining seven numbers, five are Wiggin/Krakow compositions with a 2012 copyright, "Wiggin Out!" is a fitting instrumental by Krakow alone, and "The End of the World" is a perfectly fitting cover of the Skeeter Davis hit.
The danger, unsurprisingly, is that Krakow and company—grown people who know better (and play better)—may sound like they're trying to re-create (or at least pay homage to) the Shaggs' irresistible combination of innocence and incompetence. Then again, as Paul McCartney once corrected himself when he thought a solo-song-in-the-works sounded too much like the Beatles, "I was in the Beatles. Of course it's going to sound like the Beatles." Listening to Wiggin's vocals and following her lyrics, you come away with the impression that she herself hasn't changed a whit. So, of course the Dot Wiggin Band is going to sound like the Shaggs.
Anyway, it's tough to nitpick when, on "Banana Bike," Wiggin disarms you by singing, "She disappears for day-ay-ay-ay-ay-ay-ays on end." And what else can you do but admire words as direct as these, in "Your Best Friend": "When you think you've really found a friend / Prove it to yourself / Test him." And these, in "Eh":
Sometimes when I'm low, I get up
It doesn't do much good to be down…
That is not to say
I don't get dismayed
Because of course I do
But when things start going downhill
I swallow life's pill
And go "eh"
Still…still…as wonderful as it is to hear Wiggin's rolling-hill, sing-song cadences again, nothing can match the experience of getting your first kiss, or (hearing) your first Shagg.
Other new releases
DOT TOOK 44 YEARS CUZ SHE WAS A SHAGG! WHAT'S YOUR EXCUSE?
Boy George: This Is What I Do (Very Me/Kobalt, U.K. import), first originals in 18 years
John Davis: Spare Parts (Shrimper), ex-Folk Implosion member's first album in 16 years
DIFFERENT STROKES FOR DIFFERENT DUOS
Lily & Madeleine: Lily & Madeleine (Asthmatic Kitty), sisters
Minor Alps: Get There (Barsuk), Juliana Hatfield + Nada Surf's Matthew Caws
Perma: Two of a Crime (Rory/Equal Vision)
—Say Anything's Max Bemis + Eisley's Sherri DuPree-Bemis, also husband and wife
BANDLEADERS ALONE
Mick Hucknall: American Soul (Razor & Tie), from Simply Red
Ed Kowalczyk: The Flood and the Mercy (Soul Whisper/Harbour/Caroline), from Live
LIVING LEGENDS
Roy Harper: Man & Myth ([PIAS] America)
Leslie West: Still Climbing (Mascot Label Group)
DOCUMENTARIES ON DVD AND BLU-RAY
Move Me Brightly (Eagle Vision), concert celebrating Jerry Garcia's 70th birthday
Springsteen & I (Eagle Vision)
NOT JULIA ROBERTS
Julie Roberts: Good Wine & Bad Decisions (Sun/Red River)
OTHER COUNTRY
Jace Everett: Terra Rosa (Haywood/Redeye)
Toby Keith: Drinks After Work (Show Dog/Universal)
Cowboy Troy: King of Clubs (Warner Music Nashville)
METALLURGY
Russian Circles: Memorial (Sargent House)
Testament: Dark Roots of Thrash (Nuclear Blast America), live, 2 CDs + 1 DVD-Audio
MISCELLANY
Sky Ferreira: Night Time, My Time (Capitol)
The Flower Kings: Desolation Rose (InsideOut)
The King's Singers: Great American Songbook (Signum), a cappella CD, orchestral CD
Los Lobos: Disconnected in New York City (429), live at City Winery
Upset: She's Gone (Don Giovanni), trio with ex-Best Coast/Vivian Girls, ex-Hole
FAMILY
The Dirty Sock Funtime Band: The Dirty Socks Come Clean (dirtysockfuntimeband.com)
TRIBUTE
Various Artists: The Songs of Tony Sly—A Tribute (Fat Wreck Chords)
Those honoring the late frontman of No Use for a Name include Alkaline Trio, Bad Religion, NOFX, Pennywise, Rise Against, Simple Plan, Frank Turner, Yellowcard, and Brian Fallon of the Gaslight Anthem.
JAZZ
Stan Getz Quartet: Live at Montreux 1972 (Eagle Rock), CD or DVD
CLASSICAL
The 5 Browns: The Rite of Spring (Steinway & Sons), plus The Planets suite
Ravel: Intimate Masterpieces (Oberlin Music), with Yolanda Kondonassis, others
Humble Pie: Performance, Rockin' the Fillmore---The Complete Recordings
Reissue (Omnivore)
When the original album was released in November 1971, my friends and I went straight to the shorter, harder tracks, all conveniently located on the first LP, which had Side 1 b/w Side 4. Beginning with the killer riff of "Four Day Creep," the set continued with "I'm Ready" and "Stone Cold Fever" before concluding with "Hallelujah (I Love Her So)" and the truly feverish "I Don't Need No Doctor." It took us a little longer to come around to the 16-minute "Rollin' Stone" (Side 3) and the 23-minute "I Walk on Gilded Splinters" (Side 2), but when we did, we were richly rewarded, again and again.
A double live album with two side-long songs taking up half of it? A double live album with only three songs from the band's previous four studio albums? How did Steve Marriott, Peter Frampton, Greg Ridley, and Jerry Shirley get away with that? By playing as if their entire career depended on it. Indeed, Performance is one of the best, most electric live albums of all time. And it just got a lot bigger.
Humble Pie's stand at the Fillmore East actually encompassed four shows over two nights in May 1971. The four CDs in this box have it all, unedited and in proper sequence. Which means you get three additional versions each of "Four Day Creep," "I'm Ready," "Hallelujah," and "Splinters, " two more of "Doctor," and one more of "Rollin' Stone." (The band played "Stone Cold Fever" only once.)
The original recordings, taped by renowned engineer Eddie Kramer, were scorching to begin with; now they've been remixed by Ashley Shepherd. The result? "My God, it just took my breath away," says Shirley in a press release. "You feel like you're sitting in the Fillmore, five or six rows back. In the quiet bits, you can hear a pin drop, and in the loud bits, you can almost feel the room shaking."
The box was produced by Shirley and fellow survivor Frampton. (Sadly, we've now lost both Marriott and Ridley.) Veteran archivists Bill Levenson and Cheryl Pawelski were also involved, and there are liner notes by Tim Cohan.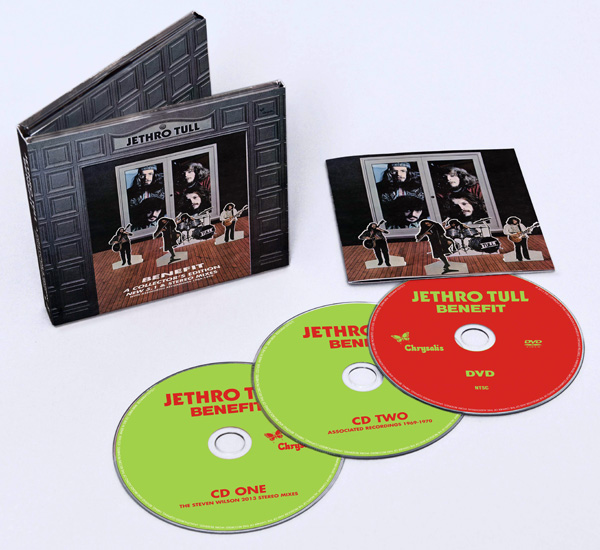 Jethro Tull: Benefit---A Collector's Edition
Reissue (Chrysalis/Warner)
Steven Wilson's nearly-one-man campaign to save multichannel music continues with his surround mix of Jethro Tull's 1970 album. Dolby Digital and DTS 5.1 versions of the 10 Benefit songs plus five bonus tracks appear here on DVD (which is not an actual DVD-Audio disc, contrary to some descriptions).
Meanwhile, the first of two CDs has a new stereo mix of the album (and the five bonuses) by Wilson. The second CD has 16 additional "associated recordings," including mono/stereo versions of singles, album tracks, and radio spots. And back on the DVD, you'll also find Wilson's stereo mix and a flat transfer (at 96/24) of the original stereo album, in both the U.K. and U.S. running orders.
Inside the booklet are rare photos, an essay by Martin Webb, and interviews with band members.
Other reissues of classic albums
Billy Bragg: Life's a Riot with Spy vs Spy (Cooking Vinyl), 30th anniversary
Death Cab for Cutie: Transatlanticism (Barsuk), 10th anniversary, vinyl/digital only
Album collections
Eagles: The Studio Albums 1972–1979 (Asylum/Warner), 6 (180-gram) LPs
Ramones: The Sire Years 1976–1981 (Rhino), 6 CDs
Other archival releases
Buckcherry: The Best of Buckcherry (Eleven Seven)
Buffalo Springfield: Buffalo Springfield (Atlantic), reissue of box set
Richie Havens: His Last Songs; Mixed Bag for Kids (CEN), unreleased albums
Boz Scaggs: The Essential Boz Scaggs (Columbia/Legacy), 2 CDs
Seether: 2002–2013 (Wind-up), 2 CDs
James Taylor: The Essential James Taylor (Legacy), 2 CDs
Dave Van Ronk: Down in Washington Square (Smithsonian Folkways), 3 CDs
…and we have Jack White to thank (partly) for this: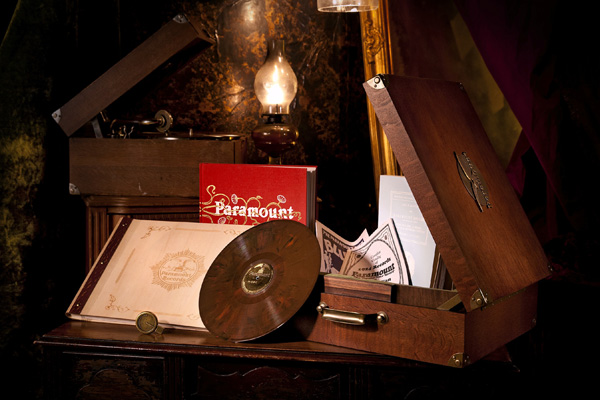 Various Artists: The Rise and Fall of Paramount Records, Vol. 1, 1917-27
(Third Man/Revenant; photo by Jo McCaughey)
Details here and here.