This Week in Music, October 15, 2013: Something "New" from Paul McCartney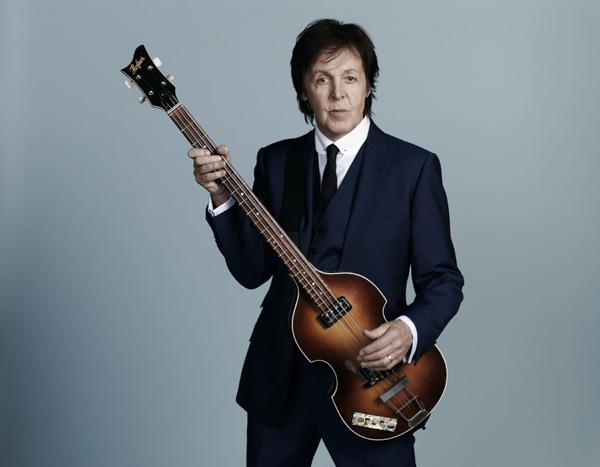 Paul McCartney: New
New release (Hear Music)
Photos by Mary McCartney/MPL
Were you worried that Paul McCartney, songwriter, was essentially done writing songs? After all, his last album of original material appeared six years ago, had the suggestive name Memory Almost Full, and included a self-epitaph called "The End of the End." And his next album, Kisses on the Bottom, was a collection of standards.
Well, surprise! McCartney has reclaimed enough memory to make something new again, simply titled…New. Not only that, he asked four hot young(er) producers to man the help desk: Paul Epworth, Ethan Johns, Giles Martin, and Mark Ronson.
Maybe he asked them because, at age 71, he doesn't trust himself. Or he wants to stay relevant. Or he just wants to sound…new. At any rate, the producers don't always seem to trust the purity of McCartney.
You might think Ronson would meddle the most, but he keeps his hands away from the hooks of the title track and merely adds artificial swirls to "Alligator." Johns, meanwhile, appears to love the natural, unplugged reveries of "Early Days" and "Hosanna." But if he loves them so much, why does he allow manipulated drums on the former and a synthesized shadow behind the latter? Similarly, Epworth isn't entirely content with the piano-based, peppy pop/rock of "Save Us" and "Queenie Eye"; in both cases, he permits buzzing guitars and processed vocals to intrude.
It's Martin, though, who has the heaviest touch. Which is a surprise indeed, considering that this Martin is the son of George and the primary cut-and-paster of Love. He produced half of New (and executive-produced the whole thing); unfortunately, most of his tracks are marred by mood-breakers. "On My Way to Work" and "Appreciate" may be completely different songs—the first an acoustic tune, the second akin to McCartney's electronica experiments as the Fireman—but each gets interrupted by louder, heavier segments that are both incongruous and unnecessary. ("Appreciate" would've been killer if Martin instead had moved the excellent guitar solo from the end to the middle.) Later, the intimacy of "Looking at Her" is compromised by its drum-machine rhythm and its big mecha-choruses, and the downcast, hazy "Road" can't leave us spellbound because Martin keeps changing the dynamics.
Otherwise:
(1) Despite all of the above, New is Paul, still tuneful after all these years. But in comparison, the David Kahne-produced Memory Almost Full is more McCartney-esque.
(2) There are no rock 'n' rollers here on the order of Memory's "Only Mama Knows" and "Nod Your Head." A shame, that.
(3) Paul McCartney, singer, is noticeably gruffer than he was six years ago. Must be all of that touring. And, yes, he is 71.
(4) Paul McCartney, lyricist, stakes a Beatle claim, understandably:
Now everybody seems to have their own opinion
And who did this and who did that
But as for me, I don't see how they can remember
When they weren't where it was at
(5) After "Road," the album ends with a hidden track, "Scared." Mostly, it's just Paul and piano:
I'm scared to say I love you
Afraid to let you know
That the simplest of words won't come out of my mouth
Though I'm dying to let them go
Sometimes, the simplest of words—and the simplest of sounds—are the best.
Other new releases
Pearl Jam: Lightning Bolt
(Monkeywrench/Republic; photo above by Danny Clinch; tour dates)
This is Pearl Jam's 10th studio album since the band started with Ten. That was 22 years ago, but these guys sound fresher than ever.
On one hand, Lightning Bolt is a bunch of rockers ("Getaway," "Swallowed Whole," "Let the Records Play"), faster rockers ("My Father's Son," the title track), and an even faster rocker ("Mind Your Manners"). On the other hand, it's a well-thought-out, genuine album, contrasting the hard stuff with acoustic/electric blends ("Sirens," "Sleeping by Myself," "Yellow Moon"), a shimmering meditation ("Pendulum"), and a moving ballad ("Future Days"). Nor is the hard stuff all the same; chords punctuate, chords thrash.
Let's hear it for drummer Matt Cameron, backbone extraordinaire. Let's also hear it for producer Brendan O'Brien, who basically lets the band play.
Lightning Bolt is topical, nervy, substantial—all this from an outfit once dismissed in some quarters as grunge opportunists/sellouts. Ha ha: Guess who got the last laugh?
Donovan Woods: Don't Get Too Grand (Aporia)
On his third release, Canada's Donovan Woods heeds the advice of his album title. Which is a wise thing to do when you write songs that are, by themselves, kernels of knowledge and emotion. Take the title track: A piano figure guides the singer's voice, but just when you think an underlying, threatening electric guitar is about to take over, the music ends at 1:47. Nice. Elsewhere, as in "Put On, Cologne," things are seriocomic: "Follow it through to its logical end / You're gonna get some stupid European boyfriend." Throughout, splendidly straightforward touches abound: the burbling accompaniment to "Widowmaker," the beautiful chord changes at the end of "Kennedy," the snare drum that gives a sonic snap to "You Don't Say." Says Woods in a press release: "I'm just trying to make folk songs that people will hum along with and tap their foot to." Mission accomplished. Or rather, just say: job well done.
OTHER FOLK-FLAVORED FOLKS
The Avett Brothers: Magpie and the Dandelion (American/Republic)
Barton Carroll: Avery County, I'm Bound to You (Skybucket)
The Head and the Heart: Let's Be Still (Sub Pop)
WHAT TOOK YOU SO LONG? FIRST ALBUM IN…
Toad the Wet Sprocket: New Constellation (Abe's Records) …16 years
The Dismemberment Plan: Uncanney Valley (Partisan) …12 years
Morcheeba: Head Up High ([PIAS] America) …8 years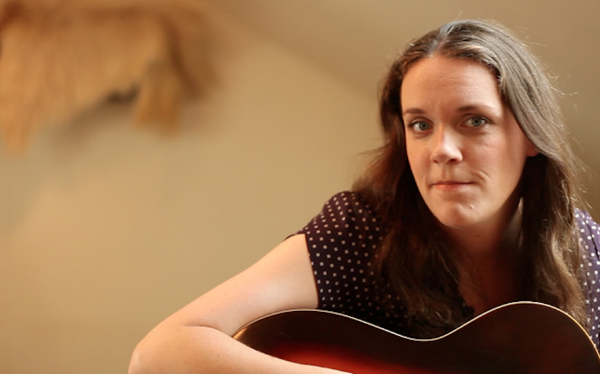 Above: Lucy Wainwright Roche
TO ALL THE WOMEN…
Willie Nelson: To All the Girls… (Legacy), duets with 18 female singers
Lucy Wainwright Roche: There's a Last Time for Everything (1-2-3-4-GO!)
Linda Thompson: Won't Be Long Now (Pettifer Sounds)
Shonna Tucker and Eye Candy: A Tell All (Sweet Nectar)
DIFFERENT STROKES FOR DIFFERENT DUOS
Cults: Static (Columbia), Madeline Follin and Brian Oblivion
Brian Haas/Matt Chamberlain: Frames (Royal Potato Family)
Misner & Smith: Seven Hour Storm (Misner & Smith/Scribble on the Wall), Sam & Megan
Jenn Rawling/Basho Parks: Tarantula Arms (Waterbug)
SING IT
Gavin DeGraw: Make a Move (RCA), the blue-eyed soulster from the Catskills
Scotty McCreery: See You Tonight (19/Interscope), the country star from American Idol
The Sojourners: Sing and Never Get Tired (Little Pig), the gospel trio from Canada
ROCK IT
Flying Colors: Live in Europe (Music Theories), various A/V formats
Monster Magnet: Last Patrol (Napalm)
Red Fang: Whales and Leeches (Relapse)
LAUGH AT IT
Rocky Mountain Mike: Politically Incoherent (Morada Music)
FAMILY TIME
Recess Monkey: Desert Island Disc (Recess Monkey), "calmer" follow-up to Deep Sea Diver
A CATEGORY UNTO HIMSELF
Gary Numan: Splinter—Songs from a Broken Mind (Machine Music)
XTC: Nonsuch
Reissue (Panegyric import)
XTC's 1992 album gets the full Steven Wilson treatment: new stereo and surround mixes, available on CD+DVD or CD+Blu-ray. Plus much more, including demos, instrumental versions, a bonus track ("Didn't Hurt a Bit"), filmed footage of the band in the studio, and two videos ("The Ballad of Peter Pumpkinhead," "The Disappointed"). And this is just the beginning: Wilson is already diving into more XTC classics, working closely with the band's Andy Partridge. Note this Partridge tweet: "Heard 5.1 mix of Drums and Wires at Steven Wilson's yesterday. So good, it's upped my opinion of the album. 'Complicated Game' = breathtaking."
Other expanded editions
James Booker: Classified—Remixed and Expanded (Rounder), from 1982
Eric Clapton: Unplugged (Reprise), 2 CDs, 1 DVD, with unreleased tracks/footage
The Kinks: Muswell Hillbillies (Sanctuary/UMe import), 2 CDs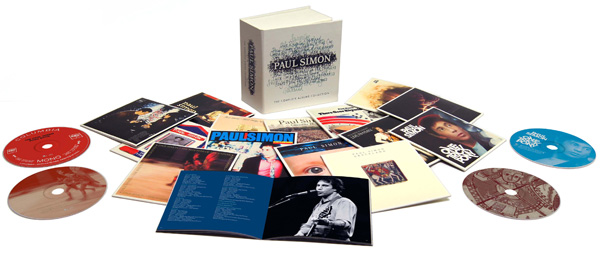 Album collections
Paul Simon: The Complete Albums Collection (Legacy)
On 15 discs: The Paul Simon Song Book, Paul Simon, There Goes Rhymin' Simon, Paul Simon in Concert—Live Rhymin', Still Crazy After All These Years, One-Trick Pony, Hearts and Bones, Graceland, The Rhythm of the Saints, Paul Simon's Concert in the Park—August 15, 1991, Songs from The Capeman, You're the One, Surprise, So Beautiful or So What. Where applicable, these are the expanded CD reissues, which means that the box incorporates a total of 37 bonus tracks. Additionally, you get a 56-page book, including new liner notes by music historian Ashley Kahn. Also available today for one-CD shopping: Over the Bridge of Time—A Paul Simon Retrospective (1964-2011), encompassing both solo material and the Simon & Garfunkel years.
Deep Purple: The Complete Albums 1970–1976 (Rhino/Warner Bros.)
On 10 discs: Concerto for Group and Orchestra, Deep Purple in Rock, Fireball, Machine Head, Made in Japan, Who Do We Think We Are, Burn, Stormbringer, Come Taste the Band, Made in Europe. Also available: Perfect Strangers Live (Eagle Vision, various formats), from the Mark II lineup's 1984 reunion.
Other archival releases
Black Oak Arkansas: Back Thar N' Over Yonder (Atlantic), 10 unissued (from '70s) + 5 new
TLC: 20 (LaFace/Epic), greatest hits + "Meant to Be," written by Ne-Yo
Various Artists:
Zang Tuum Tumb—The Organization of Pop: Music from the First Thirty Years of ZTT Records (ZTT)
...and to help you get ready for Halloween:
Various Artists: Mondo Zombie Boogaloo (Yep Roc)
Actually, this collection has three like-minded artists, listed on the cover above—and beginning this week, they're taking the album on the road. (For tour dates, click here.) Selections include the Fleshtones' "Ghoulman Confidential," Southern Culture on the Skids' "Tingler Blues," and Los Straitjackets' take on the theme from Halloween. Speaking of which…
Various Composers: Halloween—The Sound of Evil (Buy Soundtrax)
Excerpts from all 10 films in the franchise.
The Maine: Forever Halloween (wearethemaine.net)
Well, there's that artwork. And the album closes with the nearly six-minute title track.