This Week in Music, March 19, 2013: Justin Timberlake. Seriously.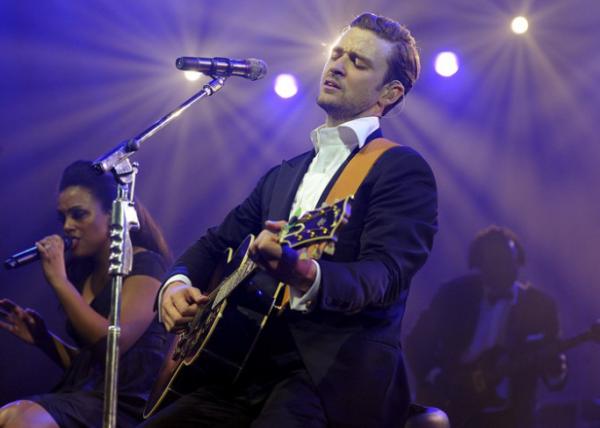 Justin Timberlake: The 20/20 Experience
New release (RCA; tour dates)
Photo by Frank Micelotta/Picture Group
"If Pink Floyd and Led Zeppelin can do 10-minute songs, and Queen can do 10-minute songs, then why can't we?"
Why indeed? Justin Timberlake sets out to push the envelope, with a vengeance, on his first album since 2006's FutureSex/LoveSounds (after which he got especially busy acting in films like Black Snake Moan, The Social Network, Friends with Benefits, and Trouble with the Curve). Although none of the tracks hits 10 minutes, most are above 7 each, and two top 8. One of these, "Pusher Love Girl," opens the album with a movie-musical flourish of strings and then settles into a slow groove that's classic R&B before going electronic at the 5-minute mark. And speaking of Zeppelin, another extended track, "Don't Hold the Wall," revels leisurely in the Middle Eastern vibe of Jimmy Page and Robert Plant's MTV UnLedded gigs and subsequent live album, No Quarter.
Just who are "we" in the Timberlake quote at the top? Specifically, they're JT and his co-writers/producers, Timbaland and J-Roc. But in general, they're all artists in the dance-pop arena. And the basic idea is: Can we transcend the limits of that arena, not just in time but also in artistry?
"Pusher Love Girl," check. "Don't Hold the Wall," check. Timberlake and crew succeed on other lengthy numbers, too, dividing "Strawberry Bubblegum" into two complementary come-ons (Barry White first, young Michael Jackson second), juggling vivacious vocal/instrumental pieces in "Tunnel Vision," and whipping up a genuinely infectious title-chorus hook for the speedy "Let the Groove Get In," which happily goes on and on. And the relatively pithy "That Girl," the album's shortest track at 4:47, joyfully demonstrates Timberlake's love for old-school soul by presenting himself and his backup as JT and the Tennessee Kids. (Remember: Timberlake was born in Memphis.) Throughout, Timberlake's falsetto remains oh-so-attractive.
There are missteps, though. "Spaceship Coupe" is the one long track that, lacking enough invention, simply feels overlong. And hearing a mold-breaking album like this one, you have to wonder why Timberlake reverts to the usual boasts and profanity of rap (and a routine Jay-Z cameo) for "Suit & Tie" - except that, well, it's the first single, and ya gotta have singles, right?
What Timberlake proves on the great majority of The 20/20 Experience is that ya don't gotta have the usual singles. And he emphasizes this with "Blue Ocean Floor," another entry in the proud rock & roll tradition of meditative, mostly subdued album closers; think anything from the Rolling Stones' "Moonlight Mile" to the Electric Light Orchestra's "One Summer Dream." Riding on a reversed-tape-loop sample that sounds like something out of the Beatles' "Revolution 9," the song is miles and miles from "Suit & Tie," drifting in a gentle current to a hushed conclusion. Here and elsewhere on this captivating album, Justin Timberlake seems to be saying: To explore AnySounds, we've got all the time in the world.

Thalia Zedek Band: Via
New release (Thrill Jockey; tour dates)
Photo by Tamara Bonn
It has been 12 years since Thalia Zedek's first solo album, and 21 years since the debut of her previous band, Come. You can go back even further, to Live Skull, Uzi, the Dangerous Birds, and all the way to White Women, which she joined while still a teenager in 1979. Her maturation as an artist has been steady the whole time and especially ambitious of late - but for me, Via is the album that has her fully stepping out of the shadow of her longtime muse, Patti Smith.
Zedek strikes the perfect balance between poetry and music. A little more than 2 years ago, her father died, and Via is "in loving memory" of him. That love manifests itself in a track like "Walk Away," which isn't so much a ghost story as a lucid explanation of an otherworldly bond. Lucid yet still vivid. Same goes for her band, whose straightforward components come together in a rich, multilayered sound that has an organic ebb and flow.
And yes, as billed, this is truly the Thalia Zedek Band. Her guitar and vocals are but two factors in the overall approach. Zedek and her producer/engineer, Andrew Schneider, are more concerned about giving equal sonic voice to everyone, including pianist Mel Lederman and violist David Michael Curry. (They also have a fondness for the natural drum sound of Dave Bryson, who's on loan from Son Volt.) And when Zedek does take a solo, it's more about showing than showing off. So it always develops logically down the road - from the acoustic base of "In This World," from the electric riff of "Want You to Know."
At times, like all poets and musicians, Zedek may think she misses her mark: "What I wanted to say feels so far from my mouth now." And the title of this album may connote that she's making just another stop in an ongoing career. But Via is a destination unto itself, and a supremely confident one at that.

Billy Bragg: Tooth & Nail
New release (Cooking Vinyl; tour dates)
"I'm so tightly wound in tension / Feel just like a guitar string / Waiting to reveal emotions / Touch me and you'll hear me sing." So opens "January Song," the leadoff track on Billy Bragg's first studio album of original material in 5 years. The prevailing tension here, however, isn't the political angst we often associate with this earnest singer/songwriter. Instead, he's talking the personal emotions of relationships - whether they're on the brink of breakup ("Chasing Rainbows"), in sad limbo ("Swallow My Pride"), or just preoccupied with the usual little domestic dilemmas ("Handyman Blues"). The whole album was recorded live in the studio, with no overdubs, in 5 days. Joe Henry's production, not entirely unplugged but certainly toned down, has Bragg's acoustic guitar backed by an instinctive small band of understated players, notably Greg Leisz on pedal steel and David Piltch on upright bass. Enjoy the easy eloquence, and if you've got tension of your own, take a bit of comfort that Bragg whistles us off the album with the notion that "Tomorrow's Going to Be a Better Day."
LATEST VIDEO