This Week in Music, April 2, 2013: The Band Perry makes The Album Killer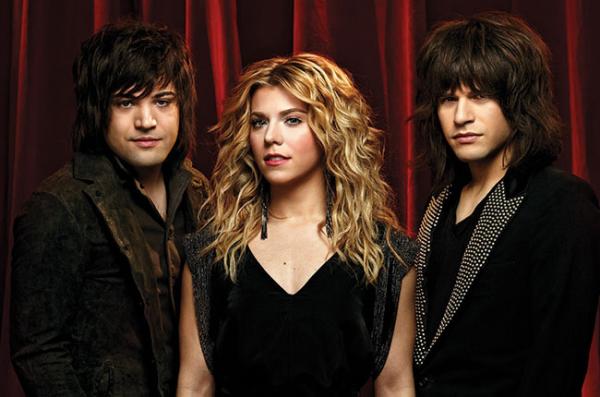 The Band Perry: Pioneer
New release (Republic Nashville; tour dates)
Photo by Robby Klein
Sophomore slump? Not here. As soon as the banjo on the opening track, "Better Dig Two," makes room for some choice electric-guitar power chords before the two instruments dance together, it's clear that The Band Perry has lost none of its charm or chops.
If you're not smitten in those first 3 minutes, no problem: The follow-up song (and follow-up single), "DONE.," ropes you in the instant it launches with an adamant acoustic guitar and Kimberly Perry's "Hoo!," leading to delicious harmonies on the chorus and a delirious harmonica solo on the break. From there, Pioneer eases down to the ballad "Don't Let Me Be Lonely" and then to the title track, which builds skillfully from intimacy to determination until coming in for a soft landing. And from there, "Forever Mine Nevermind" takes its opening a cappella singalong lines and ultimately fuses them in a giddy tandem with a snaky guitar figure, leaving you breathless. But hold on, the next song —
Well, I could go on and on, track by track. This album is that good. It's country that knows how to flex. It's rock that knows how to think. A band aiming for such even duality needs a producer who has lived and played in both worlds. Enter expert Dann Huff, previously associated with everyone from Megadeth to Taylor Swift. Somewhat miraculously, he's able to give Pioneer a modern, knockout sound while nodding to the Perry trio's roots in Mississippi, Alabama, and Tennessee.
Throughout, Kimberly nails her vocals with authority, and brothers/harmonists Reid (on bass) and Neil (whatchagot?) help fill the tracks until they're brimming with musicality. Some of the album's later hooks are slightly less superduper than the earlier ones, but really, that quibble's a trifle — especially when, near the end, there's "Back to Me Without You." The song is a misty-eyed heart-tugger all by itself, but then the band accelerates for a grandly sweeping final chorus that (Warning!) may leave you completely, happily broken down.
"I'm a keeper," Kimberly sings at one point. That she is, and so is Pioneer.
The Black Angels: Indigo Meadow
New release (Blue Horizon; tour dates)
Photo by Courtney Chavanell
Agonizing over the debate on the Second Amendment? For the Black Angels, the mantra is simple: "Don't Play with Guns." That song, written before Aurora and Newtown, offsets the innocence of its lyrics with a sound that may seem too grungy — as in the grunge of the Nineties — for a neopsychedelic band with eyes and ears on the Sixties. But these guys (and one gal) are actually all over the place, from the comparatively mellow meditation of "Holland" to the near-Sabbath riff of "Evil Things."
Still, they do love their drone machines and Ping-Pong stereo effects, and producer/mixer John Congleton allows the Angels to keep their shimmery, lo-fi attitude. Yet Indigo Meadow is more focused than its predecessor, 2010's Phosphorescent Dream. Partly, that's due to the band's occasional fondness for the more stripped-down garage rock of the early Sixties, best heard on "The Day" and "Broken Soldier." Back in the psych, however, the guitar-picked contemplations of tracks like "Love Me Forever" and "Always Maybe" have been handled with greater imagination by, say, The Soundtrack of Our Lives, whose material usually sounded more original than borrowed.
And that's the trouble with the Black Angels: Their music is a nifty pose but, often, little more. Best to shrug that off and dig the best stuff here: the "She's a Rainbow" sequel "I Hear Colors (Chromaesthesia)" and the stealth vibrations of "Black Isn't Black."
Beth Hart: Bang Bang Boom Boom
New release in U.S. (Provogue/Mascot; tour dates)
Photo by Jeff Katz
Some years ago, I was driving on a long stretch of highway in New England, listening to WXRV The River out of Andover, Massachusetts, and up popped a hot live track by Beth Hart. Ah yes, Beth Hart, the singer who was born in L.A. but sounded like she had bolted out of a roadhouse on the Texas/Louisiana border. Whatever happened to her?
Well, more than a decade ago, on the cusp of major-label stardom, it seems that everything bad happened to her. Some of it was her own fault (drug and alcohol abuse), some of it wasn't (an undiagnosed bipolar condition). Since then, Hart has gotten help and cleaned up. Result: nothing less than a rebirth, in the form of Bang Bang Boom Boom, released in Europe late last year but only now available Stateside.
Thing is, it isn't the shout-it-out-loud affair you might expect. Even though Hart still brings her potent voice, and even though the producer/mixer here is Kevin Shirley (rarely known for having a light touch), the album is remarkable for its balance of power and restraint. So the thing I love about a track like "Baddest Blues" is how, eventually, the hard rock takes over but never obliterates. Elsewhere, Hart mines a soul/gospel vein without ever overworking it ("Spirit of God") and also manages to dig deep for a yearning ballad ("Thru the Window of My Mind").
It doesn't hurt to have a passel of pros behind her, including drummer Anton Fig. Guitarist Randy Flowers is right in line with the just-enough-fire approach, especially in his solos for "Caught Out in the Rain." But the main draw overall is Hart's material; she wrote six of the tracks herself and co-wrote the rest, and they all come together on an album that can just as effortlessly be bold ("Swing My Thing Back Around") or sly (the title track). My single favorite moment, however, is in "Everything Must Change." After the second verse, the track builds, and you expect Hart and the band to blast it through the roof. But instead, everything drops out for a lone piano, as Hart sings plaintively, "I just want to go / I just want to go, go outside and run." Power and restraint. Then it's on to the third verse and a perfect, subtle finish.
The original album ended there, too, and I would've preferred it to remain that way. Still, most listeners won't argue with the inclusion of a certain bonus track for the U.S. edition: the blues classic "I'd Rather Go Blind," in a live performance honoring Buddy Guy at the 2012 Kennedy Center Honors. Yes, that was Hart with Jeff Beck, both of whom, fittingly enough for this album, stretched out but never went too far.
The bio for Hart refers to her "ongoing comeback." Consider it done.
John Murry: The Graceless Age
New release in U.S. (Evangeline; tour dates)
Photo by Amoreena Berg
Like Beth Hart above, John Murry is an American whose current album was released overseas in 2012 before getting a domestic release today. Also like Hart, Murry once had drug troubles; to be frank, he overdosed on heroin and almost died. But very unlike Beth, John revisits his darkest moments to exorcise them, bluntly — as in "Little Colored Balloons," the 10-minute piano-dirge account of his mindset leading to that O.D. It includes this harrowing crescendo:
I held my hands out
Blood-stained, and I've got my doubts
I tried to wash it off
Yeah, I tried to wash it off
Red as Southern clay
Blood-red as Mississippi clay
And yes, it still remains
Goddamn it if it still remains
Where is Pilate's water?
Tell me, where is Pilate's water?
For Murry, it was indeed an age without grace, and the depth of his Tupelo-bred voice emphasizes the seriousness of his subject matter. Yet he and we are able to come out the other side. Five tracks in, the catharsis is musical, too, when "Things We Lost in the Fire" changes from its acoustic-guitar setting to a full-band electric march — a jolt on an album that, until then, was mostly understated in its arrangements. Encouraged by that breakthrough, tracks like "Southern Sky" and "Penny Nails" sport tuneful choruses that hint at a new age.
Born in the shadows but struggling for the light, the album closes with the solo-piano prayer of "Thorn Tree in the Garden," the song that fellow Southerner Bobby Whitlock provided as the capper for Layla and that, no doubt, has been reassigned here to Murry's wife. If, after being estranged from her and hitting bottom, Murry can find a way to reconcile with her (true story), then there's hope for us all.
Petula Clark: Lost in You
New release (The End)
Photo by Julien Scussell
Reality check: Petula Clark is 80 years old. Of course, "Downtown" is timeless. (That innovative 1964 smash was written by its producer, the unheralded Tony Hatch, who would also compose and helm the likes of "I Know a Place" and "Don't Sleep in the Subway.") This album has a few recent tracks, such as "Cut Copy Me," taken from Petula (released last year in Europe). Then there's a range of cover versions from Elvis Presley's "Love Me Tender" to Gnarls Barkley's "Crazy." Also included: John Lennon's "Imagine" and, in the words of the press release, "a whole re-imagining" of "Downtown" itself.
Various Artists: The Music Is You — A Tribute to John Denver
New release (ATO)
It's hip to be square! Or, to put it another way, it's cool to cover John Denver, according to My Morning Jacket ("Leaving on a Jet Plane"), Dave Matthews ("Take Me to Tomorrow"), Train ("Sunshine on My Shoulders"), Lucinda Williams ("This Old Guitar"), Brandi Carlile and Emmylou Harris ("Take Me Home, Country Roads"), Edward Sharpe and the Magnetic Zeros ("Wooden Indian"), and many more. By golly, even J Mascis is here (teaming up with Sharon Van Etten for "Prisoners"). J and John: You can't make this stuff up.
LATEST VIDEO