This Week in Movies & TV, September 24, 2013: Serious Irony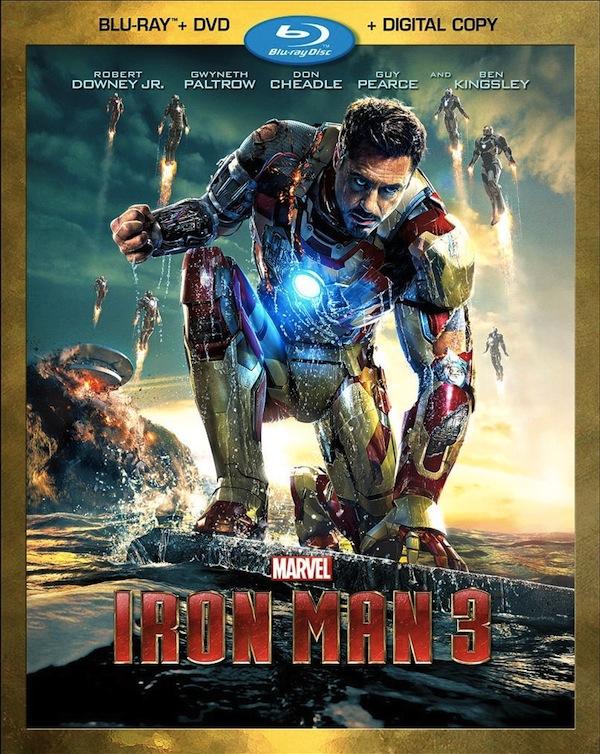 Iron Man 3
Iron Man 3, from co-writer-director Shane Black (writer-director of Kiss Kiss Bang Bang and writer of Lethal Weapon, The Last Boy Scout, and Last Action Hero), the seventh installment in the Marvel Cinematic Universe, finds the cocky genius inventor and industrialist, Tony Stark (Robert Downey, Jr.), trying to deal with posttraumatic stress from his experiences during the alien invasion of New York (as depicted in The Avengers). In response Stark, retreats into himself, spending his time building dozen after dozen Iron Man suits.
His attention is eventually roused by a series of bomb attacks perpetrated by a terrorist organization, led by a mysterious figure known simply as "The Mandarin," that somehow never leave any forensics behind. While Stark's researching background on the group, his security chief, Happy Hogan (Jon Favreau), is blown up in one of the attacks, leaving him in in a coma. Enraged, Stark immediately appears on TV to issue a threat to the Mandarin who responds by launching an attack on Stark's home with helicopter gunships, almost killing Stark and completely demolishing the building.
With the help of a precocious 10-year-old boy named Harley (Ty Simpkins), Stark discovers the original "bombings" were not in fact terrorist attacks. An experimental regenerative treatment called Extremis, being used on War veterans to enable their recovery from crippling injuries, is causing some of them to reject the treatment with literally explosive results. To cover up this minor side effect in the Extremis process, the exploding servicemen were being explained away by the invention of a villainous terrorist plot.
Now, using his instincts, ingenuity, and inventions Stark/Iron Man must battle against forces the like of which he has never confronted in order to save himself, those he loves, and America. For the Extremis process not only has regenerative healing qualities, but it has imbued its inventor, scientist and industrialist Aldrich Killian (Guy Pearce), with superhuman strength and the ability to generate extreme heat and even breathe fire.
In Iron Man 3, Gwyneth Paltrow reprises her role as Pepper Potts and Don Cheadle his as Col. James "Rhodey" Rhodes/ War Machine (now known as Iron Patriot). The rest of the cast includes Paul Bettany, Rebecca Hall, Stephanie Szostak, James Badge Dale, and Ben Kingsley. Favreau, who directed the first two films, serves as an executive producer here.
Iron Man 3 has earned $1.2 billion dollars in theaters worldwide, making it the biggest hit in the Iron Man series and the fifth highest grossing feature film of all time.
Extras include Marvel One-Shot: Agent Carter, the fourth short film in the fan-favorite One-Shot series focusing on Peggy Carter (Hayley Atwell) from Captain America: The First Avenger."
Iron Man 3 is also available in a Blu-ray 3D set (the movie converted to three dimension in post-production) that includes a 2D Blu-ray, DVD, and digital copy.
Video: 2.40:1. Audio: DTS-HD Master Audio 7.1. Extras: commentary by Drew Pearce and Shane Black, "Deconstructing The Scene: Attack On Air Force One" (on the stunt-team skydivers), behind-the-scenes look at Marvel's Thor: The Dark World on the upcoming blockbuster movie, "Marvel's Iron Man 3 Unmasked" and "Marvel One-Shot: Agent Carter" featurettes, gag reel, deleted and extended scenes; DVD and digital copy. Studio: Disney.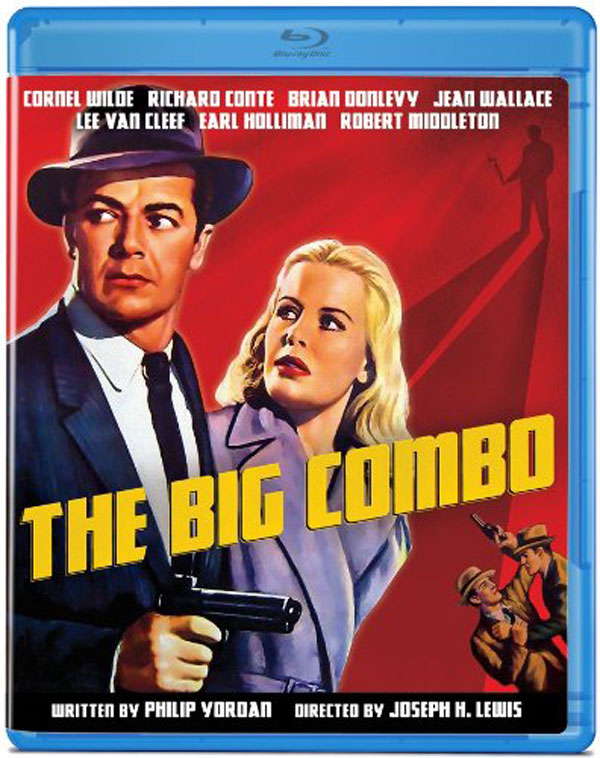 The Big Combo
This raw, edgy, and explosive noir cult classic immerses the audience in a dirty, disturbing story, set in an extremely seamy crime underworld, almost primordial in its oozing seediness that's filled with hoods without conscience, squealers, and other low-life types.
It concerns Police Lieutenant Diamond (Cornel Wilde), a cynical-but-decent, on-the-square cop who becomes obsessed with taking down a ruthless crime lord, Mr. Brown (Richard Conte). Ordered, after failing to find any hard evidence against the cunning gangland kingpin, to halt the investigation, Lieutenant Diamond decides to use the beautiful, blonde mistress of the gangster, Susan Lowell (Jean Wallace, Wilde's wife at the time), to get the goods on Mr. Brown. In the process of getting his man, though, Lieutenant Diamond will have to carry the cross of betrayals, mercilessly vicious beatings, and to give up some of those good-cop principles.
With its sordid, unsavory subject matter, frank sexuality, savage violence, and brutal, squirm-inducing scenes of torture, The Big Combo (1955), directed by Joseph H. Lewis (Gun Crazy, Terror in a Texas Town, The Rifleman) let in greater darkness from the noir night.
The film co-stars Brian Donlevy, Robert Middleton, Lee Van Cleef, and Jean Wallace. Its moody, shadow-filled, pool-of-light black-and-white images were created by cinematographer John Alton (He Walked by Night, Border Incident).
The Big Combo has been restored by the UCLA Film & Television Archive in association with the Film Foundation. The film has been newly re-mastered by Olive Films and Ignite Films.
Video: 1.85:1. Audio: DTS-HD Master Audio Mono. Extras: none. Studio: Olive Films.
Foyle's War: Set 7
Set in July 1945, shortly after the end of the war in Europe, Britain is breathing a sigh of relief and settling into peacetime while DCS Christopher Foyle (Michael Kitchen) is happy to be retiring. But the Cold War is coming and in London the British secret intelligence services will be needing the experience, keen mind, instinct, and fearless doggedness of an investigator who had helped keep England a green and pleasant land despite the fears and chaos of World War II and the threat of invasion.
Foyle's War: Sets 7 includes three new mysteries from this period drama. The Eternity Ring tells of Foyle's return from America with the Detective Chief Superintendent getting drawn into an MI5 investigation of a Russian spy ring in which newlywed Sam (Honeysuckle Weeks), his former driver, has been implicated. The two main conditions of Foyle eventually joining the counterintelligence ranks are the dropping of the absurd investigation of Sam and that she becomes Foyle's driver again.
The Cage follows Foyle's investigation of the deaths of several Russian defectors leading him to a mysterious military facility.
Sunflower finds Foyle inquiry into assassination attempts against an ex-Nazi defector who is under MI5's protection.
This hugely enjoyable British detective TV series created by English novelist and screenwriter Anthony Horowitz (Agatha Christie: Poirot, Midsomer Murders) presents compelling, character-driven murder mysteries within a historically accurate setting. The award-winning, enormously popular series has won critical acclaim and undying viewer loyalty since its 2002 premiere on ITV and its showings on PBS since 2003.
Set 7 guest stars include Howell, Ovenden, Ellie Haddington, Tim McMullan, Jeremy Swift, Rupert Vansittart, and Daniel Weyman. The 2-disc set includes a Blu-ray Disc of extras.
Video: 1.78:1. Audio: DTS-HD Master Audio 2.0. Extras: introductions by Anthony Horowitz (15 minutes), 4 behind-the-scenes featurettes (86 minutes), brief recap of series 1–6, photo gallery. Studio: Acorn Media.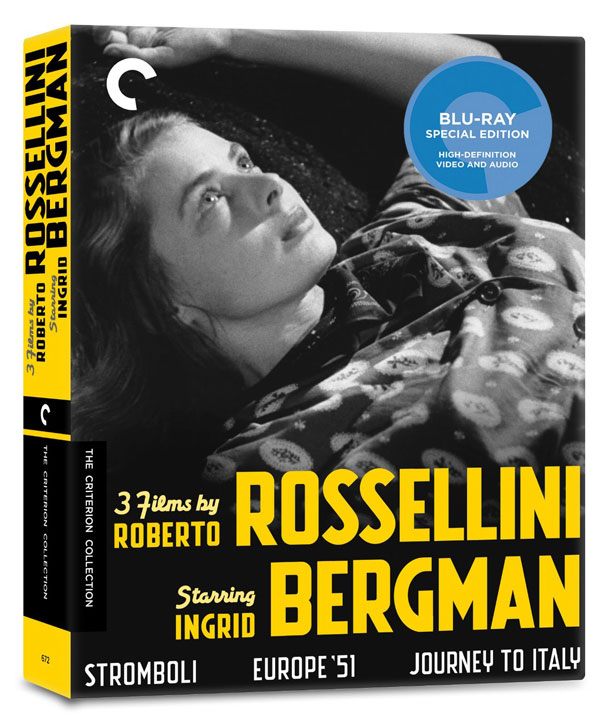 3 Films By Roberto Rossellini Starring Ingrid Bergman
In the late 1940s, Hollywood film star Ingrid Bergman was so impressed and moved by the films of revolutionary neorealist Roberto Rossellini that she offered her talents (in more ways than one) to the writer-director. The resulting collaboration produced a series of extraordinary films starring Bergman as a woman physically and psychologically lost in the turmoil of postwar Italy and her own life, three of which — Stromboli – Terra Di Dio, Europe '51 (The Greatest Love), and Journey to Italy (Viaggio in Italia) — are collected in this set. It also produced an infamously scandalous affair and the marriage between the star and the filmmaker.
In, Stromboli (Stromboli terra di Dio, 1950), the first film they made together, Bergman plays a Lithuanian refugee, Karen, who, after World War II, marries the unsophisticated Italian fisherman, Antonio (Mario Vitale), she had met in a prisoner of war camp in order to avoid being sent back behind the Iron Curtain and to have some alternative place to go to.
After accompanying Antonio to his isolated village on beautiful but forbidding island, Stromboli, off the coast of Sicily, which has an ever-menacing live volcano, Karen finds herself cut off from everything of the old world she was familiar with and now cast in the role of isolated outsider amongst the fishermen and their wives. Not even able to speak to anyone because of the language barriers, she gradually begins to break down emotionally and psychically.
Stromboli's Blu-ray was made from a new 106-minute restored 2K digital black-and-white film transfer of the Italian-language version with English subtitles and uncompressed monaural soundtrack. A new 100-minute digital film restoration of the English-language version with uncompressed monaural soundtrack is also included.
In Europe '51 (1952), after a rich, self-absorbed socialite in Rome (Bergman) loses her son, her guilt and grief over the sudden death leads her to devote her time and money to helping the city's poor and sick. Such newfound saintly selflessness, although giving meaning to her life, leads to her husband to question her behavior and eventually her sanity.
Europe '51's Blu-ray was made from a new, 116-minute restored digital black-and-white film transfer of the Italian-language version with English subtitles and uncompressed monaural soundtrack. A new 114-minute digital film restoration of the English-language version with uncompressed monaural soundtrack is also included.
The highly influential and groundbreaking modernist work, Journey to Italy (1954) — respected and studied by filmmakers like Martin Scorsese (see his documentary series My Voyage to Italy) — tells of a wealthy and sophisticated couple, Katherine (Bergman) and Alexander Joyce (George Sanders), trapped in a troubled marriage. Over the course of their journey from England to Naples to dispose of a deceased uncle's villa, we see their relationship is in a state of steady decline.
The coldness and strain between them leads Katherine to escape into touring the museums and ruins of Naples and Pompeii and to thinking back to a poet who romantically loved her from a distance, but died in the war. Meanwhile, her husband deals with his feelings by going off to laze around Capri, flirting with women but finding himself unable to cheat on his wife.
When, out of mutual misery, the two become hostile to one another and begin to consider divorce, they must decide if this is the only answer or whether the experiences they have on this journey might teach them to once more see one another so that their love and marriage can survive.
Journey to Italy was made from a new 85-minute restored 2K digital black-and-white film transfer of the English-language version with uncompressed monaural soundtrack.
All, Audio: Linear PCM Mono 1.0 with English subtitles. Stromboli, Video: 1.37:1. Extras: archival television introduction by Rossellini, new interview with film critic Adriano Aprà, Rossellini Under the Volcano 1998 documentary that returns to the island fifty years after the making of Stromboli. Europe '51, Video: 1.33:1. Extras: archival television introduction by Rossellini, new interview with critic Adriano Aprà, new interview with film historian Elena Degrada about the different versions of Europe '51, new interviews with Isabella Rossellini and Ingrid Rossellini, daughters of Roberto Rossellini and Bergman, My Dad Is 100 Years Old 2005 short film directed by Guy Maddin and starring Isabella Rossellini, new interview with Fiorella Mariani, Rossellini's niece, featuring home movies shot by Bergman, The Chicken 1952 short film by Rossellini, starring Bergman. Journey to Italy, Video: 1.37:1. Extras: archival television introduction by Rossellini, commentary featuring film scholar Laura Mulvey, new visual essays about Rossellini by scholars Tag Gallagher and James Quandt, new interview with critic Adriano Aprà, Ingrid Bergman Remembered 1996 documentary on the actor's life, narrated by her daughter Pia Lindstrom, A Short Visit with the Rossellini Family 6-minute film shot on Capri while the family was there during the production of Journey to Italy, new interviews with Isabella Rossellini and Ingrid Rossellini, daughters of Roberto Rossellini and Bergman, Rossellini Through His Own Eyes 1992 documentary on the filmmaker's approach to cinema, featuring archival interviews with Rossellini and actor Ingrid Bergman, new interview with Fiorella Mariani, Rossellini's niece, featuring home movies shot by Bergman, My Dad Is 100 Years Old 2005 short film directed by Guy Maddin and starring Isabella Rossellini, The Chicken 1952 short film by Roberto Rossellini starring Bergman, booklet featuring essays by critics Richard Brody, Fred Camper, Dina Iordanova, and Paul Thomas, letters exchanged by Rossellini and Bergman, "Why I Directed Stromboli" 1950 article by Rossellini, 1954 interview with Rossellini conducted by Eric Rohmer and François Truffaut for Cahiers du Cinema, excerpts from a 1965 interview with Rossellini conducted by Aprà and Maurizio Ponzi for Filmcritica. Studio: The Criterion Collection.
Fear Eats the Soul 2: The Nightmare Continues
Prince of Darkness
A research team, consisting of graduate students and scientists, discover a mysterious, ancient canister in in an abandoned, de-sanctified church. But on opening this Pandora's box they unleash an evil force — in the form of a strange liquid that turns some of the team into zombies, releases other dreadful horrors, and even allows Satan himself makes a cameo appearance — that could mean the end of humanity. Prince of Darkness (1987), directed by John Carpenter (Halloween, Escape from New York, Assault on Precinct 13), has a cast that includes Donald Pleasence, Lisa Blount, Victor Wong, Jameson Parker, Dennis Dun, Jameson Parker, and even Alice Cooper. Video: 2.35:1. Audio: DTS-HD Master Audio 5.1, DTS-HD Master Audio 2.0. Extras: commentary with Carpenter and Peter Jason, "Sympathy for the Devil: An Interview with John Carpenter," "Alice at the Apocalypse: An Interview with Alice Cooper" "The Messenger: All New Interview with Actor and Special Visual Effects Supervisor Robert Grasmere," "Hell On Earth: A Look at the Film's Score with Co-Composer Alan Howarth" and "Horror's Hallowed Ground" (a Sean Clark hosted look at the film's locations) featurettes, alternate opening from TV version, still gallery, Easter egg of Prince of Darkness 25th anniversary screening Q&A from 2012's Screamfest. Studio: Shout! Factory.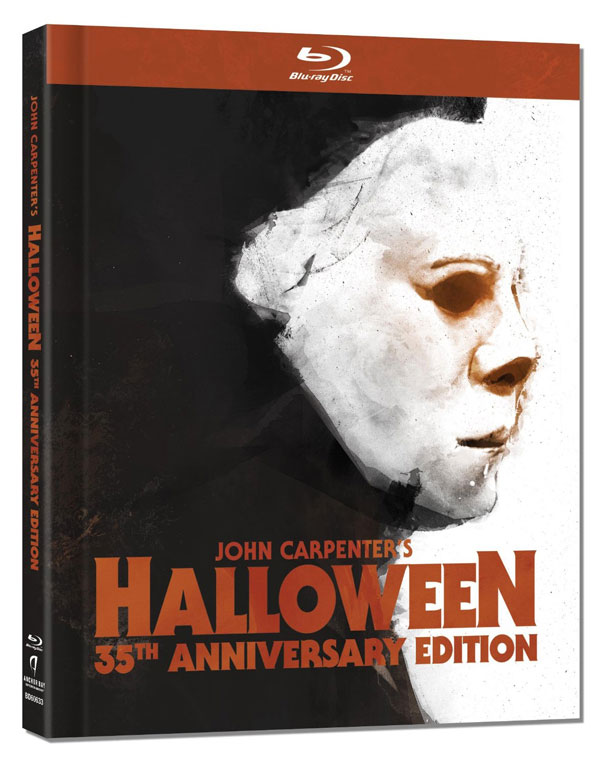 Halloween
Lord of all slasher films, Halloween (1978), by director John Carpenter finds Michael Myers, a young man who killed his sister 15 years previously, escaping from a mental hospital and returning to his home on Halloween to get back in the brutally-murder-babysitters game.
Tapping into the random, faceless, unmotivated violence that seemed to plague the era, this simple but stylish scarefest launched a thousand imitations. Myers — white mask, black eyes, and unnatural walk — suggests something inhuman, the ultimate boogeyman, who is nonetheless very real, living in our world not the stylized Gothic expression of our fears found in earlier horror.
Video: 2.35:1. Audio: Dolby TrueHD 7.1, Dolby Digital 2.0. Extras: Halloween: A Cut Above the Rest 89-minute documentary featuring cast and crew, commentary from 1995 featuring interviews with Carpenter, Hill, and Curtis, "Fast Film Facts" subtitle trivia track. Studio: Starz/Anchor Bay.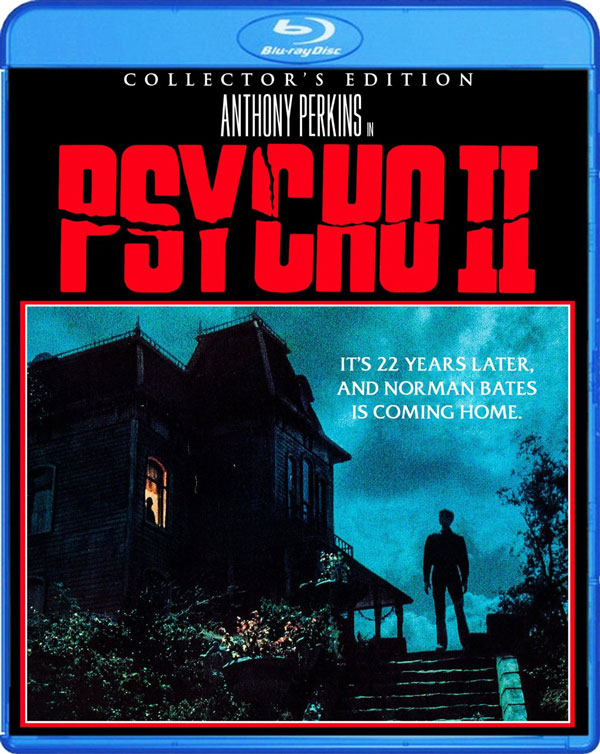 Psycho II
In the first of the sequels (this one directed by Richard Franklin in 1983), after 22 years of psychiatric care in an institution for the criminally insane, happy-go-lucky Norman Bates (Anthony Perkins) is released to return home to his simple life of solitude in the building behind the Bates Motel.
But when young waitress Mary Samuels (Meg Tilly) is thrown out of her boyfriend's place, Norman offers to let her stay at the motel. . . .
Meanwhile the manager, Warren Toomey (Dennis Franz) is stabbed to death with a big kitchen knife by a figure in a dress. At this time, Norman is being contacted by his late, lamented mother — on the phone, mail, texting, and through accusing looks from a figure at her old bedroom window. Is Norman getting back into his old ways, or is someone else cutting into his territory?
Psycho II co-stars Vera Miles and Robert Loggia. The score was composed by Jerry Goldsmith.
Video: 1.85:1. Audio: DTS-HD Master Audio 5.1, DTS-HD Master Audio 2.0. Extras: commentary interview with Tom Holland hosted by Rob Galluzzo (writer-producer-director of the documentary The Psycho Legacy), "Play Film With Cast and Crew Interviews" audio only interviews, still gallery. Studio: Shout! Factory.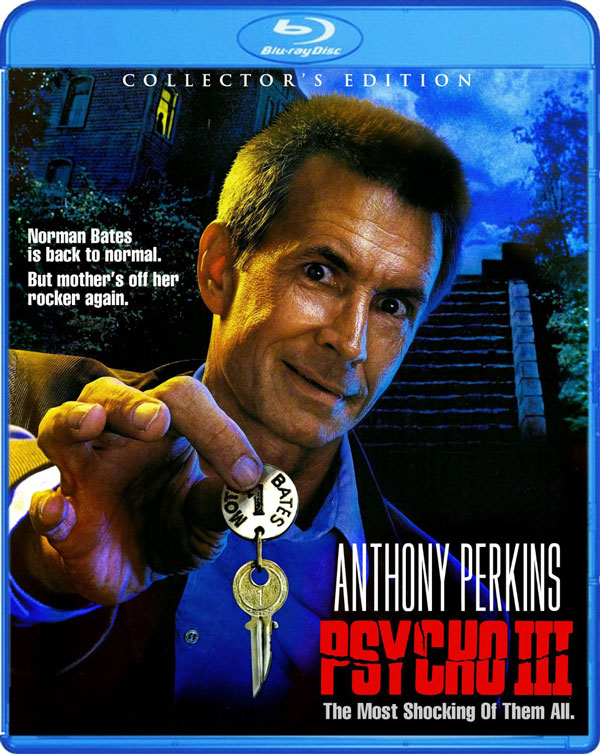 Psycho III
Not only starring but directed by Anthony Perkins, Psycho III (1986) picks up a mere (mère?) month after the unsettling events of Psycho II. Norman is still running the Bates Motel along with his living doll of a mother. All's well until Norman goes and falls in love with a suicidal nun who's living as a long-term tenant at the Bates Motel. He also makes the mistake of taking in a greedy, sleazy, drifter musician, Duane Duke (Jeff Fahey), as an assistant motel manager and a pushy, nosy reporter from Los Angeles, Tracy Venable (Roberta Maxwell). But, fortunately, a series of gruesome murders soon have things back to normal once again.
The electronic score was composed and performed by Carter Burwell (No Country for Old Men, Three Kings, Gods and Monsters).
Video: 1.85:1. Audio: DTS-HD Master Audio 5.1, DTS-HD Master Audio 2.0. Extras: commentary interview with screenwriter Charles Edward Pogue hosted by Michael Felsher (of Red Shirt Productions), "Patsy's Last Night" interview with Katt Shea, "Mother's Maker: An Interview with Special Make-Up Effects Creator Michael Westmore" "Watch the Guitar: An Interview with Jeff Fahey," and "Body Double with Brinke Stevens" featurettes, still gallery. Studio: Shout! Factory.
V/H/S/2
In this anthology horror film — made up of a series of "found-footage" shorts directed by Jason Eisener, Gareth Evans, Gregg Hale, Eduardo Sanchez, Timo Tjahjanto, Simon Barrett, and Adam Wingard — two private investigators searching for a missing student break into his house and find collection of VHS tapes. In viewing the horrific contents of each cassette, the private eyes realize there are darker things behind the student's disappearance then they'd suspected. The shorts include Tape 49/frame narrative, Phase I Clinical Trials, A Ride in the Park, Safe Haven, and Slumber Party Alien Abduction.
V/H/S/2 stars Kelsy Abbott, Hannah Al Rashid, and Fachry Albar.
Video: 1.85:1. Audio: DTS-HD Master Audio 5.1. Extras: TBA; DVD. Studio: Magnolia.
Hannibal: Season 1
This new, addictive NBC thriller TV series, created by Bryan Fuller (Wonderfalls, Dead Like Me, Pushing Daisies), explores the complex mind of iconic gourmand-villain Hannibal Lecter (invented in the novels of Thomas Harris) and the early relationship between the renowned psychiatrist and a young FBI criminal profiler. Agent Will Graham (Hugh Dancy) is haunted by his ability to empathize with and think like serial killers, seeing what they see and feeling what they feel. While pursuing an especially disturbing, cannibalistic murderer, Graham's boss, Special Agent Jack Crawford (Laurence Fishburne), teams Graham with a highly respected psychiatrist, Dr. Hannibal Lecter (Mads Mikkelsen), who has a certain expertise in the criminal mind. While they work together to unravel the mystery and catch the killer, Dr. Lecter toys with Graham, manipulating and twisting his colleague's thinking until Graham is questioning everything he knows about himself and those trusted friends he holds dear.
This 3-disc Blu-ray set contains all 13 Season 1 episodes — Apéritif, Amuse-Bouche, Potage, Oeuf, Coquilles, Entrée, Sorbet, Fromage, Trou Normand, Buffet Froid, Rôti, Relevés, Savoureux — including one episode never before aired on TV.
Video: 1.78:1. Audio: DTS-HD Master Audio 5.1. Extras: commentaries on select episodes with cast and crew including Bryan Fuller, David Slade, and Hugh Dancy, "Hannibal Reborn," "A Taste for Killing," "The FX of Murder," and "A Symphony for the Slaughter" featurettes, gag reel, deleted scenes, pilot episode storyboards; UltraViolet digital copy for streaming/downloading. Studio: Lionsgate.