This Week in Movies & TV, October 15, 2013: Aliens, Intruders, & Strangers
Pacific Rim
When an alien attack threatens the Earth's very existence, giant-sized toy robots are created to save mankind. Jaegers—huge walking machines piloted by pairs of humans inside the head whose minds are electronically melded in a neural bridge (
if
they are "drift compatible") so that they may fight as one—are deployed to fight off the menace of large lizards. But the highly collectible range of figures prove unable to slow down the unending onslaught of equally must-have varieties of bad-boy Kaiju dino-creatures that emerge from the sea and soon most Jaegers are destroyed. Eventually, a final desperate attempt must be made, by a washed-up former pilot (Charlie Hunnam) and an untested trainee (Rinko Kikuchi) inside an obsolete Jaeger, to save humanity from complete destruction and ensure healthy sales of
Pacific Rim
action figures and toys.
This film was directed by Guillermo del Toro (Pan's Labyrinth, Hellboy, The Devil's Backbone), and may God have mercy upon his soul. Co-stars include Charlie Day, Rob Kazinsky, Max Martini, Clifton Collins Jr., Burn Gorman, and Rob Perlman. Idris Elba (Luther) is the traditional token classically-trained English actor brought in to add class and gravitas to an otherwise suspect action adventure.
Apart from some music in the surrounds and atmospherics in the rears—the odd announcement behind your head, or the clanking, welding, and murmuring on the factory floor—there is very little use of these channels except in the action sequences. But since we straightaway leap into the first attack by a lone Kaiju in the opening scene, it would be logical for those with 7.1 set-up to switch to that option in the menu from the default DTS-HD Master Audio 5.1 pretty pronto. However, just as its 3D was added in postproduction as an afterthought, the same seems to be true of Pacific Rim's surround mix.
The score, a combining of conventional orchestral and run-of-the-mill hard rocking, stays mainly in the front channels, a fairly undifferentiated mass, just leaking into the surrounds rather than filling the room. Similarly, effects such as metal-wrenching battles between metal and flesh creatures tend to jump from channel to channel rather than flowing and filling them simultaneously. Such mangling encounters are loud and bassy, but are sonically as messy and confusing as the visuals. But fear not, dialogue such as "When you're in a Jaeger you can fight the hard game. Suddenly you can win!" is all quite clear and natural.
Setting aside those hard-to-follow CGI fights between beast and 'bot bruisers, the picture is quite decent. Images are sharp and have good contrast, and although shots are mainly filled with blue and green uniforms and are tinted blue, green, or yellow, there's a wide range of tones within the limited palette of colors. Amongst these you do also occasionally get the odd splash of rich primary such as the red insignias on uniforms. Whites in shirts are bright and black in sweaters and ties are deep. There's plentiful detail so that formulas on blackboards are legibly indecipherable, pores and individual bristles in scruff are visible, and you can see threads in textiles.
Pacific Rim is also available in a Blu-ray 3D set (converted to 3D in post-production) that includes a 2D Blu-ray, DVD, and digital copy.
Video: 1.78:1. Audio: DTS-HD Master Audio 7.1, DTS-HD Master Audio 5.1. Extras: commentary by del Toro, "Drift Space" and "The Digital Artistry of Pacific Rim," featurettes, 62 minutes of focus point mini-featurettes, "The Directors Notebook" interactive presentation, "The Shatterdome" archive of the film's key design art, deleted scenes, blooper reel; DVD and UltraViolet digital copy for streaming/downloading. Studio: Warner.
The Haunting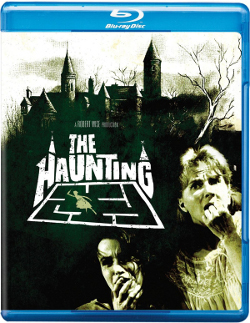 This brilliantly executed, psychologically disturbing, highly unsettling horror classic directed by Robert Wise (The Curse of the Cat People, The Day the Earth Stood Still, The Sound of Music) tells of a sinister, abandoned, 90-year-old house and the group of paranormal investigators who decide to spend a few days—and nights—there scientifically exploring the mythology surrounding the dwelling, the possibility of the existence of ghosts, and the past events that evoke such terror.
Anthropologist Dr. Markway (Richard Johnson) and ESP expert Theodora (Claire Bloom) are joined by the heir to the estate, Luke Sanderson (Russ Tamblyn), who's there to dispel the tales concerning the house, and mentally unstable Eleanor Vance (Julie Harris) who, for some reason, has been has been invited and agrees to spend a few nights in the house following the death of her mother.
But, as they slowly begin to discover, the ridiculous tales bandied about tend to resist disproval or investigation and may hold more truth than the skeptical guests had initially presumed. With a palpable supernatural force invading every Rococo room of Hill House, the threat to everyone who dares stay and the fear from facing the evil of the accursed mansion seems increasingly likely to swallow them all.
The Haunting (1963) was adapted from Shirley Jackson's novel The Haunting of Hill House by screenwriter Nelson Gidding (The Andromeda Strain, Lost Command, The Hindenburg). It is thought by many, including Martin Scorsese, to be the scariest horror film of all cinema history.
Video: 2.35:1. Audio: DTS-HD Master Audio Mono. Extras: commentary by Wise, Gidding, and actors Harris, Bloom, Johnson, and Tamblyn. Studio: Warner.
High Plains Drifter

In High Plains Drifter (1973), actor-director Clint Eastwood (The Outlaw Josey Wales, Pale Rider, Unforgiven) once again dons the mantle of The Man with No Name (this time referred to as The Stranger), a man on horseback who mysteriously rides out of the desert's heat waves, making his way slowly towards the small, sin-ridden settlement of Lago, a lawless, frontier mining town where trouble is easy to find.
After he impresses the townsfolk with the way he handles himself in a serial gunfight with three bad hombres, he's hired to defend the town and to provide protection against three more outlaws—Bridges (Geoffrey Lewis) and the Carlin brothers (Anthony James and Dan Vadis)—who've just gotten out of prison seeking vengeance on the settlers who had double-crossed them.
The Stranger takes on the job and helps train the townspeople to defend themselves, but he actually has other plans for the corrupt town before he's through with it and rides on again.
The screenplay for High Plains Drifter was written by Ernest Tidyman (Shaft, The French Connection, Shaft's Big Score! ) and in filming it Eastwood used everything he'd learnt from working with mentor directors Sergio Leone and Don Siegel to create a western classics filled with action, drama, and thrilling gunplay.
Video: 2.39:1. Audio: DTS-HD Master Audio 5.1. Extras: none; UltraViolet digital copy for streaming/downloading. Studio: Universal.
Eyes Without a Face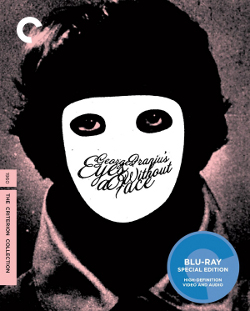 With this moody masterpiece of cinematic poetry, director Georges Franju (Judex, Thomas the Impostor, Blood of the Beasts) creates with his hauntingly beautiful surrealistic images, a horror film with all the intensity of a nightmare that cannot be forgotten.
Following the horrible disfigurement of his daughter (Edith Scob) in a car accident, a brilliant, guilt-ridden plastic surgeon, Doctor Genessier (Pierre Brasseur), becomes obsessed with the reconstruction of her once-beautiful face. The good doctor gradually perfects his technique by having his assistant Louise (Alida Valli) kidnap young women and take them to his secluded chateau in the French countryside, undisturbed, he can practice his procedure by carving off their faces and grafting them onto his daughter.
In between his unsuccessful attempts which inevitably end in the tissue being rejected, his daughter wears a white mask, a facsimile of her original lovely looks, revealing her eyes but otherwise being disturbingly expressionless.
To adapt Jean Redon's book, Fran turned to the writing team of Pierre Boileau and Thomas Narcejac who had written novels that had been adapted as Henri-Georges Clouzot's Les Diaboliques and Alfred Hitchcock's Vertigo. When released, critical reaction ranged from admiration to damnation but Eyes Without a Face (Les yeux sans visage, 1960) was acclaimed by other filmmakers and became highly influential.
Those extraordinarily atmospheric images were shot by cinematographer Eugen Schüfftan (Port of Shadows, Lilith, Something Wild) who won an Oscar for his work on The Hustler. The Blu-ray comes in a new high-definition digital restoration with uncompressed mono sound.
Video: 1.66:1. Audio: French, LPCM Mono. Extras: Blood of the Beasts 1949 Franju documentary about the slaughterhouses of Paris (in a new high-def digital restoration), archival interviews with Franju, new interview with actor Edith Scob, excerpt from Les Grands-pères du crime 1985 documentary about Eyes Without a Face, booklet featuring essays by novelist Patrick McGrath and film historian David Kalat. Studio: The Criterion Collection.
The Stranger

In this underappreciated film from writer-director-producer-editor and actor Orson Welles (Chimes at Midnight, Touch of Evil, Citizen Kane, The Magnificent Ambersons), government agent Mr. Wilson (Edward G. Robinson), working for the United Nations War Crimes Commission, arrives in a small, idyllic Connecticut college town on the hunt for Nazi war criminal Franz Kindler.
Kindler had erased all evidence which might identify him, but by following Meinike (Konstantin Shayne), a former colleague of Kindler's, to the town, Wilson believes that he's discovered where the Nazi fugitive has gone to ground. But on arriving, he finds that the trail's gone cold again.
Meanwhile, Charles Rankin (Orson Welles), a highly respected academic and prep school teacher at the college, is about to get married to a beautiful new bride (Loretta Young), daughter of Supreme Court Justice Adam Longstreet (Philip Merivale). Gradually, Wilson begins to suspect that the respectable Rankin may actually be Kindler, but to prove it, he needs to be able to link him to Meinike. However, only the loyal and loving Mrs. Rankin knows about the meeting Meinike had with her husband before Meinike disappeared, which places her in deadly danger.
The Stranger (1946) script was written by Victor Trivas and then re-written by Anthony Veiller and director John Huston (the pair also co-writing The Killers, Moulin Rouge, Night of the Iguana and many other projects), with a little magic thrown in by Welles. The film was shot by cinematographer Russell Metty (Touch of Evil, Spartacus, Bringing Up Baby) who delivers all the dark noir shadows that the subject matter deserves. The transfer was mastered from archival 35mm elements which were preserved by the Library of Congress.
Video: 1.33:1. Audio: PCM Mono. Extras: commentary by historian, author, and filmmaker Bret Wood, Death Mills 22-minute short informational film on the Nazi death camps produced by Billy Wilder and made shortly after the end of World War II, "Welles's Wartime Radio Broadcasts" collection of 4 radio broadcasts recorded at the height of the war including Alameda (29 minutes), Brazil (29 minutes), War Workers (15 minutes), and Bikini Atomic Test (15 minutes), still gallery. Studio: Kino.
Two From Richard Curtis
Notting Hill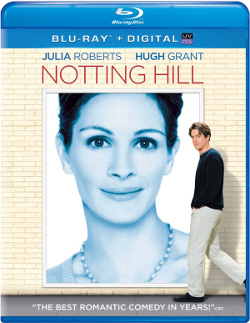 This 1999 London rom-com-dram from Richard Curtis (writer of Four Weddings and a Funeral and later Bridget Jones's Diary) and director Roger Michell (Hyde Park on Hudson, Changing Lanes, Venus) tells of a divorced Notting Hill bookshop owner, William Thacker (Hugh Grant), whose simple life changes when he meets the most famous film star in the world, Anna Scott (Julia Roberts).
The huge fame of this A-list celebrity and William's eccentric . . . well idiot-lunatic, hellaciously dirty and inappropriate Welsh housemate complicate matters, but other friends offer various variations on and bring perspective to William and Anna's predicament and problems and a hilarious press junket allows the couple a little romance in relative publicity-free anonymity.
Notting Hill co-stars Richard McCabe, James Dreyfus, Dylan Moran, Emma Chambers, Hugh Bonneville, and Tim McInnerny.
Love Actually
Having written the Brit-hit rom-coms Four Weddings and a Funeral and Notting Hill, Richard Curtis made his directorial debut in 2003 with this look at love (that apparently is all around) in all its various forms and manifestations—romantic love, marital love, sexual, familial, the love of friends—revealing the loyalty, fealty, betrayal, honoring, restraint, and mourning that they all entail.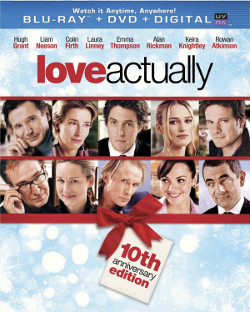 Nine stories that involve the love lives and love in the lives of multiple characters over the weeks leading up to one Christmas are interwoven, climaxing on Christmas Eve. They involve the bachelor Prime Minister of the Great Britain (Hugh Grant) who, on his first day at 10 Downing Street, falls for the girl who brings him his tea (Martine McCutcheon). His sister, Karen (Emma Thompson), is in a marriage that's fallen into familial boredom, with husband Harry (Alan Rickman) contemplating cheating on his wife. Karen's friend, Daniel (Liam Neeson), a recent widower, has a stepson, Sam (Thomas Sangster), who he's raising alone and has found first love with a girl at his school (Olivia Olson).
Mark (Andrew Lincoln) is in love with Juliet (Keira Knightley) who's marrying his best friend Peter (Chiwetel Ejiofor) that prevents Mark from expressing his feelings except through the wedding video he's shooting for them. Sarah (Laura Linney), who works at Harry's graphic design company, has loved creative director Karl (Rodrigo Santoro) from a distance for years, but when she finally manages to get together with him, she receives a call from her mentally ill brother (Michael Fitzgerald) who needs her more.
Colin Frissell (Kris Marshall), a failure in love, informs his friends that he's going to America to find romance, convinced that his accent and English ways will be a babe magnet—and in Milwaukee they are. A successful novelist (Colin Firth) who, on walking in on his girlfriend having sex with his brother, retreats to the French countryside to write where he meets the Portuguese housekeeper, Aurelia (Lúcia Moniz), both of them not able to understand a word the other says but communicating their feelings anyway.
Sex-scene body doubles John (Martin Freeman) and Judy (Joanna Page) are perfectly relaxed and comfortable being naked and simulating copulation on-set but are bashful with each other in real life. And aging rock star Billy Mack (Bill Nighy), whose manager (Gregor Fisher) is struggling to get another hit out of him by re-furbishing the old Troggs hit "Love Is All Around," has to put up with the uninhibited randy rocker's shenanigans as he has done all his adult life.
Love Actually has been newly digitally restored.
Both, Video: 2.35:1. Both, Audio: DTS-HD Master Audio 5.1.
Notting Hill, Extras: commentary by director Roger Michell, producer Duncan Kenworthy, and writer Richard Curtis, "Seasonal Walk on Portobello Road," "Hugh Grant's Movie Tips," "Spotlight on Location," Elvis Costello's "She" music video, Shania Twain "You've Got a Way" music video, photograph montage, US and international trailers; UltraViolet digital copy for streaming/downloading.
Love Actually, Extras: commentary by Curtis and actors Grant, Nighy, and Sangster, over 30 minutes of deleted scenes with director's introductions, "The Music of Love Actually" with introductions by Curtis, "The Storytellers" featurette, Kelly Clarkson's "The Trouble With Love Is" music video, Billy Mack's "Christmas is All Around" music video; DVD and digital copy. Both, Studio: Universal.