This Week in Movies & TV, May 14, 2013: Eastern Thoughts Go West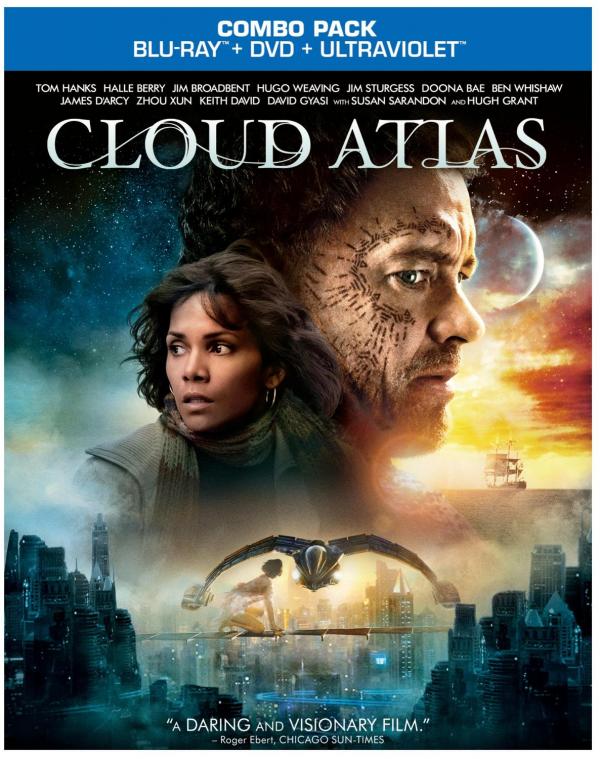 Cloud Atlas
Written and directed by Andy and Lana (formerly Larry) Wachowski (The Matrix trilogy) and Tom Tykwer (Run Lola Run), Cloud Atlas takes you on a mind-boggling odyssey through many ages and places that come together to make up the six-story tapestry of lives and previous lives, allowing many of the best actors in Hollywood and England to play multiple roles - the same soul in different stages - with great relish.
Although the high quality of the images in this reference-level disc is consistent throughout, the palettes, with rich and varied tones, run the range through places and times, the excellent contrast dealing well with them all. Colors in a corporate conspiracy story set in the unrestrained early-Seventies San Francisco are vibrantly garish with mauves in hotel corridors, puces in elevators. The post-apocalyptic "106 Winters After the Fall," forest settings are a wide range of natural greens and browns. In 2144, where the main character is a replicant slave in Neo Seoul, there are the pop and popping candy colors of saturated neon pink hot-pants, sky-blue tops, and bright yellow chairs with cartoon Buddhas on the back. Futuristic walls are a traditional bright white, as is the shirt of composer Vyvyan Ayrs (Jim Broadbent) in Cambridge 1936 and the clinging, high-tech bodysuit Halle Berry wears in another time and place. There are supersaturated scarlet lamps in the background of the book launch by publisher Timothy Cavendish (Broadbent) in London 2012, the sweater of his author Dermot Hoggins (Tom Hanks) a deep black. In sex scenes skin tones are always natural.
The tattooed face and decorated clothes of primitive Zachary (Hanks) have great detail as do the patterned collars of composer Ayrs and individual hairs in his beard. Tactile textures in textiles and tweeds reveal all their secrets. There's great depth to compositions and volume to rooms and other spaces. The forest has layers of trees receding into the background, all sharp and well defined. Faces are rounded and solid.
From the get-go in this DTS-HD Master Audio 5.1 soundtrack, the surrounds are completely engaged. Instruments are very well separated into each channel, the music bright and distinct. Piano themes and the beautiful "The Cloud Atlas Sextet" symphony are very clear and full. Simultaneously we're immersed in convincing atmospherics -voices from the past, street traffic, party chatter, wood sounds, and creaking ship. There's good bassy snap to gunshots and a body thrown off a hotel tower smacks into concrete with a deep, satisfying thud as does a section of bridge collapsing into the stream below.
There's much talk, most of it about rebirth - "Our lives are not our own, from moon to tomb, we are bound to others, past and present" - and it's all clear (at least sonically) and full.
Video: 2.40:1. Audio: DTS-HD Master Audio 5.1. Extras: 55 minutes of featurettes - "A Film Like No Other," "Everything is Connected," "The Impossible Adaptation," "The Essence of Acting," "Spaceships, Slaves & Sextets," "The Bold Science Fiction of Cloud Atlas," and "Eternal Recurrence;" DVD and UltraViolet digital copies for streaming/downloading. Studio: Warner.
Movies Mastered in 4K
Last week we had the pleasure ofThe Great Escape released in a high-def transfer struck from a 4K master, but this week there's a veritable plethora of these smart-looking Blu-ray discs that Sony has created, "optimised for 4K Ultra HD TVs," to show off the TVs' upscaling capabilities. The titles aren't Ultra HD 4K resolution - 4,000 pixels of horizontal resolution - since a 4K movie, weighing in at a hefty 200GB, can't fit on a Blu-ray disc, but these 1080p transfers, with new expanded color, which can be played using existing HDTVs and Blu-ray players, are a stop-gap for those looking to benefit from the 4K television.
And if that ain't enough these'll have to do, until the real thing comes along.
Taxi Driver
Based on Paul Schrader's screenplay about taxi driver Travis Bickle (Robert De Niro) ferrying people across the River Styx of New York City of 1976 to the Underworld, Martin Scorsese's masterpiece movie creates a mythological landscape of the horror the city was suffering through with infernal fumes barely contained beneath the city streets.
It was the era of The Omen and The Exorcist, defeat and disillusion, when a Vietnam veteran's reaction - daily facing through a mirror or a windshielded fishbowl the disintegrated morality, uncaring hedonism, and corrupt, cynical politics - of gradually slipping into a detached psychotic rage at the state of the world, seemed almost a heroic, human response.
Taxi Driver, with its memorable menacing score by Bernard Herrmann (Citizen KaneVertigo, North by Northwest, Psycho) and cinematography by Michael Chapman (Raging Bull, The Last Waltz, Bad) co-stars Cybill Shepherd, Leonard Harris, Jodie Foster, Harvey Keitel, Albert Brooks, Peter Boyle, and Scorsese.
Angels & Demons
A priest has been murdered. A terrorist act is being planned against the Vatican. And descendants of an ancient secret brotherhood known as The Illuminati - an underground organization of great ancient power - are plotting. Yes we're back in Dan Brown territory as Tom Hanks reprises his role from the 2006 film The Da Vinci Code as Harvard scholar, religious expert, and symbologist Robert Langdon, now called in after the untimely death of the Pope to decipher the clues and avert the threat posed by an old enemy of the Catholic Church.
Meanwhile, somewhere in Switzerland, the Large Hadron Collider has gone online - that's that particle accelerator with the capacity to create tiny quantities of anti-matter. Following a break-in at the facility, brilliant and beautiful scientist Vittoria Vetra (Ayelet Zurer) finds a fellow scientist murdered and all the anti-matter thus far produced, stolen.
Back at the Vatican, Langdon - with the help of Camerlengo Patrick McKenna (Ewan McGregor), the man charged with running the Vatican until a new Pope is elected, Commander Richter (Stellan Skarsgård), head of the Swiss Guard, and Vittoria - must save the lives of four kidnapped Cardinals, likely candidates to replace the dead Pope, by chasing across Rome cracking codes, exposing the dark secrets of Illuminati, and preventing the destruction of the very Vatican itself.
Angels & Demons was directed by Ron Howard from a screenplay by David Koepp and Akiva Goldsman.
Spider-Man (2002)
Orphaned at an early age, shy and awkward photography enthusiast Peter Parker (Tobey Maguire) leads the life of a normal student in New York, yearning after class beauty Mary Jane Watson (Kirsten Dunst), hanging with pal Harry Osborn (James Franco), living with his beloved Uncle Ben (Cliff Robertson) and Aunt May (Rosemary Harris). That is until he's bitten by a genetically modified arachnid, and - shazam! - he gains unusual spider-like powers of super-human strength, agility, the ability to shoot webs, and spidey-sense ESP-like abilities. In the face of personal tragedy, Peter vows to dedicate his life to fighting crime, becoming a superhero in the process. For, as good ol' Uncle Ben puts it, "With great power comes great responsibility."
In the meantime, Harry's father, Norman Osborn (Willem Dafoe), has drunken his own Kool-Aid experimental formula, which is great in that it has increased his intelligence and strength - but it has the minor drawback side effect of driving him completely barking crazy. He is now the Green Goblin, instant arch enemy to Spider-Man, who will put young Peter Parker's vow to fight crime and help innocent people to the ultimate test.
Spider-Man was directed by Sam Raimi (The Evil Dead, Army of Darkness, Oz the Great and Powerful) from a screenplay by David Koepp based on work by Stan Lee and Steve Ditko.
The Amazing Spider-Man
Sam Raimi's Spider-Man 4 was scrapped in favor of this retread by director Marc Webb a mere 10 years after the first film in Raimi's trilogy.
Based on the Marvel comic book by Stan Lee (also executive producer) and Steve Ditko, the rapid remake/retake action adventure, TheAmazing Spider-Man, retells the character's origins story. Peter Parker (Andrew Garfield), who was abandoned by his parents as a boy and raised by his Uncle Ben (Martin Sheen) and Aunt May (Sally Field), is now a bullied, nerdy, science-wiz, a troubled teenage loner, and a high-school student who yearns from afar for beautiful classmate Gwen Stacy (Emma Stone, her father, Capt. Stacy being played by Denis Leary). Parker one day discovers a mysterious briefcase that belonged to his father setting him off in search of the facts behind the disappearance of his parents. It contains a complex algorithm that leads him to Oscorp and Dr. Curt Connors (Rhys Ifans), research scientist and his father's former partner, who, having lost an arm, is working on a process to regrow human tissue much as reptiles can . . . Hunting about in a restricted area of the Oscorp facility, Parker is (of course) bitten by a special genetically-modified spider and finds himself with strange new powers including super-strength and speed, the ability to stick to surfaces, and heightened instincts. Soon, Parker feels the need to create a spidey suit and mask (natch) and a ultra-tensile "biocable" spider-web spinner to allow him to go out looking for vigilante vengeance - following Uncle Ben's shooting - as Spider-Man! Which, of course, eventually leads him to fall out with Connors' grouchy alter ego, The Lizard (Rhys Ifan) who tends to threaten the entire city as super-villains have a tendency to. Connors tries to disperse his serum across the city and make everyone into lizards, but only manages to do so in the Wall Street area.
Director Marc Webb had previously only made the rom-com-dram (500) Days of Summer, and so was probably hired - and given the aid of screenwriters James Vanderbilt, Alvin Sargent, and Steve Kloves and storywriter James Vanderbilt - to creates a more psychologically-driven story and together they've succeeded in bringing a more realistically complex Parker/Spider-Man to the screen - along with all the must-have kick-ass, swinging special effects that make home theater such fun while absorbing lessons on the human condition.
Total Recall (2012)
At the end of the 21st century - not too long from now, actually - chemical warfare has decimated Earth. The only two territories capable of sustaining life are The United Federation of Britain (Western Europe) and The Colony (Australia).
Total Recall was created from a screenplay by Kurt Wimmer and Mark Bomback, based on a screen story by Ronald Shusett, Dan O'Bannon, Kurt Wimmer, and Jon Povill, loosely based on the screenplay of the 1990 film by Ronald Shusett, Dan O'Bannon, and Gary Goldman which was based on the screen story by Ronald Shusett, Dan O'Bannon, and Jon Povill, originally loosely based on the short story "We Can Remember It for You Wholesale" by sci-fi legend Philip K. Dick. The result of all that Chinese whispering is Total Recall (2012).
It tells of factory worker, Douglas Quaid (Colin Farrell), who begins to suspect, after visiting Rekall - a vacation company that provides implanted fake memories of adventures as a different, more exciting person - that he is actually a real spy, that the dull life he had been living is merely a fabrication, and that his wife (Kate Beckinsale), friends, and society are part of the conspiracy that's preventing him being all he could be and saving the world. (Paging Dr. Midlife Crisis.)
Total Recall (2012) was directed by Len Wiseman's (Live Free or Die Hard, Underworld, Underworld: Evolution) and co-stars Jessica Biel, Bill Nighy, and Bryan Cranston.
Battle: Los Angeles
Yes, aliens have invaded yet again and are systematically wiping out beachfront property on the Los Angeles coast. It all started when mysterious objects, spotted approaching Earth at an irregular pace, start splashing down off the coasts of cities around the world. Soon extraterrestrial spacecrafts emerge from the oceans and begin to attack.
This, of course, causes aging veteran Marine Staff Sergeant Michael Nantz (Aaron Eckhart) to come out of retirement to help young, inexperienced Second Lieutenant William Martinez (Ramon Rodriguez) and his platoon to locate and rescue a pocket of civilians stranded in an overrun police station before the entire coastline goes kablooey.
In the process they, along with Tech Sergeant Elena Santos (Michelle Rodriguez) and veterinarian Michele (Bridget Moynahan), must try to understand the alien technology, discover their plan of attack, and find a way to fight back in order to overcome the hopeless situation.
This loud, 2011 action-effects monolith was director Jonathan Liebesman (The Texas Chainsaw Massacre: The Beginning, Darkness Falls) from a screenplay by Christopher Bertolini (The General's Daughter).
The Karate Kid (2010)
In this well-received remake of the much beloved 1984 film of the same title, 12-year-old cool-in-Detroit Dre Parker (Jaden Smith), after the death of his father, is plucked up by his career-pursuing mother, Sherry (Taraji P. Henson), and moved to China. Dre and a violinist classmate, Mei Ying (Wen Wen Han) are mutually attracted but cultural differences and the class bully, Cheng (Zhenwei Wang) come between them. Soon Dre finds himself set upon by the schoolyard bullies and given a martial-arts beatdown.
Dre has no friends to turn to but, fortunately, he meets his building's maintenance man, Mr. Han (Jackie Chan) who happens to secretly be a master of kung fu and who teaches Dre lessons in self-defense on top of the Great Wall of China and in front of the Wudang Mountains. Han also teaches Dre life lessons, in discipline, self-reliance, integrity, personal honor, responsibility, sacrifice, perseverance - and how to kick ass. Han decides that to restore Dre's honor and get the bullies to back off, he should compete in a local Kung Fu tournament, allowing for a big ol' arena showdown setpiece.
The Karate Kid was directed by Harald Zwart and produced by Will and Jada Pinkett Smith.
The Other Guys
In the 2010 action comedy The Other Guys, directed and co-written by Adam McKay (Anchorman, Step Brothers, Talladega Nights: The Ballad of Ricky Bobby, The Campaign), tough New York City detective Terry Hoitz (Mark Wahlberg), as punishment for accidently shooting Derek Jeter during the World Series, gets assigned to work with a mild-mannered, paper-pushing forensic accountant, Allen Gamble (Will Ferrell).
The unlikely police partners try to emulate their heroes, Detective P.K. Highsmith (Samuel L. Jackson) and Detective Christopher Danson (Dwayne Johnson), two gung-hoing New York top cops whose heroics tend to leave a trail of destruction mounting into the millions of dollars, but because of their reputation and popularity with the department, press, and public, they get away with it.
When Danson and Highsmith come to a mysterious untimely end, it leaves a couple of positions open for the title of "Super Cops," - the department's best crime-fighting duo - that Hoitz and Gamble decide to try to fill. They intend to do so with the unlikely long-dormant case investigating a local multi-billionaire, David Ershon (Steve Coogan) who has avoided obtaining the proper scaffolding permits around the city. Eventually, though, they discover that there's a lot more to the case, a plot by Ershon to cover his $32 billion losses to his client Lendl Global. Meanwhile, Lendl CEO Pamela Boardman (Anne Heche) hires a team of mercenaries headed up by Roger Wesley (Ray Stevenson) to make sure no one stops Ershon from paying her company back and Ershon kills his attorney who has discovered Ershon's intrigue.
The Other Guys co-stars Eva Mendes and Michael Keaton.
Ghostbusters
After their research grants expire and their methodology is called into question, three parapsychologist researchers - Dr. Peter Venkman (Bill Murray), Dr. Raymond Stantz (Dan Aykroyd), and Dr. Egon Spengler (Harold Ramis) - get booted from Columbia University and decide to set up in business together using their knowledge and talents to make money - as Ghostbusters.
Their ghost removal service, located in an abandoned firehouse in New York City with a retrofitted 1959 ambulance as transport, is good to go but the team gets no customers. Then, surprisingly, paranormal activity begins to increase immensely in New York City and the Ghostbusters gang are soon so busy they have to hire a fourth member, Winston (Ernie Hudson), and receptionist, Janine (Annie Potts).
One of their customers is cute cellist Dana Barrett (Sigourney Weaver) who seems to have a mysterious creature is in her kitchen. It turns out to be a demonic spirit, Zuul. Dana becomes possessed by Zuul and declares her/itself The Gatekeeper and talks of releasing Gozer the Gozerian, also known as "The Destructor," who will bring an end to the world. Since neighbor Louis (Rick Moranis) is possessed by a similar demon called Vinz Clortho, The Keymaster, the Ghostbuster boys, sensibly, try to The Gatekeeper and The Keymaster apart.
Filled with special effects and sight gags, jokes and slapstick, and memorably goofy performances, Ghostbusters (1984) was a huge hit with audiences. It was directed Ivan Reitman (Meatballs, Stripes, Legal Eagles), has a score by Elmer Bernstein (Devil in a Blue Dress, The Age of Innocence, My Left Foot), and cinematography by Lászlo Kovács (Easy Rider, The King of the Marvin Gardens, Shampoo), which isn't too shabby.
Glory
Winner of three Oscars for Best Supporting Actor (Denzel Washington), Best Cinematography, and Best Sound, the ensemble film Glory (1989) tells the story of the first black regiment - the 54th Massachusetts Volunteer Infantry - to fight for the Union in the American Civil War.
After speaking with African-American activist, Frederick Douglass (Raymond St. Jacques), Captain Robert Gould Shaw (Matthew Broderick) takes on the commission of training an all-black regiment to fight in the war. The idealistic 23-year-old - with the help of his buddy and second-in-command Major Cabot Forbes (Cary Elwes) and a tough, Irish disciplinarian drill instructor, Sergeant Major Mulcahy (John Finn) - must organize the enthusiastic but inexperienced men into a disciplined team, trained and efficient in the practices of modern warfare.
Amongst the men are Shaw's childhood friend, Thomas Searles (Andre Braugher), a cultured, intellectual African-American out of place amongst the troupe, the angry, rebellious Trip (Washington), a man plagued by demons from his past, sharpshooter Jupiter Sharts (Jihmi Kennedy), stoic, levelheaded John Rawlins (Morgan Freeman), and an assortment of unskilled laborers and escaped slaves.
Shaw's soldiers repay his determination and leadership by proving themselves "worthy," despite the bigotry and bureaucracy that holds them back and keeps them underpaid and undersupplied, of facing the enemy with honor and duty, proving their worth in bravery and loyalty, fighting and sacrificing as a mutually supportive brotherhood, united in their trust of each other and the greater good develop in the process a pride and dignity, earning respect and a sense of belonging in their society.
Glory was directed by Edward Zwick's (The Siege, Defiance, The Last Samurai) and has a rousing score by James Horner.
Sadly, for all these titles to make way for the new, better-quality footage, all extras have been dumped from all these discs. But all except Total Recall do include UltraViolet digital copies for streaming or downloading.
Spider-Man, Video: 1.85:1. Audio: Dolby True HD 5.1. The Amazing Spider-Man, Video: 2.40:1. Audio: DTS-HD Master Audio 5.1. Angels & Demons, Video: 2.40:1. Audio: 5.1 (TBA). Battle: Los Angeles, Video: 2.40:1. Audio: DTS-HD Master Audio 5.1. Taxi Driver, Video: 1.85:1. Audio: DTS-HD Master Audio 5.1. Total Recall, Video: 2.40:1. Audio: Dolby TrueHD 5.1. The Karate Kid (2010), Video: 2.40:1. Audio: DTS-HD Master Audio 5.1. The Other Guys, Video: 2.40:1. Audio: 5.1 (TBA). Ghostbusters, Video: 2.35:1. Audio: Dolby True HD 5.1. Glory, Video: 1.85:1. Audio: Dolby TrueHD 5.1. Extras: all, except Total Recall, UltraViolet digital copy for streaming/downloading. Studio: Sony.
The Bletchley Circle
The Bletchley Circle, created and written by Guy Burt (Kingdom, The Borgias, Wire in the Blood) and directed by Andy De Emmony (Kenneth Williams: Fantabulosa!), is a three-part period murder mystery miniseries. In 1952, four ordinary women with an exceptional ability to break codes - a skill each had honed during World War II when they secretly worked at Bletchley Park decryption center - are now, in 1952, civilians who keep their former intelligence work secret from family, friends, and officials. After a series of grizzly murders of women, however, the team gets back together to decode the patterns behind the crimes that others cannot see.
Susan (Anna Maxwell Martin), now a housewife with two children, has been collecting data on a series of murders that the police seem incapable of connecting into a pattern. Millie (Rachael Sterling) is fluent in fourteen languages, Lucy (Sophie Rundle) is a young woman with a photographic memory, and Jean (Julie Graham), oldest of the four, is the former head of the Bletchley Park unit.
The Bletchley Circle paints a fascinating portrait of post-war Britain and London of the 1950s while delivering a mixture of thriller and whodunit.
Video: 1.78:1. Audio: LPCM 2.0. Extras: 30 minutes of interviews with cast and crew. Studio: PBS.
Jubal
3:10 to Yuma
Jubal
Director Delmer Daves (The Red House, Dark Passage, Broken Arrow) made Jubal (1956) the year before his more famous and celebrated 3:10 to Yuma, both films psychological Westerns starring Glenn Ford.
Jubal is an Othello-type tale based on the novel by Paul Wellman with memorable performances from its three leads. Jubal Troop (Ford), an honorable itinerant, Cassio-like cattleman who's found weak and wondering without a horse and is given shelter by kindhearted, Othello-like Shep Horgan (Ernest Borgnine) on his big spread. Despite Troop's refusal to discuss his past, Horgan befriends and hires him to work on the ranch.
After, Horgan's bored wife, Mae (Valerie French) takes an interest in Troop - although Troop is more attracted to wagon rider Naomi Hoktor (Felicia Farr) - and Troop is raised to ranch foreman by Horgan after earning Horgan's trust, sly and jealous Iago-like cowhand, Pinky (Rod Steiger), begins to plot. The stage is set for an intense playing out of the heightened emotions herein.
Jubal has a score by David Raksin (Laura, The Bad and the Beautiful, Pat and Mike) and was shot in gorgeous CinemaScope and Technicolor by cinematographer Charles Lawton, Jr., making expressive use of the mountainous landscapes of Wyoming. Lawton went on to shoot 3:10 to Yuma and four more Daves films. The supporting cast includes Jack Elam, Valerie French, and Charles Bronson.
3:10 to Yuma
In this beautifully shot, complex, tense thriller based on the short story by Elmore Leonard, Ben Wade (Glenn Ford), the leader of a band of outlaws who've robbed a stagecoach and murdered its driver, on stopping in a small town to make love to gorgeous bartender Emmy (Felicia Farr), is captured by the Marshal (Ford Rainey).
Modest cattle rancher Dan Evans (Van Heflin), desperate for money after he's suffered losses from a long draught, agrees to take the $200 offered to secretly take Wade to the nearest town with a railway, Contention City, that will transport him to prison - on the 3:10 to Yuma. In this, he is aided by town drunk Alex Potter (Henry Jones), but along the way, though, he must deal with Wade's gang and have a showdown with them in Contention.
The task turns into a nerve-racking psychological war with Wade, who proves intelligent and sophisticated, the situation testing each man's sense of right and honor and transforming each in the process.
3:10 to Yuma (1957) is beautifully shot by cinematographer Charles Lawton, Jr. (The Lady From Shanghai, Two Rode Together, Brewster's Millions). Its theme song "3:10 to Yuma" was made popular by Frankie Laine.
Jubal, Video: 2.55:1. Audio: LPCM 2.0. Extras: illustrated booklet featuring an essay by film critic Kent Jones. 3:10 to Yuma, Video: 1.85:1. Audio: DTS-HD Master Audio 5.1, LPCM Mono. Extras: new video interview with Leonard, new video interview with Peter Ford, son of actor Glenn Ford and author of the definitive biography Glenn Ford: A Life, illustrated booklet featuring an essay by critic Kent Jones. Studio: The Criterion Collection.
LATEST VIDEO