This Week in Movies & TV, June 18, 2013: Visions, Vampires, & Werewolves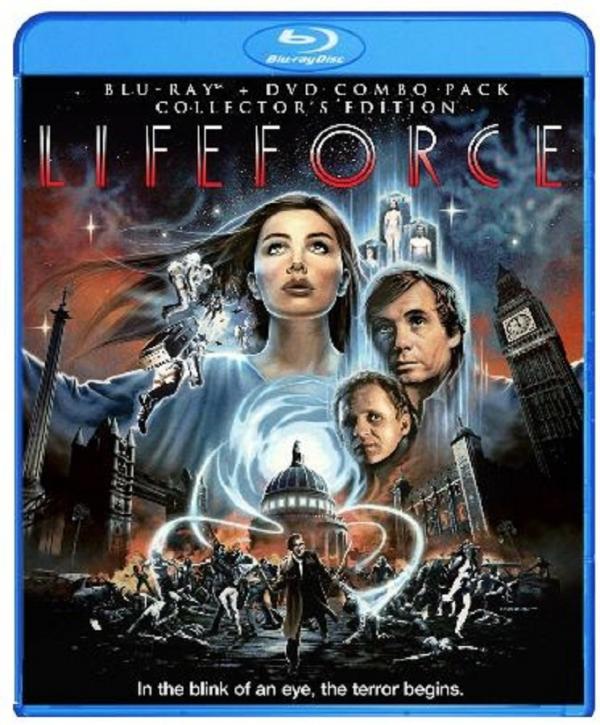 Lifeforce
With a great sci-fi/horror pedigree - directed by Tobe Hooper (The Texas Chain Saw Massacre, Salem's Lot, Poltergeist), screenplay co-written by Dan O'Bannon (Alien, Total Recall, and Dark Star) and Don Jakoby from the 1976 novel The Space Vampires by Colin Wilson, special effects supervised by Oscar-winner John Dykstra (Star Wars, Battlestar Galactica, The Empire Strikes Back, Star Trek: The Motion Picture, Spider-Man 1 & 2), cinematography by Alan Hume (The Avengers TV series, Star Wars: Episode VI – Return of the Jedi, A View to a Kill, For Your Eyes Only) - Lifeforce (1985), despite being schlocky and silly at times, doesn't disappoint in terms of eccentric entertainment, particularly in the home theater.
Its highly engaging story concerns the crew of the Galileo spaceship on its mission to investigate Halley's Comet discovering an alien craft hidden within it. Inside the ship, within a huge enclosure, they find three naked humanoids encased in crystal prism-like structures. The female of the three, a gorgeous, voluptuous brunette (Mathilda May, full-frontal nude for most of the picture), has a strangely forceful attraction for Colonel Carlsen (Steve Railsback) and his crew (not to mention the audience).
Later, the Galileo is rescued and brought back to Earth, but with all the crew dead and just the inanimate aliens in their crystal caskets surviving. Inanimate, that is, until the female awakens and uses her overwhelming, nakedly seductive power to break out of a scientific research facility by telepathically pulling her guard to her and sucking the lifeforce out of him through a kiss. The drained one in turn then needs to take the lifeforce of others in order to survive and these secondary victims, too, desperately seek to take the energy from others in order to survive, thereby passing on the vampiric disease.
Only Colonel Carlsen - who had jettisoned from the Galileo in an escape pod, and is the one person to come across her and survive and thenceforward is telepathically linked with her - and Head of SAS Colonel Colin Caine (Peter Firth, rehearsing for his role as head of British Secret Service, Harry, in MI-5) can possibly track the alien and try to prevent her and her two pals from fulfilling their mission of collecting lifeforce.
Lifeforce starts small but expands exponentially, becoming, by the last act, wonderfully apocalyptic in scope - reminiscent of the highly influential English sci-fi classic, Quatermass and the Pit - with zombie-like creatures shambling through the streets of London in search of others to feed off. It can be both deadly-serious scary and Universal-horror campy - as in a mad scientist-like insane-asylum scene with a possessed Patrick Stewart, when a door is flung open and the attendant stands their and announces "Pentathol! I've brought the pentathol!." And its all good fun.
Henry Mancini's mighty orchestral score kicks in from the opening with great force, instruments well separated into all channels but coming together splendidly to float somewhere in the middle of the room. The music is involving and mysterious, adding tension and a sense of alien otherness. At times it lifts you with building waves of strings and kettle drums up front while choirs and bells are beside you, at others it accompanies lightning-like energy bursts with blasts of trumpets, all of it clear, full, and bassy, as is the rest of the 5.1 soundtrack. Otherwise, the surrounds are used mainly for atmospherics, placing you in a chopper, feeding official announcements, or echoing footsteps and voices in the cathedral crypt finale.
Effects pans are kept to a minimum with one successful sirening car pan and the title credit flying towards you with a whump. The only other attempt - a helicopter flying overhead - is utterly unconvincing, remaining just as loud beside you as it moves away and then lands up ahead onscreen. LFE are good and booming, as in the many psychic explosions caused by the creatures. Dialogue - such as Dr. Hans Fallada (Frank Finlay) sonorously relating the all-important pseudo-science of the phenomena - is all clear.
Contrast is good with rich, discrete colors - American flag shoulder patches, orange jump suits, a room of saturated greens - mixed in with a broad range of pastels and autumnal tones. In one lab, grey uniforms stand out nicely against grey backgrounds and elements in camouflage uniforms are well seperated. Whites are bright in shirts, hospital sheets, and a tunnel of light, more milky in space suits, and duller in dimmer scenes, while blacks in coats and polo-neck sweaters are inky.
There's detail enough to read background clocks, number plates and even eyecharts (depending on your eyes), and text is sharp and distinct. Background figures several offices away are plainly visible. Laboratories have volume, as do the objects within them and the cheesy shriveled figures after they've been sucked on (one of who bears a striking resemblance to Ronald Reagan), but not so much so with regular folk. The best of more recent movies have images that tend to be a tad sharper and better defined, but these are still pretty damned good.
Lifeforce was theatrically released in 70 mm prints with 6-track sound and 35 mm prints with Dolby Stereo. DTS-HD Master Audio 5.1 and DTS-HD Master Audio 2.0 tracks are included on the Blu-ray and I'd recommend the 5.1 for the sake of the music.
In addition to the 116-minute Director's Cut here, the set includes the truncated 101-minute edit of the film that played theatrically in the U.S. (with a Dolby Digital 5.1 soundtrack). And if you buy Lifeforce direct from the Shout! Factory website, you also get an exclusive, limited-edition poster of the newly commissioned artwork with the purchase.
Video: 2.35:1. Audio: DTS-HD Master Audio 5.1, DTS-HD Master Audio 2.0. Extras: commentary by Hooper and moderator Tim Sullivan, commentary by make-up effects designer Nick Maley hosted by Michael Felcher, Lifeforce truncated U.S. theatrical release version with Dolby Digital 5.1 soundtrack, "Dangerous Beauty" interview with Mathilda May, "Space Vampires in London" interview with Hooper, "Carlsen's Curse" interview with Steve Railsback, "Vintage Making of Lifeforce" featurettes, still gallery; DVD. Studio: Shout! Factory.
Things to Come
With the concept conceived and the plot and dialogue devised, written, and overseen by visionary novelist H. G. Wells (whose works included The Time Machine, The Island of Doctor Moreau, The Invisible Man, The War of the World, and The First Men in the Moon), the direction by Oscar-winning production designer and art director William Cameron Menzies (set designer and special effects man on The Bat and the 1924 version of The Thief of Bagdad and director of Invaders from Mars, The Maze, and Drums in the Deep South), the black-and-white cinematography by Georges Périnal (The Blood of a Poet, Rembrandt, The Life and Death of Colonel Blimp, The Fallen Idol), and the whole show produced by the great Hungarian impressario Alexander Korda (who also produced and directed The Private Life of Henry VIII, Rembrandt, and That Hamilton Woman and produced The Thief of Bagdad), Things to Come (1936) was bound to be something visually special.
Beginning on the eve of The Great War - starting Christmas Eve, 1940 - and traveling by steps through the ages all the way up to 2036, the story speculates on the future and is prescient like no other film, predicting from its 1936 perspective a century of progress producing a world war, dictatorship, television, the cold war, a rocketship to the moon, and the enormous role technology would play in our everyday lives.
The war begins and devastates the world, survivors gathering in the bigger cities, such as London (now Everytown). Disease follows and The Pestilence wipes out more. A good time is had by all.
Thirty years later, John Cabal (Raymond Massey) arrives in in Everytown in an aircraft, sent on a mission by the scientific group Wings Over the World who have a project to help eliminate the warlords controlling the surviving communities in order to unite the world. Local warlord, The Boss (Ralph Richardson), however, isn't interested in giving up power and throws Cabal in jail. But Wings Over the World send huge aircrafts that drop gas bombs, killing The Boss, allowing Cabal to be set free, and Everytown to get with the project.
Cut to 2036, when a new Super Gun is being constructed that can shoot a rocket to the Moon, but dissidents, led by sculptor Theotocopulos (Cedric Hardwicke), call for the end to further technological development and set about destroying the Super Gun. Can ordinary folk take back their lives from the technocrats and their machines? Can we? Only time and the future will tell.
Things to Come's sets and decor, not surprising given Cameron Menzies' background, are extraordinary and are often compared to those in Fritz Lang's Metropolis and for these alone, the film is well worth a viewing (especially in this new high-definition digital film restoration) - along with the chance to marvel at the amazing accuracy of Wells' vision of what would be. In addition, the film also has an orchestral score by Arthur Bliss and co-stars Derrick De Marney, Margaretta Scott, and Derrick De Marney.
Video: 1.37:1. Audio: LPCM Mono. Extras: commentary by film historian and writer David Kalat, interview with writer and cultural historian Christopher Frayling on the film's design, film historian Bruce Eder on Bliss's musical score, audio recording from 1936 of a reading from H. G. Wells's writing about the "wandering sickness" plague in Things to Come, booklet featuring an essay by critic Geoffrey O'Brien. Studio: The Criterion Collection.
The Howling
In this 1981 horror cult classic - script by John Sayles (writer of Wild Thing, Battle Beyond the Stars, and Piranha, writer-director of Return of the Secaucus 7, The Brother from Another Planet, Matewan, and Lone Star) and Terence H. Winkless, direction by Joe Dante (Gremlins, Piranha, Rock 'n' Roll High School) - the moodily atmospheric mystery melodrama is laced with wit and terror, all tied together with the eerie special effects of Rob Bottin and a musical score by composer Pino Donaggio.
Inspired by Gary Brandner's novel of the same name, The Howling tells of TV newscaster Karen White (Dee Wallace) who, after surviving an encounter with a serial killer in Los Angeles, goes with her husband, Bill Neill (Christopher Stone) to rest up and recover at The Colony, a secluded retreat in the countryside run by her therapist Dr. Waggner (Patrick Macnee). But her safe haven proves spooky, with weirdly friendly neighbors and shrieks in the night, leading Karen to sensibly venture into the forest.
Meanwhile one of inhabitants of The Colony, nymphomaniac Marsha Quist (Elisabeth Brooks), makes moves on Neill, who rejects her only to get bitten by a wolf on his way back to his cabin. White's investigations reveal what seems be a secret society and some kind of a conspiracy that has a connection with her attacker that will test the inner strength of the formerly traumatized victim.
The Howling co-stars John Carradine, Dennis Dugan, Elisabeth Brooks, Dick Miller, Eddie Quist, Belinda Balaski, and Kevin McCarthy.
If you buy direct from Shout! Factory, fans can get an exclusive, limited edition poster of the newly commissioned artwork with their purchase!
Video: 1.85:1. Audio: DTS-HD Master Audio 5.1. Extras: commentary by Dante and actors Wallace, Stone, and Robert Picardo, "Unleashing the Beast: The Making Of The Howling" multi-part featurette, "Making Of A Monster: Inside The Howling Documentary" and "Horror's Hallowed Grounds – A Look At The Film's Locations" featurettes, deleted scenes and outtakes, photo gallery. Studio: Shout! Factory.
Stoker
Korean director Park Chan-wook (Oldboy, Sympathy for Mr. Vengeance, Sympathy for Lady Vengeance) changes pace for his English-language debut with this British-American psychological thriller about a young woman, India Stoker (Mia Wasikowska), who, when her beloved father dies in an automobile accident during her 18th birthday, is surprised to meet her Uncle Charlie (Matthew Goode) at the funeral, whom she never knew existed.
After he comes to live with her and her unstable mother (Nicole Kidman) to help support them, Stoker soon begins to suspect that charming Uncle Charlie, who's spent his life traveling the world, is more than he seems. The caretaker, Mrs. McGarrick (Phyllis Somerville), disappears after an argument with Uncle Charlie which is witnessed by Stoker. And when Great Aunt Gwendolyn (Jacki Weaver) is strangled before she can share her suspicions. But when Stoker discovers the caretaker's body in the basement deepfreeze, she becomes sure of Uncle Charlie's guilt. Nonetheless, the lonely girl, who previously resented his presence and his growing intimacy with her mother, now finds herself becoming attracted to this charismatic man - because of his homicidal behavior.
This horror take on Alfred Hitchcock's Shadow of a Doubt was written by Wentworth Earl Miller III (who's also a model, a producer, and the lead actor who plays Michael Scofield in the TV series Prison Break) and co-stars Dermot Mulroney, Lucas Till, Judith Godrèche, and Alden Ehrenreich. Stoker was the last film produced by Tony Scott.
Video: 2.40:1. Audio: DTS-HD Master Audio 5.1. Extras: "An Exclusive Look: A Filmmaker's Journey," "Theatrical Behind the Scenes" featurettes consisting of "Mysterious Characters," "Designing the Look," and "Creating the Music" segments, deleted scenes, red carpet premiere performance of "Becomes the Color" by Emily Wells, image galleries, free song download; UltraViolet digital copy for streaming/downloading. Studio: 20th Century Fox.
Safety Last!
Harold Lloyd's persona in silent films was that of the modern guy striving for success and so is not far from our own situation. In the romantic comedy Safety Last! (1923), Lloyd plays a small-town rube called . . . Harold Lloyd . . . who's trying to make good in the big city, in the mean time taking a lousy job as a clerk in a department store.
In an attempt to get on, he decides to promote the store with a with a crazy publicity stunt of incredible derring-do. Using a series of breathtaking stunts, including Lloyd hanging from the hands of a giant clock on the side of a skyscraper high above the traffic below - one of the most famous images from silent cinema - and well-timed laugh-out-loud visual gags, Safety Last! was both critically acclaimed and highly commercially successful and it helped Lloyd become a major star of early motion pictures in the same league as Charlie Chaplin and Buster Keaton.
Being a great introduction to the comedian, this 84-minute black-and-white film directed by Fred Newmeyer and Sam Taylor was chosen to be the first Harold Lloyd film to be released by The Criterion Collection since the Lloyd catalog was acquired by Janus Films in 2012. Janus Films will tour Safety Last! theatrically to celebrate the 19th anniversary of its release and to kick off an ongoing celebration of the classic silent comedian.
The transfer of Safety Last! comes from a new 2K digital film restoration with a musical score by composer Carl Davis from 1989, synchronized and restored under his supervision and presented in uncompressed stereo. An alternate score by organist Gaylord Carter from the late 1960s, presented in uncompressed monaural is also included.
Amongst its numerous extras, there are two commentaries, newly restored Lloyd shorts Take a Chance (1918), Young Mr. Jazz (1919), and His Royal Slyness (1920), and the 104-minute documentary, Harold Lloyd: The Third Genius (1989).
Video: 1.37:1. Audio: LPCM 2.0 stereo (Davis score), LPCM Mono (Carter score). Extras: alternate score by organist Gaylord Carter, commentary by film critic Leonard Maltin and director and Harold Lloyd archivist Richard Correll, introduction by Lloyd's granddaughter, Suzanne, and president of Harold Lloyd Entertainment, newly restored Lloyd shorts Take a Chance (1918), Young Mr. Jazz (1919), and His Royal Slyness (1920) with commentary by Correll and film writer John Bengtson, Harold Lloyd: The Third Genius 104-minute documentary from 1989, "Locations and Effects" new featurette featuring Bengtson and special effects expert Craig Barron, new interview with Davis, booklet featuring essay by critic Ed Park. Studio: The Criterion Collection.
Jack the Giant Slayer 3D
In this fantasy adventure retelling of the ancient fairytales Jack and the Beanstalk and Jack the Giant Killer by director Bryan Singer (The Usual Suspects, X-Men,Valkyrie), a young farmhand named Jack (Nicholas Hoult) goes into town to sell his horse to help support his uncle's farm. There, Jack rescues fair maiden Isabelle (Eleanor Tomlinson) from a bunch of ruffians who threaten her honor. Jack later meets a monk who offers some magic beans he has stolen from Lord Roderick (Stanley Tucci) as collateral for Jack's horse. Unsurprisingly, when he gets home Jack's uncle is pretty pissed with Jack for being a foolish dolt and hurls the beans on the floor.
Isabelle, who's actually a princess, quarrels with her father, King Brahmwell (Ian McShane), who wants her to settle down with Lord Roderick, while she wants to be free to go off and explore the kingdom. Seeing her chance, Isabelle sneaks out of the castle and sets off on her adventure but soon she runs into a storm and must seek shelter at a humble house. Surprisingly, it turns out to be Jack's uncle's place and just then one of the beans, bathed by the rain, takes root and rapidly grows into a gigantic beanstalk that lifts the house, and Isabelle in it, into the sky.
Now Jack must not only rescue the princess, carried up by the beanstalk to a land where a race of giants that used to make war with the human race in ancient times dwell, but deal with the fact that he has inadvertently opened a gateway between their world and ours. And not only that, but Lord Roderick, who, having supposedly set off to rescue the princess, too, is actually intending to exploit the gateway by having the giants, whom he controls with a magic crown, help him seize the kingdom below.
Jack the Giant Slayer's cast includes Bill Nighy, Ewan McGregor, Eddie Marsan, and Ewen Bremner.
The film is also available as a 2D Blu-ray set that comes with a, DVD and UltraViolet digital copy for streaming/downloading.
Video: 2.40:1. Audio: DTS-HD Master Audio 5.1. Extras: "Become A Giant Slayer" featurette made up of "Know Your Enemy," "Suiting Up," "Attack Tactics," "The Magic of a Beanstalk," "How to Zip," "Giants' Kitchen," "Saving the Princess," and "Defending Your Kingdom" segments, deleted scene, gag reel; 2D Blu-ray, DVD, and UltraViolet digital copy for streaming/downloading. Studio: Warner.