This Week in Movies & TV, June 11, 2013: 7 Year Witch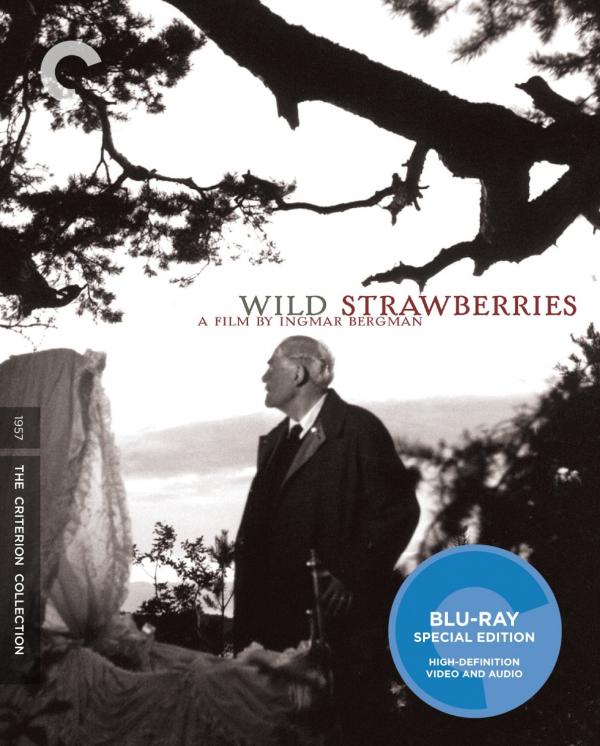 Wild Strawberries
In this much-beloved 1957 masterpiece from the great film artist Ingmar Bergman (The Seventh Seal, Persona,Smiles of a Summer Night), Professor Isak Borg - memorably played by veteran director Victor Sjöström (The Phantom Carriage, He Who Gets Slapped, The Wind) - is a selfish and somewhat cruel, yet old-world charming and likeable 78-year-old specialist physician who travels by car from Stockholm to Lund University to be awarded an honorary degree. Over the course of the trip, the idea of this award and nightmares of his approaching death inevitably lead him to look back on his achievements and failures in a lifetime marked by public service but emotional coldness, shame, and regret.
Bergman portrays this with self-lacerating dreams of humiliation, happy reminiscences of youth tinged with sorrow, and through the people Isak meets along the way who remind him of some aspect of his relationships - a young, carefree romantic threesome, a hateful married couple who viciously tear at one another, smiling while they cut with sarcasm and contempt, his distant, accusatory mother, and his son, who, because of his upbringing, feels emotionally dead. As the leader of a dreamed examination board puts it "You have been accused of guilt."
Yet amongst all this angst are feelings of acceptance, forgiveness, and reconciliation with others and self emerging from recognition of the multiple facets of a person and the difficulty of living with complex human needs and desires.
Criterion's new digital film transfer is completely free of dirt and damage allowing all the beauty of long-time Bergman cinematographer Gunnar Fischer's images to come through. There are deep blacks throughout, and a wide range of lovely greys - particularly in lyrical, bucolic scenes of the remembered country - but the same white blouses and shirts, bright in sunlit exteriors, tend to be a bit dull in the gloominess of a moment.
The dreams are particularly visually striking, especially the first, a surrealist contemplation of death shot in high contrast and overexposed, producing dazzling whites in streets and the face of a handless clock, but still inky blacks in the approaching hearse, maintaining great detail so that Isak's face is mapped with lines of anxiety.
There's texture to the undergrowth where his long lost love picks wild strawberries, in the fabric of Isak's suit and herringbone pattern of his coat, and in his mother's lace shawl. Rooms, such as the professor's well-filled study, have volume to them, with all furniture and objects sharp and solid in the deep-focus compositions, elements of paintings in the background visible. Just enough grain is present to maintain the film-like quality of images.
The uncompressed mono soundtrack in which hiss is all-but absent includes background sounds, such as disturbingly cawing birds or insistent ticking clocks reminding of death, that are crisp and distinct. Music - mixing precise piano solos with resonating cello - and voices are clear, full, and natural.
Wild Strawberries (Smultronstället) co-stars many of Bergman's "repertory company" of Swedish actors appear including Gunnar Björnstrand, Bibi Andersson, Ingrid Thulin, and Max von Sydow.
The set includes a marvellous analytical commentary by film scholar Peter Cowie, home movies of the production, and a 90-minute documentary by filmmaker and author Jörn Donner talking with Bergman about his life and art.
Video: 1.66:1. Audio: Swedish, LPCM Mono. Extras: introduction by Bergman, commentary by film scholar Peter Cowie, Ingmar Bergman on Life and Work 90-minute documentary by filmmaker and author Jörn Donner, behind-the-scenes footage shot by Bergman, booklet featuring an essay by film writer Mark Le Fanu. Studio: The Criterion Collection.
House of Cards: Season 1
Sex, crime, violence, betrayal, and corruption. Yes, you're in present day Sin City - Washington, D.C. House of Cards is an American adaptation of the masterful, deliciously wicked, and highly entertaining BBC political drama miniseries of the same name which in turn is based on the novel by Michael Dobbs.
Director David Fincher (The Girl with the Dragon Tattoo, The Social Network, Fight Club), on being shown the British miniseries starring Ian Richardson by his agent, decided produce a series in America with screenwriter Eric Roth (The Insider, Munich, Forrest Gump). Fincher wanted to do TV because it allows for more complex characterizations than one two-hour film. Netflix, the giant streaming service, wanting an impressive launch to its original programming arm, examined the data it had collected from tracking its members' viewing habits and - concluding that there was an audience for the series, its executive producer-director (Fincher also shot the first two episodes), and its star Kevin Spacey - outbid other networks. Season 1, further developed and produced by Beau Willimon, premiered on Netflix February 1, 2013.
House of Cards tells the story of Frank Underwood (Spacey), Democrat Congressman from South Carolina's 5th district and the House Majority Whip, who, after being passed over for the position of Secretary of State despite having helped ensure the election of President Garrett Walker (Michael Gill), decides to forget loyalty to his party and president and focus just on his own career and getting his revenge on those he feels betrayed him. With the aid of his wife Claire (Robin Wright), Underwood stops at nothing, manipulating and exploiting those around them, ruthlessly dealing with others who stand in the way, all in order to achieve his plans that are fueled by his endless ambition for power.
Like the English miniseries, this House of Cards takes a page out of William Shakespeare's Richard III by breaking the forth wall and having its villainous main character involve and implicate its audience by addressing them directly, explaining the cunning intricacies of his machinations with such arch charm and wit that you wish him to succeed.
House of Cards co-stars Kate Mara, Corey Stoll, Michael Kelly, Sakina Jaffrey, Kristen Connolly, Constance Zimmer, Sebastian Arcelus, Ben Daniels, and Reuel Pendleton.
The 13 hour-long Season 1 episodes (here on 4 Blu-ray discs) were made available all at once for download at Netflix, since the company's data told them that their members liked to view a series in a marathon rather than in the traditional weekly, episodic format. Having been shot to seamlessly flow from one to the next, the content is shaped much more for the overall season's story than an individual episode's in terms of satisfying resolutions or cliffhangers. If you want those you have to keep going.
Video: 2.00:1. Audio: DTS-HD Master Audio 5.1. Extras: none; UltraViolet digital copy for streaming/downloading. Studio: Sony.
Oz the Great and Powerful
In this fantasy adventure, a recently made-up prequel to The Wizard of Oz directed by Sam Raimi (The Evil Dead, Army of Darkness, Spider-Man 1-3), we get to discover the supposed origins of L. Frank Baum's beloved character, the Wizard. Set in 1905, 20 years before the events of the books, Oz the Great and Powerful begins when small-time traveling circus magician and hustler Oscar "Oz" Diggs (James Franco), after flirting with the strongman's wife, is forced to flee in a hot air balloon. Swept up into a tornado, he is dragged away from dust-bowl Kansas and carried on to the dazzlingly colorful Land of Oz.
There he meets the witch Theodora (Mila Kunis) who takes him to be the wizard prophesied to bring down the Wicked Witch who killed the King of Oz. On the way to the Emerald City, Diggs saves a flying monkey called Finley (voiced by Zach Braff) from a lion, causing Finley to pledge undying loyalty to Diggs and impressing Theodora in the process.
Theadora's sister, Evanora (Rachel Weisz), is less charmed by Oscar and doesn't believe him to be prophesized wizard. She does, however, inform him that the Wicked Witch can be found in the Dark Forest and if he intends to kill her he must destroy the source of her power - her wand.
Diggs and Finley set off on their quest and are joined en route to the forest by a living china doll, China Girl (voiced by Joey King), whose home, Chinatown, and family were destroyed by the Wicked Witch. On reaching the forest, though, and capturing the wand they learn before destroying it that it actually belongs to Glinda the Good Witch (Michelle Williams) and it's Evanora who's the real Wicked Witch!
Seeing this with her crystal ball, Evanora tricks Theodora into biting on a magic apple that transforms her into a green-skinned Wicked Witch. Can Diggs save her? Can he defeat Evanora and her army of Winkies and flying baboons? Maybe.
The film co-stars Abigail Spencer, Joey King, Bill Cobbs, Tony Cox, Stephen R. Hart, and Bruce Campbell and comes with a score by composer Danny Elfman.
Oz the Great and Powerful, which was shot native 3D, is also available in a 3D Blu-ray set that comes with a downloadable iTunes digital copy - but no 2D Blu-ray. However, an in-package offer allows buyers to obtain a 2D Blu-ray disc by mail for an additional $5.99.
Video: 1.33:1 and 2.40:1. Audio: DTS-HD Master Audio 7.1. Extras: The Magic of Oz the Great and Powerful: Second Screen Experience that tells of all things Oz via a free downloaded Second Screen app (available for iPads at the iTunes Store) including "The Enchanting Characters and Creatures of Oz," "The Sounds of Magical Oz," "Sleight of Hand: Zach Braff Puppet Theater," featurettes and the Mariah Carey music video, plus blooper and the featurettes "China Girl and the Suspension of Disbelief" on the methods used to bring China Girl to life, "Before Your Very Eyes: From Kansas to Oz" on Robert Stromberg's production design, "Mila's Metamorphosis" on Howard Berger's makeup artistry, "Walt Disney and the Road to Oz" on Disney's planned adaptation of the stories in the classic Baum books, "Mr. Elfman's Musical Concoctions" interview with Elfman, My Journey in Oz film produced and directed by Franco; 2D Blu-ray, DVD, iTunes digital copy. Studio: Disney.
Paul McCartney & Wings: Rockshow
After the Beatles . . . while John Lenon went on experimenting with complex concepts and more difficult themes and emotions, Paul McCartney continued on with another aspect of the old band - its creation of instantly hookable, unforgettable, lilting-melodied, sharply-crafted pop tunes.
In Rockshow (1980), made up of performances from Wings' 1976 four-concert North American tour playing to arena-sized crowds, consummate entertainer McCartney delivers what the crowds want, showing off those highly memorable and singable songs to their best advantage, as can be witnessed by the nonstop cheers and hollers of delight.
The rest of the band consists of Linda McCartney on vocals, former Moody Blues guitarist Denny Laine, guitar virtuoso Jimmy McCulloch, and drummer and percussionist Joe English. The film's long and winding set comprises of a mixture of Beatles tunes and McCartney "solo" and Wings numbers including "Venus and Mars," "Rock Show," "Jet," "Let Me Roll It," "Spirits of Ancient Egypt," "Medicine Jar," "Maybe I'm Amazed," "Call Me Back Again," "Lady Madonna," "The Long and Winding Road," "Live and Let Die," "Picasso's Last Words (Drink to Me)," "Richard Cory," "Bluebird," "I've Just Seen a Face," "Blackbird," "Yesterday," "You Gave Me the Answer," "Magneto and Titanium Man," "Go Now," "My Love," "Listen to What the Man Said," "Let 'Em In," "Time to Hide," "Silly Love Songs," "Beware My Love," "Letting Go," "Band on the Run," "Hi, Hi, Hi," and "Soily." It took three years to assemble them together and mix into the final cut released four years after the tour.
Rockshow appears here in a version created for a 2013 theatrical release, the longer 125-minute cut being digitally restored from the 35mm negative with the soundtrack remixed in 5.1-channel surround sound.
The set comes in DigiBook packaging that contains a lot of archival photographs and an essay by Paul Gambaccini.
Video: 1.85:1.Audio: DTS-HD Master Audio 5.1, LPCM 2.0. Extras: "A Very Lovely Party" 10-minute vintage featurettes. Studio: Eagle Rock Entertainment.
The Newsroom: Season 1
Created by Aaron Sorkin, the mind behind such memorable TV series as The West Wing, Sports Night, and Studio 60 on the Sunset Strip and screenwriter of the films A Few Good Men, The American President, The Social Network amongst others, The Newsroom takes you behind the scenes of a fictional news cable show.
The comedy-drama mixes real-life news stories with the fictional lives of its characters. It kicks off with news anchor Will McAvoy (Jeff Daniels) one day, whilst being interviewed, shooting himself in the foot by going off-script on being asked what made America the greatest country in the world. "It's not," he responds to a horrified questioner and then lists all the things - backed up with statistics - that prevent it from being so.
As usual, the ACN (Atlantis Cable News) execs are not amused that he's making news not reporting it, but his supporting boss, Charlie Skinner (Sam Waterston) stands behind him. Skinner hires MacKenzie McHale (Emily Mortimer), McAvoy's ex, as the new executive producer for his nightly newscast (just like in Sorkin's Sports Night) in order to return McAvoy's broadcasting to something courageous, honest, and relevant instead of just more trivial entertainment.
McHale brings senior producer Jim Harper (John Gallagher, Jr.) with her and he gets the immediate hots for newbie associate producer Maggie Jordan (Alison Pill), but she's involved with former News Night executive producer Don Keefer (Thomas Sadoski) who's been pushed into producing the program in the slot that follows McAvoy's show. A jealous and resentful Keefer, though, is the least of McAvoy's troubles because the CEO of Atlantis World Media (frequent guest star Jane Fonda) is out to take apart the reputation of the highly respected news reporter which would allow her to get rid of him.
Sorkin wrote all ten Season 1 episodes (here on four Blu-rays and also two DVDs) and that's made obvious by the series' snappy screwball comedy-style dialogue coming from all directions with each character hurling a clever comeback to comments thrown out by the previous one. The acting is, for the most part, first rate - especially Sam Waterston - the scripts are intelligent and moving, and the direction utilizes the same rapidly tracking style familiar from other Sorkin-based shows that keeps the dialogue-heavy story moving along at a clip.
The Newsroom: Season 1 co-stars Dev Patel and Olivia Munn. It was directed Alan Poul, Greg Mottola, Jeremy Podeswa, Alex Graves, Joshua Marston, and Lesli Linka Glatter.
Video: 1.78:1. Audio: DTS-HD Master Audio 5.1. Extras: "The Rundown" with Sorkin, Daniels, Mortimer, Waterson, executive producer Alan Poul, and co-executive producer Greg Mottola in conversation, 5 commentaries by Sorkin, Poul, Daniels, Waterston, Mortimer and others, "Mission Control" and "Inside the Episodes" featurettes, deleted scenes, episodic previews and recaps; DVDs, digital copies. Studio: HBO.
Hansel & Gretel: Witch Hunters 3D
When two young children wandering in the woods come across a house made of gingerbread, they soon find themselves captured by the evil witch inside. Thus begins their hellish confinement while she plans to fatten them up before devouring them - a terrifying fate for a child to contemplate. But they manage to overcome the witch and burn her up in the very oven she meant to cook them in.
After getting a taste for wacking witches following their traumatic gingerbread-house ordeal, Hansel (Jeremy Renner) and Gretel (Gemma Arterton) grow up to become vigilante bounty hunters out for some payback. Using strangely modern and high-tech weaponry - including repeating crossbows, grenades, and Gatling guns all tipped with special holy water, the pair turn themselves into the best and most baddass local witch hunters.
Lately, despite the objections of a local sheriff (Peter Stormare) who thinks he and his posse can handle the job, Hansel and Gretel (Gemma Arterton) have been hired by a village mayor to track and rescue several missing children. For where the sheriff likes to take care of witches by burning any suspects he comes across at the stake, Hansel and Gretel approach to the case is more logic-based and evidential.
Soon they discover that the witch they're after is a particularly powerful one named Muriel (Famke Janssen) who has created a spell that can make her and her follower fellow witches invincible. And, what's worse, with only three days to the night of the Blood Moon - a rare astrological event that gives even more the power to black witches - time is utterly of the essence. For now it becomes apparent that not only must Hansel and Gretel foil the witches in order to rescue the children, but also possibly to save the whole world itself!
This grisly, gore-filled film was directed by the Norwegian, Tommy Wirkola (Kurt Josef Wagle and the Legend of the Fjord Witch, Dead Snow, Kill Buljo), and this is an unrated version of it. And in 3D! So beware!! It co-stars Zoe Bell, and Thomas Mann(?).
Hansel & Gretel: Witch Hunters, a hybrid of 3D native shot and 3D post conversion, is also available in a 2D Blu-ray set that comes with a DVD and UltraViolet digital copy for streaming/downloading.
Video: 2.40:1. Audio: Dolby TrueHD 5.1. Extras: "Reinventing Hansel & Gretel," "The Witching Hours," and "Meet Edward the Troll" featurettes; 2-D Blu-ray, DVD, iTunes digital copy, and UltraViolet digital copy for streaming/downloading. Studio: Paramount.