This Week in Movies & TV, July 9, 2013: Poetry & Parasites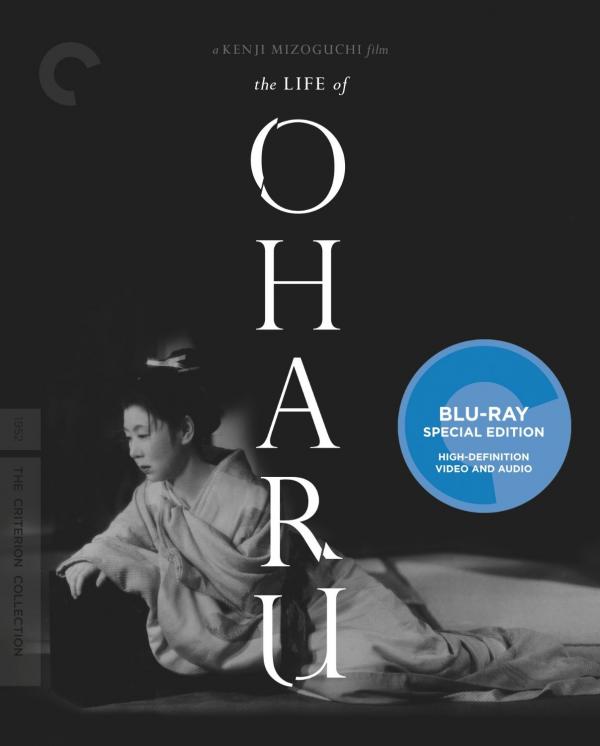 The Life of Oharu
The Life of Oharu (Saikaku ichidai onna, 1952), from director Kenji Mizoguchi (Ugetsu, Sansho the Bailiff, A Geisha), tells of a 50-year-old prostitute no longer able to attract men looking back on her tragic life.
A one-time lady-in-waiting at the imperial court in Kyoto, Oharu (Kinuyo Tanaka) falls from grace when her sexual love for a man below her station is discovered, leading to his execution and the exile of Oharu and her family. From thence on, The Life of Oharu takes us through the rest of the steps that fate - through the exploitation, mistreatment, and humiliation by the men in her life - seems to have in store for her that would lead to her ending up, at 50, in such a sorrowful state.
The stunning visuals - complexly composed in depth to make the world portrayed connected, almost abstracted at times by endless pillars, crossbeams, and screens - are well served by this transfer that puts everything on display with tremendous crispness and detail. There's exquisite delicacy to intricately patterned kimonos and the texture is quite tactile at times. Wood grain in beams and floorboards are visible. Figures have a roundness and spaces volume, as in a scene of Oharu running through a bamboo forest with the heroine standing out in the mid-ground while trees seem solid all around her, from front to back.
Excellent contrast delivers it all in a broad, beautiful range of greys and deep blacks that makes all the painterly aspects distinct. Everything is arranged perfectly and made to seem in its proper place while energy surges under the surfaces and suppressed emotions rage behind restrained, mask-like faces. The plentiful grain gives a film-like quality without obscuring anything.
Music is clear and full - without any sibilance or breakup in those high-pitched traditional Japanese instruments and vocal styling - as is dialogue and effects.
The Life of Oharu comes in a new high-definition digital film restoration, with uncompressed monaural soundtrack.
Video: 1.37:1. Audio: Japanese, LPCM Mono with English subtitles. Extras: introductory commentary by scholar Dudley Andrew, "Mizoguchi's Art and the Demimonde" illustrated audio essay featuring Dudley Andrew, Kinuyo Tanaka's New Departure 2009 film by Koko Kajiyama documenting the actor's 1949 goodwill tour of the United States, booklet featuring an essay by film scholar Gilberto Perez. Studio: The Criterion Collection.
The Host
What do you do when a parasitic alien is injected into your body? Well, if you're Melanie Stryder (Saoirse Ronan), you make friends, so that Wanda the parasitic alien, rather than carrying out the mission of her race - taking over the Earth, natch - will attempt to help the remaining un-possessed humans.
In this romantic sci-fi thriller from writer-director Andrew Niccol (Gattaca, S1m0ne, Lord of War, In Time), adapted from the book of the same name from novelist Stephenie Meyer who created the Twilight series literary phenomenon, the future of the human race seems to be assimilation by extraterrestrial psychic parasites called "Souls."
On her way to find her uncle Jeb (William Hurt) who lives in a cabin somewhere in the desert, Melanie, while she's out scavenging for food with her brother Jamie (Chandler Canterbury) and her boyfriend Jared Howe (Max Irons), is captured by The Seeker (Diane Kruger). The Seeker infuses her with Wanderer in an attempt to learn the whereabouts of one of the few remaining groups of unassimilated humans. But Stryder somehow manages to gain back control of her body.
Wanderer decides to go with Melanie into the desert where they find Uncle Jeb with the group of still-free humans who're holding out in a series of underground caves, amongst them Jared and Jamie. But Wanderer (now Wanda) is treated as the alien she is by the hostile group and has to earn their trust by proving she's not a threat. Meanwhile, The Seeker is coming after them. . . .
The Hostco-stars Jake Abel, Chandler Canterbury, Emily Browning, and Frances Fisher.
Video: 2.40:1. Audio: DTS-HD Master Audio 5.1. Extras: "Seeker PSA" commentary by Meyer, Niccol, and producer Nick Wechsler, "Bringing The Host to Life: Behind the scenes with Meyer, Ronan, Irons, and Abel," deleted scenes; DVD and UltraViolet digital copy for streaming/downloading. Studio: Universal.
Gattaca
In the near future (presuming we're not all taken over by parasitic aliens), genetic engineering will make possible the creation of biologically superior humans. Genetic profiling of embryos prior to implantation will ensure that such potential children are selected in order to possess the best hereditary traits of their parents. This will thereby enable the dividing up of humanity into two classes - intelligent individuals genetically predisposed to a healthy, long life named "valids," who're then fast-tracked to positions of power and prestige, and those born in the traditional manner with less than perfect DNA, called "invalids," who'll take care of the menial jobs. That, at least, is the near future according to writer-director Andrew Niccol (The Host) in another of his sci-fi thrillers.
In Gattaca (1997) Vincent Freeman (Ethan Hawke) learns that because he has a heart condition he'll never fulfill his dreams of becoming an astronaut. So Freeman decides to take on the genetic identity of a valid. Because he had been injured in a car accident and is paralyzed from the waist down, valid Jerome Morrow (Jude Law) is willing to sells him his identity and his valid DNA samples in hair, tissue, blood, and urine to help pass screenings. Freeman does have to get agonizing leg implants to match Morrow's height, but he's willing to do so to allow him to be accepted into the Gattaca Aerospace Corporation. And there, he's soon chosen for a mission to Saturn's moon, Titan. His new status also makes way for him to pursue a romantic relationship with a beautiful valid, Irene (Uma Thurman).
Everything's going well until one of Gattaca's administrators is found beaten to death in his office and the police, led by a resolute pair of detectives (Alan Arkin and Loren Dean) and an insightful doctor (Xander Berkeley) discover an actual eyelash of Freeman on the premises and a paper cup he'd used, making him their prime suspect.
This biopunk fiction (a subgenre of cyberpunk) co-stars Ernest Borgnine, Blair Underwood, Tony Shalhoub, and Gore Vidal. The name Gattaca is based on the first letters of guanine, adenine, thymine, and cytosine, the four DNA nitrogenous bases.
Video: 2.40:1. Audio: Dolby TrueHD 5.1. Extras: "Welcome to Gattaca" new featurette on the production, "Do Not Alter?" new featurette on genetics and DNA narrated by writer and political activist Gore Vidal, "Original Featurette" promotional piece, deleted scenes, "Substance Test" outtake trailers for The Water Horse, Close Encounters of the Third Kind, Damages: Season 1, The Company, and Dragon Wars. Studio: Image Entertainment.
Spring Breakers
Four broke college girls - Candy (Vanessa Hudgens) and Cotty (Rachel Korine), Brit (Ashley Benson), Faith (Selena Gomez) - friends since childhood, steal a car to get them where they want to go on their spring break and hold up a restaurant using realistic-looking squirt guns in order to get the cash to fund it.
After some wild partying and other hedonistic pursuits in Florida, they are arrested and locked up. Fortunately, they're bailed out by a local rapper, Alien (James Franco), who also has a sideline in arms and drugs dealing. Only, in return he wants them to do some dirty work in the criminal underworld for him, which, though liberating, will test the close-knit gang of girlfriends as they move towards a life of truly forbidden pursuits.
This exploitation dramedy was written by director Harmony Korine (writer of Kids, writer-director of Gummo, and director of Julien Donkey-Boy) and co-stars Rachel Korine, Gucci Mane, and Heather Morris.
Video: 2.40:1. Audio: DTS-HD Master Audio 5.1. Extras: writer-director's commentary, "Breaking it Down: Behind Spring Breakers" 3-part featurette, deleted scene and outtakes, "Harmony's Ear Candy" featurette on the music of Spring Breakers, "VICE" featurettes on ATL twins and real life partying in Panama City Beach; UltraViolet digital copy for streaming/downloading. Studio: Lionsgate.
The Gatekeepers
Filmmaker Dror Moreh's documentary gathers together six former chiefs of Shin Bet, Israel's internal security agency - the equivalent of Britain's MI5 or the US's NSA and branches of the FBI combined (Mossad being Israel's external security agency or the equivalent of MI6 or the CIA) - to reflect frankly on their actions and decisions, their successes and failures, and to share their insights.
These heads of the secret service were in charge of overseeing Israel's fight against terrorism over the past 45 years - both Palestinian and Jewish - being involved in every decision made, in the aftermath of the Six Day War of 1967, concerning the occupation of the West Bank and the Gaza Strip.
Each man explains the reasons why he made the sometimes-shocking decisions he did in response to each event, on occasion involving a no-prisoners approach to terrorists and taking actions with calculated "collateral damage." They also tell how, in their dealing with a seemingly hopeless conflict with intransigence on both sides and increasing stupid obstinacy of politicians, it led each of them, individually and as a group, to come to reconsider over time their hard-liner positions and contemplate a conciliatory approach toward their enemies based on a two-state solution.
Video: 1.85:1. Audio: Hebrew, DTS-HD 5.1 Master Audio with English subtitles. Extras: director's commentary, 40-minute Q&A with Moreh. Studio: Sony.
The Jerk
In this 1979 comedy from director Carl Reiner (Dead Men Don't Wear Plaid, The Man with Two Brains, All of Me, creator of The Dick Van Dyke Show), a befuddled simpleton called Navin Johnson (Steve Martin in his first starring role), naïvely tells his strange life story. Being the son of a poor black sharecropper family (and not realizing that he was adopted), he's surprised that he doesn't share the musical tastes or rhythm of the rest of his family when they play the blues and that he doesn't like the same kind of food either.
One night, on hearing "Crazy Rhythm" on the radio, a stodgy, reserved version of the number by the all-white Roger Wolfe Kahn Orchestra, his feet suddenly begin moving on their own and he realizes he must follow the music to its origins and on the spot decides to hitchhike to St. Louis. On arrival there he adopts a dog that he ends up calling Shithead.
Many adventures follow as he spends a stint working at a gas station owned by Harry Hartounian (Jackie Mason), invents a gadget to fix glasses that are too slippery by adding a nose brake that their owner (Bill Macy) offers to market, and is hunted by a maniac sniper (M. Emmet Walsh) who randomly picks Navin's name out of the phone book to be his next victim.
The Jerk co-stars Bernadette Peters, Catlin Adams, Mabel King, Richard Ward, and Dick Anthony Williams. It earned $73 million domestic box office on its $4 million budget.
Video: 1.85:1. Audio: DTS-HD Master Audio 5.1. Extras: TBA; DVD, iTunes digital copy, and UltraViolet digital copy for streaming/downloading. Studio: Universal.