This Week in Movies & TV, July 23, 2013: Sleepwalking Through a Trance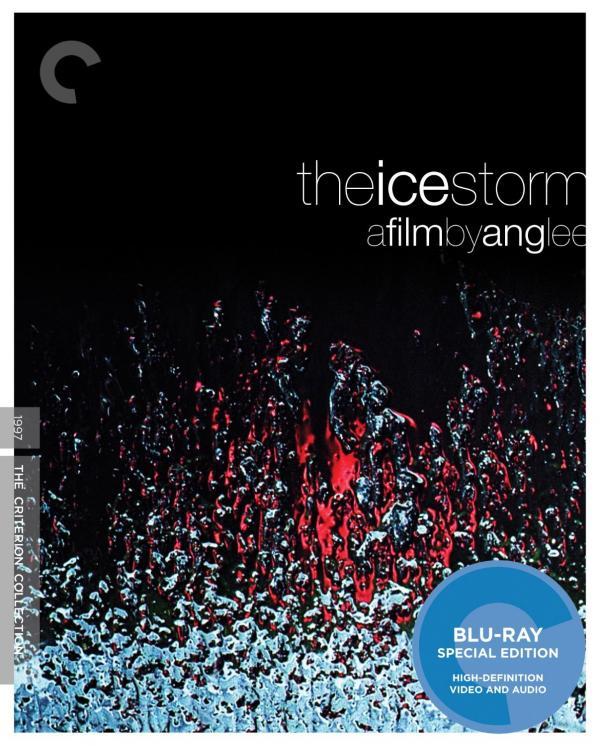 The Ice Storm
This 1997 tale of middle-class conformity and malaise, directed by Ang Lee (Life of Pi, Crouching Tiger, Hidden Dragon, Brokeback Mountain) tells of the Connecticut suburb of New Canaan circa 1973, a land of bored, half-hearted adult experimentation with long-term relationships and casual sex while their youngsters experience their own first exciting and troubling attempts at the same.
The difference is that the adults are trying to act like kids, trying to find novelty in their limited, repetitive, slipshod lives, while their children are trying to grow up, to discover and experience everything. They're alive, involved with and concerned about the country, the world, and even the universe. To them it's all fresh, important, and emotionally stimulating. To their parents it's beyond them, their lives having become dull and demoralizing.
In The Ice Storm's restored clean, bright images shot by cinematographer Frederick Elmes (Blue Velvet, Eraserhead, and Wild at Heart), contrast is excellent with rich primaries such as Christina Ricci's dazzling green sweater and red coat, '70s garish dayglo limes and custard yellows, and a very wide range of subtle primaries and natural tones all around. Skin tones are exceptionally natural looking.
There's plentiful detail so that text in comics is easy to read and elements of hideous plaid and paisley patterns, the texture and weave of woolen fabrics, and dried-out looking individual untreated hairs are all visible. Shiny objects, like the endless glasses of wine and whiskey and Ricci's trombone, are very crisp, sharp, and rounded. Faces are sometimes solid and dimensional looking, too, and there's often volume to spaces.
Music — a mixture of rock songs from the era and an unusual Asian-sounding score by composer Mychael Danna (Life of Pi, Capote,Exotica, The Sweet Hereafter) — comes across beautifully in lossless DTS-HD Master Audio 2.0 Stereo. Instruments are well separated across the front, flutes and strings filling in while vibraphone and bass drum jump back and forth between left and right channels, echoing one another. Even the school orchestra sounds good on this very open soundtrack.
Atmospheric effects are equally spread out, with different pieces of ice snapping and breaking off a train's wheels, the locomotive's rattling clanks harmonizing as it starts to move off. Simultaneously, a forewarning crackling of electrical sparks coming off a loose electrical wire is accurately placed and panned. There are often close-ups in these households of tense, cold couples of people literally breaking the ice — in order to make drinks — and the noise of shattering shards is always startling.
Dialogue — the youthfully complex and insightful philosophical wanderings and wondering based on sci-fi comic-book concepts, geometry, politics, and science, alongside the adults' trivial, unthinking, everyday-routine utterances — are all clear and full, allowing the subtlety of the wry humor to come through.
The Ice Storm was based on the novel by Rick Moody, adapted by screenwriter-producer James Schamus (Crouching Tiger, Hidden Dragon, The Wedding Banquet, Ride with the Devil). It costars Kevin Kline, Joan Allen, Sigourney Weaver, Henry Czerny and rising stars Tobey Maguire, Elijah Wood, Christina Ricci, and Katie Holmes.
The digitally restored transfer was supervised and approved by Lee and Elmes.
Video: 1.85:1. Audio: DTS-HD Master Audio 2.0 Stereo. Extras: commentary by Lee and producer-screenwriter James Schamus, documentary featuring interviews with actors Allen, Kline, Maguire, Ricci, Weaver, and Wood, interview with novelist Rick Moody, deleted scenes, footage from a 2007 event honoring Lee and Schamus at New York's Museum of the Moving Image, visual essays featuring interviews with the film's cinematographer and production and costume designers, booklet with essay by critic Bill Krohn. Studio: The Criterion Collection.
Trance
In this psychological crime thriller from director Danny Boyle (Slumdog Millionaire, Trainspotting, 28 Days Later), fine art auctioneer Simon (James McAvoy) gets involved with a ruthless gang of art thieves led by Franck (Vincent Cassel) who steal a priceless Goya painting from the auction house he works in. In trying to take back the painting, Simon receives a beating with one blow to the head knocking him unconscious and leaving him with amnesia.
When Franck arrives home, though, he discovers that the package he'd taken at gunpoint from Simon only contains an empty frame. Now he and his cohorts must discover where Simon's hidden the treasure. When torture fails to extract the location, Franck hires a hypnotherapist, Elizabeth (Rosario Dawson), to try and help Simon remember.
Applying reason and logic, Elizabeth has sex with Simon while delving ever deeper into his subconscious through hypnosis him and drawing him into a psychodrama where fantasy, reality, and hypnotic suggestion intermingle, the past and present combining and contradicting one another, threatening to drag the lot of them into an ever-escalating series of violent events that will consume them all.
Trance co-stars Danny Sapani, Tuppence Middleton, and Simon Kunz. It was partially based on a 2001 British TV film of the same name. The screenplay was by John Hodge, Trance being his fifth movie he'd made with Boyle, the British screenwriter also collaborating with him on Shallow Grave (1994), a noted 1996 adaptation of Irvine Welsh's novel Trainspotting, A Life Less Ordinary (1997), The Beach (2000), and 28 Days Later (2002). Rick Smith of the band Underworld composed the score.
Video: 2.40:1. Audio: DTS-HD Master Audio 7.1. Extras: deleted scenes, "Trance Unraveled" featurette (Easter egg), "The Power of Suggestion – Making Trance," "Kick Off," "Danny's Film Noir," "Hypnotherapy," "The Look," "Danny Boyle Retrospective," and "The Final Rewrite" featurettes, Eugene short film by Spencer Susser; UltraViolet digital copy for streaming/downloading. Studio: 20th Century Fox.
The Driver
Before there was Drive, the 2011 art-house action crime drama with kick-ass car chases, there was The Driver, a 1978 art-house action crime drama with kick-ass car chases that Quentin Tarantino described as one of the coolest movies of all time. It was written and directed by Walter Hill (The Warriors, 48 Hrs., Red Heat) and concerned a guy known as The Driver (Ryan O'Neal) who was thought to be the fastest getaway man alive for high-stakes robberies in Los Angeles.
Hot in pursuit of The Driver is The Detective (Bruce Dern), an arrogant, conceited cop who, during a casino heist, comes up against the distracting charms of The Player (Isabelle Adjani), a witness to the robbery who decides to mislead him about what she saw. Still, The Detective is so obsessed with getting his man, he's willing to go to any length — even setting up his own bank job in order to hook, play, and ultimately land The Driver in jail.
The film, known not only for its motorized spectacles, has a down-and-dirty no-frills style that was heavily influenced by Robert Bresson and Jean-Pierre Melville, especially the latter's film Le Samouraï, including its having a strong, extremely silent and psychologically neutral, unnamed titular character.
The highly stylized and audacious neo-noir co-stars Ronee Blakely, Matt Clark, and Felice Orlandi.
Video: 1.85:1. Audio: DTS-HD Master Audio 5.1, DTS-HD Master Audio 2.0. Extras: none. Studio: Twilight Time.
The 300 Spartans
This 1962 Cinemascope epic — based on real historical events that occurred in 480 B.C. Greece — depicts the Battle of Thermopylae.
When Spartan warrior king Leonidas (Richard Egan) tries to recruit the troops he needs to defend a critical Greek mountain pass against the invading Persian army of King Xerxes (David Farrar), he finds that a religious festival led by powerful priests will prevent the soldiers from going. Nevertheless, Leonidas prepares to lead a mere 300 Spartan soldiers — his personal body guards who are exempt from having to attend the festival — against the massive Persian force of 250,000.
Xerxes hopes to create "one world ruled by one master" and to avenge the defeat of his father, Darius the Great, at the Battle of Marathon ten years before. But despite his warning to the Spartan king that when the Persian archers attack, their arrows "will blot out the sun," Leonidas replies that his men will "fight in the shade."
The act of courageous heroism of Leonidas and those who stood with him, refusing to surrender or flee, allowed the small Greek city-states time to organize an army which repelled the Persians, thereby changing the course of Western Civilization.
The film was shot in the village of Perachora in the Peloponnese. Comic artist Frank Miller saw this movie as a boy and said "it changed the course of my creative life." And it did, his graphic novel 300 going on to be adapted into a hit special-effects-blockbuster movie.
The 300 Spartan was directed by Rudolph Maté (cinematographer on Gilda, The Pride of the Yankees, Foreign Correspondent, Stella Dallas, Dodsworth, The Passion of Joan of Arc, and Vampyr and director of D.O.A., Union Station, and When Worlds Collide). It costars Ralph Richardson, Diane Baker, David Farrar, Donald Houston, Robert Brown, Barry Coe, and 5,000 members of the Royal Hellenic Army loaned by the King of Greece to portray both the Spartans and the Persians.
Video: 2.35. Audio: DTS-HD MA 1.0. Extras: none. Studio: 20th Century Fox.
Babette's Feast
Adapted from a story by Karen Blixen (who wrote under the pen name Isak Dinesen), Babette's Feast(Babettes gaestebud, 1987) is set in the western coast of Jutland in 19th century Denmark where two grown sisters — Martine (Birgitte Federspiel) and Philippa (Bodil Kjer) — have chosen to live with their father, a pastor of a small Protestant church in a remote, isolated village.
Years pass. Decades pass. After their father dies, the sisters choose to stay on, living in austerity, tending to the spiritual needs of the Christian sect's remaining aging congregation of believers.
Flash back half a century to when the sisters were still young and beautiful with their whole lives ahead of them. Each of them has an assortment of suitors but, unfortunately, when a young man's intentions get too serious, their father refuses the fellow's attentions to his daughter. A Swedish cavalry officer, Lorens Löwenhielm (Jarl Kulle) courts Martine while Philippa is pursued by a star baritone, Achille Papin (Jean-Philippe Lafont), from the Paris opera. All to no avail.
Flash forward 35 years when French refugee Babette Hersant (Stéphane Audran) appears at their door with a letter she carries from Philippa's sweetheart, Papin explaining that Babette's family was killed during the Revolution and she's had to flee Paris to avoid counter-revolutionary bloodshed and recommends her as a housekeeper. Since she begs them to take her in and promises to serve them not only as housekeeper but cook and maid as well, they agree.
When the sisters decide to hold a dinner to commemorate the 100th anniversary of their father's birth, Babette begs Martine and Philippa to let her use the 10,000 francs she's won in a lottery in Paris to organize and prepare the meal — an exquisite feast for the entire village.
Babette's Feast was directed by Gabriel Axel, who also wrote the screenplay, and shot by cinematographer Henning Kristiansen (Hunger, The Night Visitor, Royal Deceit). It was the first Danish film to win the Oscar for Best Foreign Language Film.
Babette's Feast comes in a new 2K digital restoration with DTS-HD Master Audio 2.0 soundtrack.
Video: 1.66:1. Audio: Danish, DTS-HD Master Audio 2.0 with English subtitles. Extras: new interview with Stéphane Audran, Karen Blixen: Storyteller 1995 documentary about the author of the film's source story, new visual essay by filmmaker Michael Almereyda, new interview with sociologist Priscilla Parkhurst Ferguson about the significance of cuisine in French culture, booklet featuring an essay by film scholar Mark Le Fanu and Dinesen's 1950 story. Studio: The Criterion Collection.