This Week in Movies & TV, July 02, 2013: Smart Kookies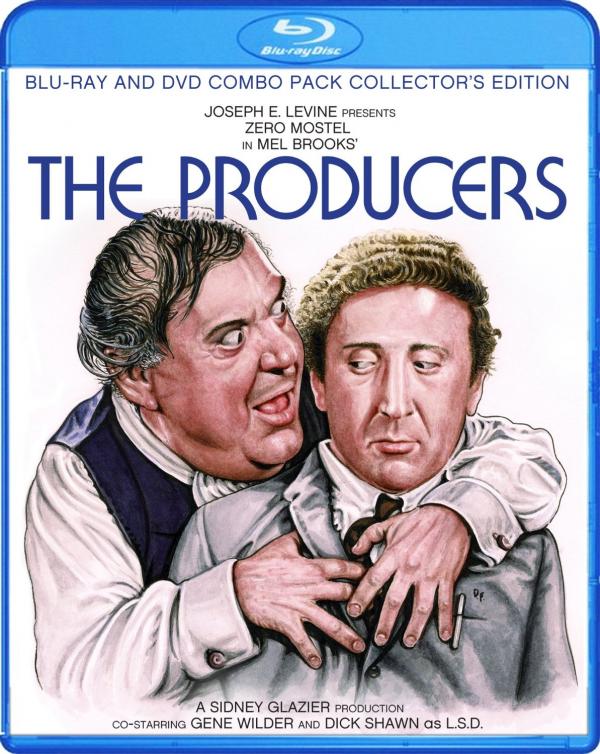 The Producers
When on-the-skids Broadway theatrical hustler Max Bialystock (Zero Mostel) has his financial books examined by timid, nervous nebbish accountant Leo Bloom (Gene Wilder), the casual conversation that ensues persuades each of them that by producing a really, really dreadful play in order to ensure a massive flop, they can make more money than if they had a hit. By selling 25,000 percent worth of shares in the play through romancing rich old ladies, the producers can make a fortune and, so long as the play utterly bombs, no one will expect any profits and they'll be none the wiser. The production they choose - "Springtime for Hitler."
This musical love letter to der Führer, written by demented former Nazi soldier Franz Liebkind (Kenneth Mars), is then cast with the worst actors ever - led by a far-out beatnik named L.S.D. (Dick Shawn) as Hitler - with direction handed to Roger De Bris (Christopher Hewett), a man so talented that his plays "close on the first day of rehearsal."
Embassy Pictures, the film's production company, had initially refused to put The Producers out, but actor Peter Sellers, after seeing the film privately, placed an ad in Variety supporting its release.
The Producers (1968) was the first film directed by Mel Brooks. Although he had written several TV movies and a short (The Critic), this was also his first feature-length film screenplay and it won him an Oscar for Best Original Script. Gene Wilder was nominated for Best Supporting Actor and the outrageous cult comedy classic costars Andreas Voutsinas, Estelle Winwood, Lee Meredith, Christopher Hewett, and Renée Taylor.
Dustin Hoffman was originally cast as Liebkind but begged off to go off and star in The Graduate with Mrs. Brooks.
"Don't be stupid, be a smarty/Come and join the Nazi Party."
Video: 1.85:1. Audio: DTS-HD Master Audio 5.1, LPCM Mono. Extras: The Making of The Producers 63-minute documentary, "Mel and His Movies: The Producers" new featurette, deleted scene, "Peter Sellers' Ad in Variety" with Paul Mazursky reading it, sketch gallery, trailers including The Producers, American Masters' Mel Brooks: Make a Noise, The Incredible Mel Brooks: An Irresistible Collection of Unhinged Comedy; DVD. Studio: Shout! Factory.
The Kentucky Fried Movie
Back in 1977, before they went on to bigger . . . and yes probably better movies, director John Landis (Animal House, The Blues Brothers, Thriller, An American Werewolf in London) and the scriptwriting team of David Zucker, Jerry Zucker, and Jim Abrahams (who co-wrote Airplane!, Police Squad!, and The Naked Gun trilogy), had the audacity to make The Kentucky Fried Movie.
This madcap spoof comedy compilation of such skits as "That's Armageddon," the Kung-Fu frenzy "A Fistful of Yen," and Jonathan and Darlene Edwards performing "The New Carioca," accompanied by the trailer for a film called Catholic High School Girls in Trouble, filled the screen with characters like Cleopatra Schwartz, Big Jim Slade, and the clumsiest waiter in history and then wrapped it all up in a "Feel-A-Round" theater experience.
The Jewish legal firm of Zucker, Zucker, & Abrahams, using a whole lotta goofy, off-the-wall, nothing-sacred humor - with the help of actors Bill Bixby, Evan C. Kim, George Lazenby, Marcy Goldman, Barry Dennen, Bong Soo Han, and Donald Sutherland - turned feelings into parody, normality into lunacy.
After their project was rejected by Hollywood, the guys made a ten-minute version of the film with their own $35,000, attached young director Landis to the project, and went back to the studios. This time they were rejected again. So then they persuaded exhibitor Kim Jorgenson to show the short before one of the movies he had already scheduled, and when he did, Jorgenson laughed so much he took it to his fellow exhibitors, had them screen it before audiences in their own theaters, and by doing so convinced them to back the movie to the sum of the $650,000 needed to make the feature.
When released, Kentucky Fried Movie was a box-office success making $15 million domestically, $20,000,000 worldwide, despite the fact that David Letterman, who auditioned for the role of the newscaster, didn't get the part.
Video: 1.85:1. Audio: DTS-HD Master Audio Mono. Extras: must-hear commentary by Zucker, Zucker, & Abrahams, Landis, and producer Robert K. Weiss, "A Conversation with David and Jerry Zucker" 62-minute interview. Studio: Shout! Factory.
The Dick Van Dyke Show: Season 4
This much-beloved, groundbreaking sitcom TV series ran from October 3, 1961 until June 1, 1966 charting the antics of comedy writer Rob Petrie (Dick Van Dyke) and his wife Laura (Mary Tyler Moore). Considered among the top TV comedies of all-time and winner of 15 Emmy Awards, The Dick Van Dyke Show was renowned for the quality of its writing and acting.
Creator Carl Reiner, who wrote for and performed on Sid Caesar's Your Show of Shows, based The Dick Van Dyke Show on his experiences there.
This 3-disc set contains all 32 episodes from Season 4 (1964–65), each digitally remastered to its original full-length version. It includes "Never Bathe on a Saturday" in which Laura gets her toe caught in a bath spout, "100 Terrible Hours" with a sleep-deprived Rob trying to stay awake during his job interview with Alan Brady, "4 1/2," in which Don Rickles plays a klutzy thief who tries to rob the Petries in a stalled elevator and then, in "The Alan Brady Show Goes to Jail," enlists them to entertain. In these and other memorable episodes that aired on CBS, Rob and Laura celebrate and struggle with the ups and downs of their life at home together in suburban New Rochelle.
During the day, Rob trades jokes with his kooky co-writers Buddy Sorrell (Morey Amsterdam) and Sally Rogers (Rose Marie) on the comedy/variety series, The Alan Brady Show. Buddy - whose character is loosely based on Mel Brooks who wrote for Your Show of Shows - is constantly teasing Melvin "Mel" Cooley (Richard Deacon), the show's producer, for being dull and bald. Mel is also the brother-in-law of the show's star, Alan Brady (Carl Reiner). Sally was loosely based on Selma Diamond and Lucille Kallen, two more writers for Your Show of Shows. Meanwhile, Laura has to deal with her wacky neighbors.
The role of Rob was almost given to Johnny Carson. And 60 actresses auditioned for the part of Laura before Moore got the part.
This set includes commentaries by Reiner and Van Dyke and interviews with them, the directors, and the cast.
Video: 1.33:1. Audio: DTS-HD Master Audio Mono. Extras: commentaries with Reiner, Van Dyke, and Garry Marshall, "TV Academy Tribute to Carl Reiner" featuring Van Dyke, Ray Romano, and more, Moore's appearance on The Danny Thomas Show, clip from The Alan Brady Show animated program, "The Dick Van Dyke Show Remembered," "Diagnosis Murder: Dr. Mark Sloan Meets Rob Petrie," "Dick Van Dyke Sings the Show's Theme Song at the Hollywood Bowl," awards telecast clip, interviews with cast and producers, Emmy Award telecast clip featuring the cast, original network promo spots. Studio: Image Entertainment.
Portlandia: Season 3
This TV sketch comedy series spends its time mocking the über-liberal residents of Portland, Oregon where '90s culture still continues unabated with political correctness the arbiter of all behavior and conversation between such characters as the feminist bookstore owner, the militant bike messenger, and the punk-rock couple.
Portlandia started as a slew of pieces for the Web in 2005 called Thunderant, written and performed by Saturday Night Live cast member Fred Armisen and vocalist-guitarist for the riot grrrl band Sleater-Kinney and supergroup Wild Flag, Carrie Brownstein. It developed into a TV series shot and set in Portland, Armisen and Brownstein - along with head writer and executive producer Allison Silverman (The Colbert Report) and director Jonathan Krisel - writing the sketches in the first six episodes of Season 1, with Lorne Michaels (Saturday Night Live) executive producing.
The Season 3 premiere episode is a thirty-minute Christmas special in which Bohemian couple Peter and Nance struggle to keep off winter weight. Other episodes have Spyke and Iris join forces with a gang of former MTV stars to take back MTV from the Tweens, Fred and Carrie to go door-to-door in Seattle to entice residents to relocate to Portland, a Battle of the Gentle Bands is waged by local musicians, and the Steampunks go to a convention.
Portlandia stars Armisen and Brownstein in various roles, Kyle MacLachlan as Mayor, real Portland Mayor Sam Adams as Mayor's assistant, and Mikey Kampmann as the Seeker. Notable new guest stars include Roseanne Barr, Rose Byrne, Bill Hader, Juliette Lewis, Matt Lucas, Bobby Moynihan, Martina Navratilova, George Wendt, and Chloë Sevigny. Previous guest stars have included Steve Buscemi, Tim Robbins, Gus Van Sant, Aimee Mann, Heather Graham, Sarah McLachlan, Selma Blair, Aubrey Plaza, and a rock band made up of Corin Tucker of Sleater-Kinney, James Mercer of The Shins, Colin Meloy of The Decemberists, and Isaac Brock of Modest Mouse.
Portlandia shares its title with the sculpture of the same name above the entrance of the Portland Building on Fifth Avenue in downtown Portland.
Video: 1.78:1. Audio: Dolby Digital 2.0. Extras: "Portland Tours" featurette features Kumail Najiani visiting various odd locations, two deleted scenes. Studio: MVD/VSC.
Tower Block
The apartment tower buildings constructed in Britain after World War II to provide cheap housing proved to be a breeding ground for violence, drugs, and other criminal activity, leading to most of them being demolished. One of the few remaining is London's Tower Block 31 where top-floor tenants are refusing to leave.
One night they witness the brutal murder of a teenage boy (Ralph Laurila) on their landing, but, out of fear of reprisals, they refuse to help the police to identify the killers.
Three months later, they wake up to find all communications to the outside world are down. While visiting his co-worker, Becky (Sheridan Smith), at her apartment, Ryan (Jamie Thomas King) is shot in the head through the kitchen window and dies. Next thing we know, the father of computer-game nut Daniel (Harry McEntire) is gunned down, local drug dealer Gary (Nabil Elouahabi) is almost killed and fellow pusher Mark (Kane Robinson) is wounded in the leg, Neville (Ralph Brown) saves his wife's life, Violet (Jill Baker), alcoholic Paul (Russell Tovey) is nearly shot, Ormond (Jordan Long) is hit in the arm, and his girlfriend, Amy (Loui Batley), is severely injured.
Panicked, the residents rush to the hallway where Amy bleeds out. When they discover that the elevator is shut down and every exit has been booby trapped, they realize that they are trapped and that the sniper, who shoots with a high-tech rifle at anything that moves on the staircase, intends to murder them all. Only by joining together as a group will they have a chance of working out who the killer is and the reason behind his actions so that they may ultimately make their escape.
This tense British thriller was written by James Moran and directed by James Nunn and Ronnie Thompson. It co-stars Sheridan Smith, Jack O'Connell, Julie Graham, Montserrat Lombard, and Steven Cree.
Video: 2.35:1. Audio: DTS-HD Master Audio 5.1. Extras: commentary by writer Moran, behind-the-scenes interviews. Studio: Shout! Factory.
Tai Chi Hero
Tai Chi Hero (Tai Ji 2: Ying Xiong Jue Qi), the second installment of the Chinese "Tai Chi trilogy," is a steampunk martial arts epic about the formative years of Yang Luchan (Jayden Yuan) who, in the 19th century, founded the Yang Tai Chi style which would become the most popular in the world.
Picking up from the end of Tai Chi Zero, it continues the journey of Luchan, a gifted child with a horn on his head that endows him with great kung fu powers. He lives in the legendary Chen Village populated by martial arts master and, because he helped save Chen Village from the attack of an army of soldiers with a terrifying steam-powered machine, beautiful Yuniang (Angelababy), daughter of Grandmaster Chen (Tony Leung Ka Fai), agrees to a formal marriage to Luchan thereby bringing him into the family, especially since Chen Village still stands endangered. She teaches him Chen-style Tai Chi, which is forbidden to all outsiders, setting him on his way to developing his own style.
Tai Chi Hero was made by Hong Kong directorStephen Fung, screenwriter and producer Kuo-fu Chen, legendary action director Sammo Hung, and it co-stars Jayden Yuan, Angelababy, Tony Leung Ka Fai, Eddie Peng, Shu Qi, and Daniel Wu.
Video: 2.39:1. Audio: Mandarin DTS-HD Master Audio 5.1. Extras: behind-the-scenes featurette. Studio: Well Go USA.