Vudu and Dolby Launch 7.1 Streaming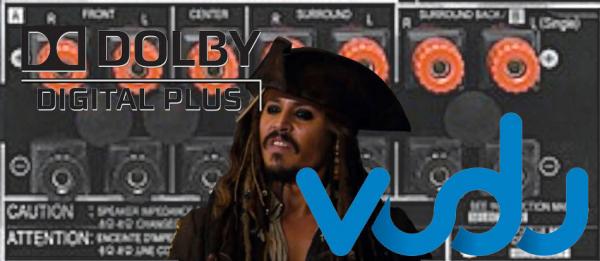 While the image quality of video streaming services has been improving, audio has lagged behind. But it looks like it's catching up. Today, Vudu announced the availability of 7.1-channel Dolby Digital Plus audio on its site.
The 7.1 signal can be received through Vudu-equipped devices such as Blu-ray Disc players, TVs, etc., connected through HDMI to receivers that have Dolby Digital Plus capability. I asked both companies whether the 7.1 service would be compatible with all Vudu-compatible devices or only certain models, and — if the latter were the case — which models would be compatible. Vudu's official statement was, "Dolby 7.1 surround-sound titles will work with select Vudu-capable Blu-ray players from Sony, Samsung, Vizio, LG and many more." Dolby went a little further: "Vudu is making 7.1-channel content available to all its clients on Blu-ray players. Blu-ray players that support Dolby Digital Plus 7.1 should be able to take advantage of this feature. We expect more devices to support this feature over time."
The first title to be streamed in 7.1 is Pirates of the Caribbean: On Stranger Tides. Vudu hasn't yet announced other titles to be streamed in 7.1, but there should be more to come now that theatrical titles are being mixed for 7.1.
Vudu may not be the only 7.1 streaming service for long. According to Dolby VP of products and platforms John Couling, any programming service currently using Dolby Digital Plus can easily expand its offerings to include 7.1. Among those currently using Dolby Digital Plus: Netflix.
LATEST VIDEO