Vintage Hollywood on Blu-ray: What Ever Happened to Baby Jane?
Today's audiences have seen too many horror movies for elements of this classic to not play camp. But other aspects still play extremely well, especially the dark comedy, the sisters' complex and disturbing psychological dependence, and the horrific cruelty of Jane's decent into madness. Davis clearly relished the role of a fiendish villain, and the once-glamorous actress wasn't a teensy bit afraid to be made up as garishly ugly. And, of course, life famously imitated art in many ways, from Crawford and Davis' rabid dislike of each other to both actresses being accused of being abusive by their own children later in life (Crawford famously in the book and movie Mommie Dearest).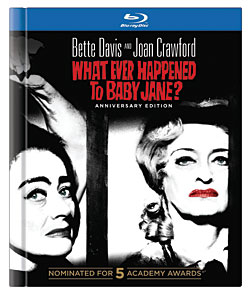 The imagery here is typical of when Warner Bros. lavishes its attention on a classic, which is to say eye popping. Ernest Haller's noir-ish black-and-white photography is gorgeous, with deep blacks, outstanding contrast, and strong shadow detail. There's a natural, living grain structure that imparts a beautiful filmic quality, and the detail is stunning (and brutally revealing of how aged these actresses were in 1962). Purely wonderful! The soundtrack is remastered DTS-HD Master Audio mono, with clear dialogue, respectable fidelity, and overall good sound.
As great as the film is, the extras give it a run for the money. In particular, there are three great documentaries: one on the film and its two lead actresses, and its place of worship in the gay community (though female, Bette Davis has street cred as the OG drag queen!); and one each dedicated to Davis' and Crawford's legendary careers. These pieces by themselves are worth the price of admission. A commentary and a trailer are also included, and the movie is packed in a handsome Digibook. Another stunner from Warner.
Blu-Ray
Studio: Warner Bros., 1962
Aspect Ratio: 1.78:1
Audio Format:
DTS-HD Master Audio 1.0
Length: 134 mins.
MPAA Rating: Not Rated
Director: Robert Aldrich
Starring: Joan Crawford, Bette Davis, Victor Buono
Directed by noir great Robert Aldrich, 1962's What Ever Happened to Baby Jane? was a shocker in its day, from the lurid subject matter to the monumental uniting of two of the silver screen's greatest actresses (and fiercest rivals), Joan Crawford and Bette Davis, each in her mid-fifties then. It's a twisted tale of two once-famous, now codependent sisters: Davis' Jane was famous in childhood as Baby Jane Hudson, while Crawford's Blanche went on to greater stardom in Hollywood before being hit by a car, presumably driven by jealous Jane, and crippled. Careers long gone, Jane is her disabled sister's live-in caretaker, and as Blanche's movies gain new life on TV, Jane goes bat-shit crazy trying to revive her singing career while terrorizing and killing her helpless sister.