Van der Graaf Generator Disturbs the Sonic Wavelength (But in a Good Way)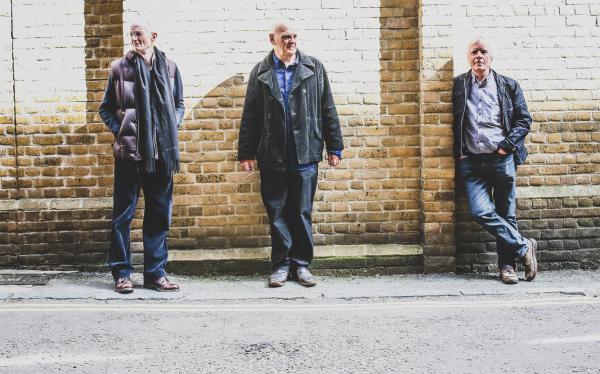 Besides having one of the coolest band names ever, Van der Graaf Generator has been making deeply adventurous music since the late '60s in a style that, frankly, is hard to pigeonhole. Sure, it's easy to call what they do "progressive," but I'm inclined to agree with VdGG guitarist/vocalist Peter Hammill, who describes VdGG music as being "barely controlled chaos." For one thing , that's as good an explanation as any when referring to full-album-side songs like "A Plague of Lighthouse Keepers," from 1971's
Pawn Hearts
.
It's also a good way to define VdGG's recently released 13th studio album, Do Not Disturb (Esoteric Antenna). DnD crackles with the energy of songs like the sinister/cool snarl of "(Oh No! I Must Have Said) Yes" to the foreboding final track/possible elegy of "Go" to the delicate mix of brush drums and organ lines on "Brought to Book" to the swirling city noises, burbling electronics, and vocal effects on "Alfa Berlina." ("Alfa Berlina" is also a song that would sound absolutely majestic in 5.1, but I digress...)
I connected with Hammill, 68, across the Pond to discuss the sonic template for DnD, what it's like to be admired by a punk legend, and VdGG's possible future (or not).
Mike Mettler: Considering how far-reaching your influence has extended across the musical landscape over the years, is it possible that Van der Graaf Generator is actually the very first punk band, as opposed to being mainly associated with a genre that also begins with the letter p and rhymes with "grog-sessive"?
Peter Hammill: Mostly, we have, I think, always been reluctant to be pigeonholed in any way. Obviously, it's going to happen to a certain extent, and at the outset, the "progressive" tag — especially since it was such a broad church — at least gave people some kind of clue as to where we fitted in. But calling it "barely controlled chaos" definitely fits as much as anything else!
Mettler: I love how the music that leads into and frames opening lines to "Aloft," DnD's opening track — "Whispers of a wind/to lift you off the ground"— is the literal perfect accompaniment to the sentiment at hand, given the sense of space surrounding Guy Evans' cymbal work, Hugh Banton's keyboard fills, and your own shimmery guitar lines. How important is it to you as a composer/writer to marry the vibe and intent of both the music and the lyrics together?
Hammill: Sometimes they're married together, and sometimes, actually, they're set up in opposition to each other. But in whichever way it's formed, it's vital that there should be some kind of correlation between music and lyrics. Or, additionally, between both of them and the arrangement/instrumentation. This is one of the particular challenges in VdGG, since we've always had such a range of instrumental colors that can be applied.
Mettler: Do Not Disturb was cut and mastered at Abbey Road Studios. Does Abbey Road hold any particular significance with you at all in terms of other artists who've recorded there?
Hammill: Not particularly. In fact, we never recorded there ourselves, after all. Clearly, though, it's always been one of the iconic British studios.
Mettler: Do you have a favorite album or albums that were recorded at Abbey Road?
Hammill: I still have great affection for [The Beatles' 1970 studio swan song] Abbey Road itself. Something else which was recorded there, I believe, which has a place in the hearts of many of my generation, was Songs for Swingin' Sellers (1959), a Peter Sellers comedy album produced by George Martin and featuring Matt Monro, among other people. [Monro, listed in the album credits as Fred Flange, sang a satirical version of the Frank Sinatra song from where the Swingin' Sellers album got its duly modified name.]
Mettler: I'm quite pleased Do Not Disturb is also available on 180-gram vinyl. Are you encouraged by the recent vinyl revival?
Hammill: Whichever way it gets into people's ears is good by me. I don't have any overarching preference for one carrier over another, but I'm pleased to see the vinyl resurgence. It shows that people are concentrating, at least!!
Mettler: Speaking of records, is there any particular single or album from your youth that still resonates with you today?
Hammill: [The Who's] "My Generation" (1965) is still up there, of course, especially from the point of view of writing credits, which I remember being struck by at the time. [Who guitarist/vocalist/visionary Pete Townshend wrote the infamous lyrics to "My Generation."]
Mettler: I'm always interested in hearing music in the highest resolution possible, especially music that has such depth of character and arrangement as VdGG's does. How critical is sound quality to you as both listener and content creator?
Hammill: Again, it's content rather than carrier that's the thing for me; always has been. But no, we weren't recording up at those elevated levels. (chuckles)
As gentlemen of, ahem, a certain age, our capacity for hearing much HF [high fidelity] at all has been compromised for quite a while. Have to keep an eye on those meters, in fact. Having said that, we do, of course, do our best to present a pristine aural sheet.
Mettler: Have you ever thought of mixing VdGG albums in 5.1 surround sound?
Hammill: We're not at all sure that the multitracks still exist for the old VdGG stuff, lost in the misty past of Charisma as they are. Additionally — for me at least; HB [i.e., VdGG keyboardist Hugh Banton] is much more of a surround fan and has the proper set-up for it — I regard the stuff as being designed and recorded for stereo, and so any surround would be afterthought at very best. So, in short, I don't feel much of a drive in that direction, to be honest.
Mettler: Fair enough. You also maintain a very prolific solo career. How have you kept your voice in shape after all these years?
Hammill: I've never taken particular care over the voice, but of course these days, I'm not hammering it on a daily basis as used to be the case in the past. I guess that, quite early — after I regularly blew it up through misuse live — I worked out the way in which I should take care of the voice, and have done so since. It has changed somewhat over the years — different areas of pitch and timbre coming to the fore — but that's as it should be.
Mettler: Who would you consider your influences as a vocalist, those you've always admired and looked to as examples?
Hammill: I never really had any overt influences as a vocalist, I don't think — except, perhaps bizarrely, Howlin' Wolf. And, as is the case generally re other musicians, there isn't really anyone else I look towards for inspiration.
Mettler: I prefer to listen to VdGG music as whole pieces, as you intended them to be received. As an artist, what's your view on the wide world of streaming? Is it the future of music, whether we like it or not?
Hammill: Streaming is a brilliant idea — if you want to have no musicians left making a living on the planet. In other words, to stop the creation of any new music, period. Oh, marvelous modern world!
Mettler: Was it flattering to have a certain punk icon, Johnny Rotten, spin tracks from your Nadir's Big Chance solo record on the radio in 1977? Did you ever meet John Lydon at any point to talk about it?
Hammill: Met him briefly at the time, but not since. I actually don't really move in musicianly circles that much at all.
Mettler: How do you feel about being deemed an influential artist in general?
Hammill: As far as influences go — and stated ones even more so — I'm never quite sure how they fit. Often, I feel that the answers are given somewhat reluctantly. I don't think any of us really know quite how we've managed to put together our own particular takes on making music, but certainly by the time you start doing it properly, then the idea of "influence," as it's generally perceived, is something way back in the past — hence, perhaps, my earlier Howlin' Wolf reference. There's obviously a degree of ego massage, though, to get name-checked.
Mettler: The thrust of Do Not Disturb's final track, "Go," seems to be that of a final statement of sorts, with lines like, "time to leave/close the door... it's all behind you." Is there more VdGG music in the wings, or is that something you can't assess at the moment?
Hammill: Can't assess. Having said that, DnD does feel like — and was intended to be — something of a conclusive statement. We may do some more live playing, but right now, we don't have any particular plans. We'll just have to see what 2017 brings.
Mettler: Finally, springboarding a bit from the previous question, what do you think the legacy of VdGG might be 50 years from now?
Hammill: Well if streaming continues to hold sway, then there won't be any legacy at all! (chuckles) Seriously, it's almost impossible to say. "Popular" music, after all, has really only been going for a century or so at most. So we do our best, still and even at our age, to be right here, right now.