Underwater Audio Swimbuds Sport Waterproof Headphone Review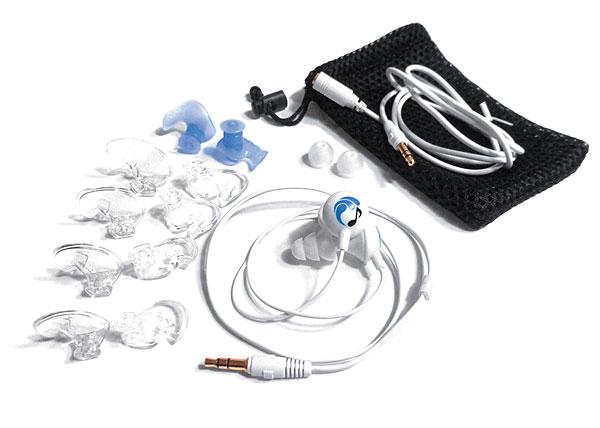 PRICE
$70
AT A GLANCE
Plus
Comfortable in and out of the water
Impressive sound while swimming (with some limitations)
1-year warranty
Minus
So-so sound above water
THE VERDICT
The Swimbuds Sport headphone gets the job done in the water but falls somewhat short in its quest to provide a high-quality, multi-sport solution.
I was pleasantly surprised when my audition of the Swimbuds Sport Waterproof headphone began with a familiar voice. After discarding multiple plastic baggies and opening the mesh pouch and zipper case, I was greeted by a card with an access code for a downloadable 30-minute swim workout guided by Rebecca Soni. Her staggering career accomplishments—including eight world records and, for Team U.S.A. at the Olympics, three gold medals and three silver—were severely understated here with a title that read: Olympic Medalist. I trained with Rebecca at the Scarlet Aquatics Club in New Jersey from the late 1990s through 2005, and so welcomed the excuse to pick up the phone and call an old friend.
But getting back to the matter at hand: The Swimbuds Sport Waterproof headphone ($70), a redesigned version of Underwater Audio's original Swimbuds ($40), is aimed at the serious aquatic athlete and "designed to stay put during flip turns and the most rigorous aquatic workout." It comes with a 1.3-foot cord and utilizes a standard 3.5mm minijack to link up with your favorite devices. A 3.25-foot extension cord is also provided for more flexibility above water.
I tested the Swimbuds Sport with a fourth-generation iPod Shuffle waterproofed by Underwater Audio, which is available as part of a Sport Bundle ($175) and a Sport Mega Bundle ($200). The latter adds the HydroHarmony waterproof headband headphone; both bundles include Soni's swim workout download (also sold separately for $30).
Ready for some swim action, I loaded a two-hour montage of country, metal, rock, blues, and jazz onto the iPod, dusted off my equipment bag, and headed for the endless black line.
Whether you buy the Sport headphone on its own or opt for one of the bundles, you get four types of ear tips. The Tree tips are designed exclusively for swimming and create "maximum noise isolation and the best water seal," while the Fins are a second watertight option for those who can't get a perfect fit with the Trees; Underwater Audio guarantees that one or the other will seal out water while you swim. The Ergo tips come in small, medium, and large sizes and are designed for a wide range of sports. The Mushroom tips are for every- day use.
In the Pool
I began my workout with the Trees. Carefully following the instructions, I inserted them into my ear canals upside-down before tucking the wires under and around my goggle strap. I clipped the iPod Shuffle to the back of my goggle strap and stretched my swim cap over it. The setup was ideal, with no dangling wires and with easy access to volume and track-selection buttons.
I pushed off and started with a standard, freestyle-based warm-up: 500 meters swim, 400 pull, 300 kick, 200 drill, and 6 x 100 build to race speed. After 2,000 meters, not only were the tips still lodged comfortably and securely in my ears, but I was impressed by the sound quality of the headphone. I could hardly contain my excitement over discovering this new dimension to the sport I love, and I even found myself singing along silently to some of my favorite tunes.
In all the years I've been swimming, including four years as a member of the University of Virginia's men's swimming and diving team, I have never heard such crisp, clear, and full-bodied music while in the water—and the fact that the gear didn't produce any noticeable drag was an obvious bonus. My only relatable experience was swimming in the warm-up pool at the University of Maryland back in the early 2000s as a club swimmer. I remember being impressed by the allure of underwater speakers, but I also remember not being able to decipher much more than a muffled drum track.
After my successful warm-up, I moved on to an IM set (Individual Medley of all four strokes) and quickly ran into some issues. The Trees stayed firmly planted in my ears during freestyle, flip turns, and underwater streamline, but it was a different story for butterfly, back- stroke, and breaststroke. All of these strokes, when executed with proper technique, require the anterior and/or medial deltoids (shoulders) to brush past the ears. This repeatedly caused over-insertion, misalignment, and/or complete dislocation of the earbuds.
I fiddled with the Tree tips but could not overcome the problem, so I tried the Fin tips and eventually settled on the large Ergo tips, even though they aren't designed specifically for swimming. They were the most resistant to dislodging, thanks to their slim profile, especially when tucked beneath my swim cap—but none of these other tips delivered the same watertight fit and clear sound that the Trees provided while I was swimming freestyle. I also learned, through trial and error, that I was able to achieve the best seal when both the tips and my ear canals were dry.
The Swimbuds Sport headphone significantly reduced pool deck and underwater noise. Music came across loud and clear in the water and was accompanied by a unique second soundtrack. Imagine you're sitting below deck on a sailboat with a fiberglass hull; you hear a muted representation of your surroundings if you really concentrate, but what is readily apparent is the sound of rushing water and bubbles as they find their path around the bow. This flowing soundtrack is present at all times while swimming with the Sport headphone, but at no point did I find it to be intrusive.
Even with the many distractions and supplementary sounds in the water, the Sport delivered impressive sonics in the pool and cut through the noise with just a few clicks of the iPod's volume control. Everything from Jake Owen's "Keepin' It Country" to A Day to Remember's "Have Faith in Me" was consistently well balanced, with plenty of bass.
Land Ho
In the gym, on the run, and for general use above water, the Swimbuds Sport headphone with the Mushroom tip didn't quite hit the mark on sound quality. Music loses its punch and feels foggy as it is forced through the tiny 0.07-inch (internal diameter) opening at the tip of the earbud—a design feature that was likely dictated by the need to be waterproof. While comfortable, the Sport/Mushroom combo had trouble keeping up sonically with even the freebie earbud that came with my Samsung Galaxy S5 smartphone; the Samsungs have a 0.2-inch-diameter opening (good luck hopping in for a swim with those in your ears).
Still, for the weekend lap swimmer and even serious triathletes whose swim training is entirely freestyle, Underwater Audio's Swimbuds Sport Waterproof headphone represents a terrific value. At $70, or $175 for the bundle including a waterproof iPod, it's a reasonable investment even if you never wear these buds out of the water. We listen to music when we're at the gym, riding a bike, and out for a run, so it's only logical that we would want to rock out while training in the pool. This setup bridges that gap. Even athletes who routinely train all four strokes will find a place for the Swimbuds during warm-up, freestyle sets, kick sets, and warm-down. And did I mention that these bad boys can also be used in the ocean? As long as you don't dip below 10 feet (where your ears would be unable to equalize due to the airtight seal), you can feel free to catch some waves or snorkel the shallows…with "Margaritaville" on repeat.