Underrated Scary Movies for a Spooky-Fun Halloween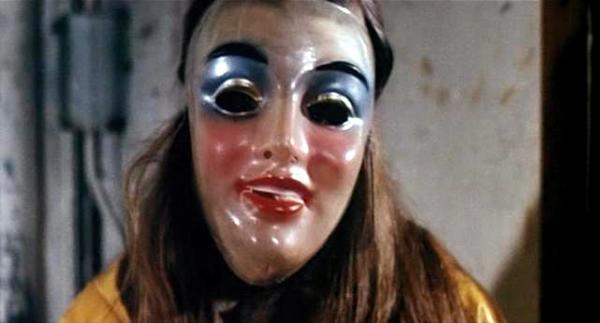 Halloween is seriously the best. It's socially acceptable to play dress up like when we were kids, eat candy, and face our fears together. Of course, a big part of October tradition is scary movies. Everyone will be dusting off or downloading their copies of The Shining and Friday the 13th, but if you're looking for a little variety in your spooky screening this all hallows eve, I've put together a little list of forgotten or underrated gems worth peering at from under a blanket. Get your popcorn and pumpkin juice ready!
Alice Sweet Alice
What it's About:
A little girl at her first communion is attacked, murdered and the body set on fire. The killer is seen wearing the same mask and raincoat as owned by the girl's tween sister. Is it possible that a young girl could be so jealous that she'd strangle her own baby sister?
Why it's Scary:
The aforementioned mask is nightmare inducing in itself, but also the accused sister is played by a young but worldly Brooke Shields. Freaky.
Watch if You Fear:
'70s cinematography

Killer Kids

Patterson, NJ


Maniac
What it's About:
A deeply disturbed man gradually spirals deeper into madness as he kills and scalps his victims to add to his mannequin collection.
Why it's Scary:
The guerrilla-style filming adds an edge to the realistic gore, plus the unhinged main character fees as though he could snap at any minute.
Watch if You Fear:
Apartments full of mannequins

Mommy Issues

Murder at the disco
What It's About:
An awkward kid moves to a new town has unsettling nightmares about his parents. Is it possible the horrifying things he dreams are true?
Why it's Scary:
Although it's technically a dark comedy, there's something about false perfection of the 1950s nuclear family and the vulnerability of being the new kid combined with butcher-esque horror that works on a cult-classic level.
Watch if You Fear:
Walking in on your parents

"Mystery meat"

Randy Quaid
What it's About:
After a kid's backyard treehouse is hit by lightning, the resulting crater unearths an otherworldly portal.
Why it's Scary:
Kids with no parents around to help, and everything spirals out of control? Sounds a lot like growing up. Terrifying. Also lots of gory carnage.
Watch if You Fear:
Blood magic at slumber parties

Hand eyeballs

Tiny demons
What it's About:
A glamorous trapeze artist at a sideshow marries one of the "freaks" after learning that he is inheriting a large sum of money. When her deception is revealed, she pays a tremendous price.
Why it's Scary:
You may recognize this as the inspiration for the sixth season of American Horror Story. Filmed in the 1930s, many of the actors are actual former sideshow performers. While the revenge they enact in the storyline is violent and disturbing, seeing them portray the inhumane ways in which they were treated in real life is in itself horrifying.
Watch if You Fear:
Carnivals

Mutilation

Prejudice
What it's About:
This is supposed to be a kids movie, but it's so freaky, I should definitely not have been allowed to watch this as a child. A boy explores a burned out mansion, is frightened by a ghost, contracts a curse/disease and loses all of his hair. The same ghosts teach him a magic spell involving peanut butter to grow it back, and things go horribly awry.
Why it's Scary:
Everything about this French-made film is unsettling, from the haunting by homeless people who died in an abandoned house fire, to kids experimenting with puberty. And then there's a weird second act involving magic paintbrushes? It's not gory, but it's so off-putting, especially when you consider the filmmakers intended children to view it.
Watch if You Fear:
Kidnapped child labor

Ghosts of the homeless

Overgrown pubic hair
There's nothing like escaping into a heart-racing scary movie to put you in the mood for trick-or-treating. So lock the door, turn off the lights, and hit play… if you dare.