Toshiba SD-6980SU Universal Disc Player
Oh, mama, can this really be the end?
This universal disc player may mark the end of an era. Bear in mind that I did say may.
By the time you read this, Toshiba's new HD-DVD format—and Sony's Blu-ray—may be turning the 5-inch disc into a high-definition medium. In that case, the Toshiba SD-6980SU is an impressive summation of everything good that's ever entered your system on a disc. A versatile performer with the existing standard-definition DVD-Video format, it upconverts SD signals to HD display resolutions through the bleeding-edge HDMI interface; delivers both SACD and DVD-Audio high-rez audio; accepts 11 different memory-card formats; and delivers all these goodies for $199. You, the consumer, have never had it so good.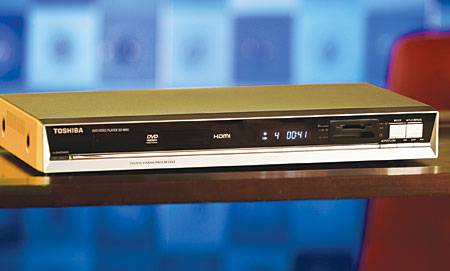 On the other hand, if the anticipated format fracas prevents either HD-DVD or Blu-ray from taking our racks by storm, the SD-6980SU may be more than a mere summing up. It may serve in your rack for years until the identity of its successor becomes clear.
Like many current DVD models, this one has been Jenny Craiged into submission. Less than 2 inches tall—even Kirstie Alley hasn't lost that much weight—it has a shiny control panel and disc drawer at the top, a slash of silver across the waist, and a stripe of gray plastic at the bottom that sneaks up the sides. Other than the drawer and two memory-card slots, the only front-panel occupants are four transport keys and an open/close button.
Scarce back-panel real estate leaves room for only one each of the three usual analog video outputs, digital and analog audio outs, and, of course, an HDMI connection. The minimizing of legacy outputs probably indicates that we've entered the age of HDMI. Toshiba underscores the point by providing an HDMI cable of sturdy construction. If we're still using disc players a decade from now, who knows—maybe we'll see a back panel with a single HDMI output and nothing else.
Like a European conversing easily with an awkward American, the SD-6980SU speaks several languages. It can output upconverted signals in the major HD resolutions (1080i, 720p) and also speaks ED and SD resolutions (480p, 480i). The HDMI output includes a 768p option, making it a perfect match for certain flat-panel sets with that native resolution, although it leaves the job of 480i output to the various analog interfaces. Of course, upconversion does not provide true HD resolution—it just rearranges the pixels to better advantage.
HDMI is an evolving standard, so, before you commit to this player, you might want to demo it with your own HDMI- or DVI-equipped display. Not all combinations of player and display can do the secret handshake while maintaining complete functionality. When I connected the Toshiba player's HDMI output to the DVI input of my three-year-old LG RL-JA20 LCD front projector (with a Tributaries HDMI-to-DVI adapter cable) I got an image, but the player overrode the projector's aspect-ratio control. Thus, I could only view 4:3 images in stretched 16:9, even after I'd changed the player's aspect-ratio control from its 16:9 wide setting to its 4:3 pan-and-scan and 4:3 letterbox settings.
When I switched to the player's component video output, this problem disappeared—nonwidescreen images regained their correct shape. It also brought slight changes in color (warmer) and brightness (dimmer). I double-checked the display using a cable box with a DVI output and found that, when you feed it DVI-to-DVI, the display automatically corrects the aspect ratio. HDMI and DVI are a little like relatives who can carry on a cordial conversation at the dinner table until the discussion turns to politics.
When I used both the HDMI and the component video outputs, the player did a good job of defeating jaggies on the American-flag and hockey-rink scenes on the Sage/Faroudja test disc. It did passably well with the tougher jaggie meter on the Silicon Optix disc, although the horizontal bars on the moving crosshatch pattern flickered relentlessly. Clearly, there are limits to the video-processing circuits in a $199 disc player. Still, the processing is better here than it is in some, if not all, displays.

Including Super Audio CD and DVD-Audio playback in a $199 product is both a gift to the consumer and an eyebrow raiser. Can a low-cost disc player deliver everything these high-resolution formats have to offer? The answer is not everything, but something. The best high-rez audio players output both formats through an uncompromised digital output. The Toshiba outputs DVD-Audio at full resolution, as well as SACD at any resolution, only through its 5.1-channel analog outputs. True digital signal transfer is impossible, and the caliber of the player's analog outputs limits the sound quality.
In practice, that led to a slightly monochromatic tonal quality compared with my Integra reference piece (which costs six times as much). The lossless DVD-Audio soundtrack of Steely Dan's Everything Must Go didn't feel much different than the alternate soundtrack in glossy Dolby Digital. In that respect, this DVD-Audio player was a little better than any other DVD player (even though they all do Dolby Digital).
With SACDs, however, this player was miles ahead of any non-SACD player, simply because it could access the surround soundtrack, something a non-SACD player can't accomplish. You haven't heard piano and orchestra until you've heard them in 5.1 channels. Lang Lang's performance of Rachmaninov's Piano Concerto No. 2, with Valery Gergiev and the Orchestra of the Mariinsky Theatre, was totally satisfying. Whatever was missing didn't concern me much because I was so overpowered by what was still there.
On the whole, the folks at Toshiba have acquitted themselves well with the thankless task of meeting a long list of consumer expectations, all for the price of a fancy dinner for three. The SD-6980SU makes the American flag look good, puts you in the middle of a Russian orchestra, shows off a Chinese pianist's chops, and does it all with the economy you'd expect of a Japanese-designed product manufactured in Indonesia. It will probably take the diplomatic skill of the entire United Nations to convince studios and consumers that the existing, and much-loved, DVD-Video format is on its way out.
Hightlights
• Video upconversion, high-rez audio formats, and versatile memory-card compatibility in
• budget player
• Lacks only high-def DVD capability, and, with a format war in the offing, maybe that's dispensable for now