Tony Banks Reveals the Genesis of His Love for 5.1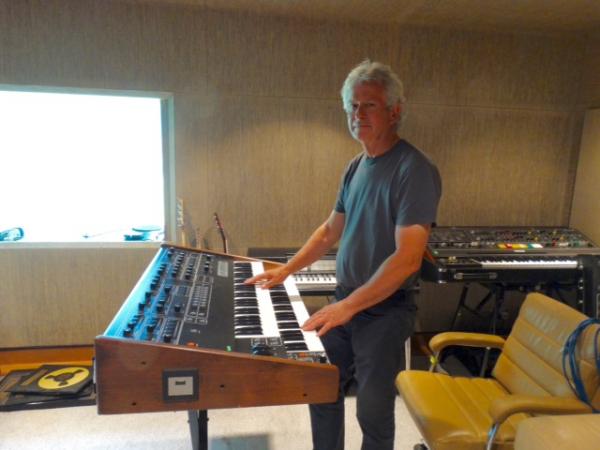 In a band of equals, some can appear to be more equal than others. "I always like to have the first word and the last word on albums," laughs keyboardist Tony Banks, one of the main songwriters in Genesis. Banks has always felt making an impression right as a song commences to be paramount. "You make an impact with those first few bars. It sets you up for the next 5 minutes, so you ought to try and get it right," he says. Just cue up the majestic "Watcher of the Skies" from 1972's
Foxtrot
for prime evidence of that thesis being put into action.
Besides his storied career in Genesis, Banks also tried his hand at a solo career, the highlights of which have been compiled in the four-disc box set A Chord Too Far (Cherry Red/Esoteric Recordings). "No, none of them were hit singles," he chuckles, "and it's four CDs, which is a commitment. Not that many people are going to make that commitment, but some will, particularly those people who crave the early Genesis period. There are many moments from that period I think would be nice for them to hear." Among the highlights: the grand, sweeping instrumental "From the Undertow," the Banks-sung "At the Edge of Night," Nik Kershaw crooning the political blues on "Red Day on Blue Street," and the 17-minute tour de force, "An Island in the Darkness," a lost Genesis track if ever there was one, which also features a fine lead vocal from Wang Chung's Jack Hues and a lengthy, blazing guitar solo from longtime Genesis touring guitarist Daryl Stuermer.
While Banks puts the future of his longtime band to rest — "the chance of Genesis getting back together again is pretty slim, I have to say"— we have plenty of Chord music to sink our collective ears into. Banks, 65, called from across the Pond to discuss the, er, genesis of his signature keyboard style, his deep love for surround sound, and the importance of sequencing. As Bankstatements go, this one is rich in high-fidelity rewards.
Mike Mettler: It's interesting what you said about that title of A Chord Too Far in the liner notes, because that's your penchant as a composer. You like to add those extra chords in there. It's something you've always done.
Tony Banks: Well, I think it comes about from having more chords than people want to hear, I suppose — I brought it upon myself. It's kind of what I do, you know? (chuckles)
Mettler: Does that come from your early days of composition, such as putting a certain amount of diminished chords in a row? What's your thought process as a composer?
Banks: It's just what felt natural to me. I never did it for its own sake. When I first started writing, I'd hear stuff on the radio and I'd play it by ear. Then you'd always try to do your own thing that other people hadn't done, or you responded to things that you thought were interesting that other people had done. And then you start to develop from there.
Mettler: I've always liked your sense of adventurousness as a composer, and I think that carried over with what you did on your first solo album, A Curious Feeling (1979). That one's a particular favorite of mine, especially the surround-sound mix you and Nick Davis did of it on DVD [in the two-disc 2009 deluxe edition].
Banks: Oh, right, great. We were pleased with that. We felt the surround sound remixes did make it sound a lot better, so it was fun to do that.
Mettler: Was there any thought of doing surround for this box set, or would that have been too huge an undertaking?
Banks: Well, we're talking about it. The record company that's putting this out, Esoteric, they want to have all the albums done that way, so the plan is to do that. It just would have been too cumbersome for this box set.
We remixed quite a few tracks for the box set, and we did some of them in 5.1 as well, for possible future projects. We've done most of the next two albums — The Fugitive (1983) and Bankstatement (1989) — and they're pretty much ready. The idea is to put them out in total with the 5.1 mixes, yeah.
Mettler: That's great news. You must like hearing music in 5.1 yourself.
Banks: I think it's fantastic. When we did the Genesis stuff in 5.1, I always thought my favorite moments were in the first half of "The Cinema Show" [from 1973's Selling England by the Pound], where you have all of these guitars that you could just place all around you — just a wonderful sound effect. And you could have a lot of fun with the 5.1, which we did with the surround sound on The Lamb Lies Down on Broadway (1974).
There's just something about the way you can space everything out and actually hear everything, all sorts of little bits and pieces that you're able to find — and find room for them there in a way as well. Whereas in the old days, you had to live with it if something got stuck behind something else in a mix. You never really heard it, and now if you wanted to hear, say, a guitar part or something, you could finally hear it. So I think that's worked out really well.
Mettler: And speaking of "The Cinema Show," Selling England by the Pound is available in surround on High Fidelity Pure Audio Blu-ray, which is quite the listening experience. It was so compressed in the vinyl days, and this is one mix that seems to have been opened up a lot more in its higher-res form.
Banks: Well, you can do so much more with it now. When we used to do LPs, they were always over-length anyhow, so that meant everything had to be very compressed. Hopefully, that was improved when it came out on CD. But when we went back to do the remixes a few years ago, I feel the stereos are much better. When we got to the 5.1, we had the ability to position everything in a way where I think Genesis music does benefit from. There are other things going on that seem to work well with that kind of music.
Mettler: In the early part of the Genesis catalog, the 5.1 remix of a song like "Supper's Ready" [from 1972's Foxtrot] really brings out what you could do as a band, and it really captures the overall compositional excellence of the track.
Banks: Well, I think so. We spent a lot of time on it, really. And it's a longish song, so it shows what you can do. It's such a wonderful way to experience it, as you can immerse yourself in it much more in 5.1 than you can with the stereo.
Mettler: Did you and Nick do the solo box set remixes in 96/24, in hi-res audio form?
Banks: We were making the sound quality as good as possible, yes, because obviously the quality of Blu-ray is very high, and this is something you want to keep in the higher quality, you know? In the end, everyone will have everything existing in a digital form anyhow. (chuckles) At that point, your playback system will be the same as your cinema system, and everything will be in 5.1, actually, or some sort of quad-sound equivalent.
Mettler: That just might be where everything is going. When you went through the material, did you and Nick have a conversation about things like level-balancing when you were working with songs recorded with different gear from different eras?
Banks: We changed the mixes if we felt we had to, or to what we thought they should be. To some extent, as with the Genesis stuff and my own stuff as well, you don't want to radically change it, unless there was something wrong with the original. You just want to make it sounds better, but like it did originally. That's the aim, I think.
Sometimes you find an instrument or something that you'll bring out a little more strongly. It's the subtle things. When we did the original mixes on all these records, you did it how you wanted it, and that was how you wrote it and how you put it all together. You're not trying to change it too radically.
But it's amazing how much a difference you can make. On this box set, some tracks have advanced an awful long way. "The Border" and "Big Man," which were both off Bankstatement, sound a helluva lot better now. It's just the way the instruments combine that seems to be better.
Like I said, we have done 5.1 for some of these songs, and some of those do sound really good, I have to say. I'm looking forward to being able to put those out. There's a song on The Fugitive called "By You" that has a cranky keyboard sweep throughout it, and in the middle, it gets more complicated, so you get to where these sounds are sort of playing against each other in the stereo. The positions in the stereo are different in the 5.1. It sounds fantastic, I think; you get these effects. I feel this sort of music lends itself to that sort of treatment.
Mettler: Having that entire catalog from Genesis done in 5.1 was, and is, a benchmark for those of us in the audiophile community. The beginning of "Watcher of the Skies" is something I use as a demo for people who have never really heard what surround sound can do.
Banks: All right, thank you! That's great! I'll be expecting your royalty check any day now. (laughs)
Mettler: Ahh! You mean you haven't gotten my wire transfer?
Banks: No, it hasn't come through. (both laugh)
Mettler: And the character of "Firth of Fifth" [on Selling England by the Pound] — we actually feel the sense of being in that space when you start that pure piano intro.
Banks: Well, it makes everything sound more natural where you wanted it to. At other times, like on The Lamb Lies Down on Broadway, we did play around a little bit more, putting voices out in the back and stuff — which are the sort of things that are fun to do, because you can effect more of a disturbing sort of feeling when you've got lots of different characters in a song. You just put them in different places and you doctor it to come out of your back ear. It's quite nice, because it evokes different things. You have a bit of fun, but hopefully keep it musically effective as well.
Mettler: It's not a gimmick if you get the sense of being in the middle of the recording or in the studio with the musicians. We feel we're in the middle of a composition. One track I'm looking forward to hearing in surround is "An Island in the Darkness" [from 1995's Strictly Inc.].
Banks: We haven't done that one yet, but it obviously has a lot of potential because there's so much going on there. I think it's a song that recalls more of the early Genesis era. That was on a sort of album that didn't really make any impression anywhere. (laughs) That song is pretty much unknown to everybody, so hopefully they'll come across it in the box set, and perhaps inspire them to check things out a bit further. And that's the sort of song that will sound tremendous in surround.
Mettler: I'll wire-transfer more money your way, because that one has to be done in 5.1. (Banks laughs) Even something like "Thirty Three's" [from The Fugitive] will be great in surround, because we'll get the full character of your playing there even better in the high-res form, not in MP3.
Banks: Oh yeah, yeah! MP3s are not the best, as we know. That is one of the instrumental pieces we've done in 5.1 that exists now, and sounds really good. The other instrumental that sounds really good in 5.1 is "Redwing," which is off the Soundtracks (1986) album. It's one that comes at you from all over the place, and it's really effective. But like I said, we just couldn't do 5.1 for this box set, because it would have gotten too cumbersome.
Mettler: I'm glad it appears on this box set. Last year's Genesis R-KIVE compilation project went chronologically, but for this box set, you decided to go more thematically. How did you go about making those sequencing decisions?
Banks: Two things I was trying to create. One, I was trying to put them in an order where the songs sounded good and I didn't have to worry about too much production difference where any of the tracks would work all right one after the other.
And two, I wanted to highlight tracks that weren't highlighted on the original CDs — not just the ones released as singles, because obviously none of them were hits. (chuckles) They'll be there, but I put them further along on the album.
I started with a few tracks that I really like, and also just kicking off the whole thing with "Rebirth," that little thematic piece that was used in the [Kevin Bacon] film Quicksilver (1986). I wanted to use that as the main theme, but they decided they wanted to use other songs in the film, so it hardly got used. The sound explodes more and more and it gets massive, and I always like that. I think it's a nice tune and sets the whole thing up, and it tells you I'm not trying to make a hit singles album here. (chuckles) I suppose you could say it's a Genesis-like introduction at the start, like a "Dancing With the Moonlit Knight" [for Selling England by the Pound] or "Watcher of the Skies" [for Foxtrot]. It sounds like a masterpiece, and then you can open the whole thing.
Mettler: When you say the phrase "Genesis-like introduction," that makes me think "Tony Banks introduction," since that's how many classic Genesis songs begin, right from your hands.
Banks: I always like to have the first word and the last word on albums. (both laugh) I mean, even on an album like …And Then There Were Three… (1978), it opens with "Down and Out." There is something about beginning with an instrumental sort of thing. The one time we actually went against that was Selling England by the Pound, where you actually hear the voice, and that's actually fantastic as well. You make an impact with those first few bars. It sets you up for the next 5 minutes, so you ought to try and get it right.
Mettler: The introductions to songs like "Watcher of the Skies" and "Firth of Fifth" might go on longer than some other people might do with their own material, but I look at it as there should be no time restriction on what you're doing. Just let the feel take over.
Banks: Back in the early '70s when we wrote that stuff, there was quite a small market for it. There were people who wanted to hear someone not do the straightforward thing. I mean, we all love straightforward music, and I still do — like The Kinks and The Beach Boys; I love them.
Mettler: When people ask, "What does Genesis sound like?" I always say, "They sound like Genesis." You can't define it any other way.
Banks: (laughs) That's true! We don't particularly sound like anyone else, and to be honest, there's quite a variety of sounds on the Genesis albums. We were trying to do something different for our own satisfaction, something that hadn't really been done before — new pieces that were 7 or 8 minutes long, or even 26 minutes. It was a great freedom, really. We were allowed to do what we liked. It was great fun.
A longer version of this interview appears on Mike Mettler's own site, soundbard.com.