Tidal Bellyflops Into a Flooded Music Market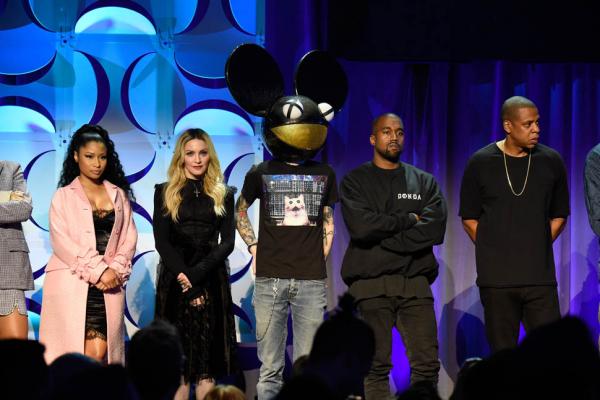 Earlier this week, a bevy of music superstars all stood on a stage to announce the re-launch of yet another music streaming service. This one is called
TIDAL
. Who was there? Madonna, Jay Z, Beyonce, Nicki Minaj, Rihanna, DeadMaus, Kanye, Chris Martin, Alicia Keys, Daft Punk, Arcade Fire, Jack White, and more. You know… millionaires. Millionaires who want to convince you to pay $10-$20 a month for music. Are you rolling your eyes? You're not alone.We've heard this song and dance before: Spotify, Rdio, Beats Music, Google Play, Milk Music, Pandora, Rhapsody. Every single one of these apps have claimed that they are the game changer that will finally get people to monetize the music they consume again. TIDAL's variation on the theme is that they will have two price ranges: one for standard resolution audio, and one for lossless audio. Having a lossless option is a great thing for audiophiles, but for the average consumer, explaining paying double the price for the same tunes could be a hard sell. I'm not saying that music has no monetary value. Far from it. It's simply that, in an economy where people are dropping cable subscriptions for Hulu, and music videos are free on YouTube, getting people to pay rental fees for their music collection will be tougher than ever. One part of the problem is that there isn't one service that has access to every artist and label. So fans of Taylor Swift will have one set of options, Radiohead another, and fans of Prince or the Beatles are plain out of luck. And, like cable subscriptions, there's no music chanel cherry picking of which artists or genres you pay for. That said, especially in an era where music purchases are largely intangible (vinyl enthusiasts aside) forking out $12 for a digital album that you'll own outright, but probably need to upgrade in a few years is also difficult to justify. (And heaven forbid you switch from an iPhone to Android and want to take iTunes music with you.) And yet, with the increase in headphones and Bluetooth speakers sales, we're consuming musical recordings more than ever. So what are the labels and services doing wrong? Well, in some cases, it's a simple as putting their heads in the sand and refusing to change the artist payment structure. Labels are multi-million dollar corporations, and in the end, even when someone does pay for music, artists get a miniscule fraction of that money. For larger acts who have huge tours, and who manage to license their songs to commercials, TV, and film, actual recording sales are not really part of their income equation. And for these artists, like the ones we saw on stage at the TIDAL event, the label system works.

But what about the indie bands, the up and comers who are living and playing out of their vans on the road? Well, they're pretty much screwed. They don't get as high a percentage of the streaming money as the "name" acts, they don't get the support of the label system, and generally are faced with having to give their music away to get exposure in the hopes that someone may buy a ticket to a show. These are the artists who are hurt when we download free music. And these are the artists who should have been up on that TIDAL stage during the press conference. Pomplamoose, Grizzly Bear, and other bands who are working on music full time, getting nominated for music industry awards, have a sizable following, and yet can't afford to buy a house.

In the end, the reason people pirate as opposed to purchase any media is because they see it as a victimless crime. "Movie studios and actors make millions, right? Madonna certainly isn't strapped for cash, nor are Jay-Z and Beyonce. So what if I download something from some file sharing service?" But then we all complain when the same kind of music or yet another sequel gets regurgitated back at us over and over. If streaming services focused on intellectual property having value, a value that we should support financially like an accountant, teacher, or any other service, it would be much easier to open our wallets. Maybe next time, when Deadmaus and Daft Punk strap on their headgear for a press conference, someone on the stage could mention that for each one of the big acts, there are thousands of artists who have loyal fans and valuable music, yet who are losing money on tours. Maybe Kanye explains that it's for these guys, the up-and-comers, the innovators, the envelope pushers, that you should pay your $10, and who will be supported by your daily streaming. And maybe, just maybe there will one day be a music service that pays even the smaller artists fairly and equally for their hard work.