The A-Team (Blu-ray)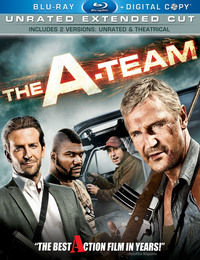 Convicted by a military court for a crime they didn't commit, a daring team of former Special Forces soldiers must utilize their unique talents to break out of prison and tackle their toughest mission yet—clearing their name.
Oh the 1980s and its wonderful TV shows. The A-Team was one of the more popular of the decade and I have to admit I was a fan and watched it weekly as a teenager. The story in this modern remake explores how the men got together and how they ended up before a military court for the crime they didn't commit. The acting is passable and there's tons of action, but the story is weak with cringe-inducing dialog.
Video Highlights

AVC/1080p encode on a BD-50 disc
Orange tinged flesh tones
Excellent detail
Vivid colors
Poor CGI
Audio Highlights

DTS-HD MA 5.1 soundtrack
Engaging surround track
Plenty of discrete effects
Intense LFE
Excellent dynamic range
The audio and visual more than make up for the lackluster writing. Detail is outstanding and really highlights the poor CGI, but the audio is to die for!
Bonus Materials

Unrated Extended Cut
The Devil's in the Details: Inside the Action with Joe Carnahan
Deleted scenes & Gag reel
A-Team Theme Mash-up MOntage
Plan of Attack
Character Chronicles
Visual Effects Before and After
Theatrical trailer
BD-Live enabled with exclusive featurette
This isn't the first remake of an 80s icon that we've seen in recent years and I doubt it will be the last. The story is paper thin but the over-the-top action and kickass audio and video are at least worth a rental.
Release Date: December 14, 2010
Studio: Fox
Movie: 5/10
Picture: 9/10
Sound: 10/10

Review System
Source
Oppo BDP-93 Blu-ray player

Display
JVC DLA-RS1 projector
Stewart FireHawk screen (76.5" wide, 16:9)
Electronics
Integra DTC-80.2 pre/pro
Anthem PVA-7 power amplifier
Belkin PVA-PF60 power conditioner
Speakers
M&K S-150s (L, C, R)
M&K SS-150s (LS, RS, SBL, SBR)
SVS PC-Ultra subwoofer
Cables
Monoprice HDMI cables (source to pre/pro)
Best Deal analog-audio cables
PureLink HDC Fiber Optic HDMI Cable System (15 meters) from pre/pro to projector

Acoustical treatments from GIK Acoustics
LATEST VIDEO