Steve Hackett: At the Edge of Sonic Exploration
Who would have guessed that of all the former members of British art-rock innovators Genesis, iconoclast guitarist Steve Hackett would be the one to emerge as the most prolific?
When I recently observed that the just-released At the Edge of Light (InsideOut Music), his 25th such studio album, inched him that much closer to rivaling the recorded output of Prince (The Purple One had released 39 studio albums during his lifetime), Hackett demurred. "Well, I wasn't trying to break any records — I just feel the need to produce albums as quickly viable as possible," he observed. "I am aware of the passing of time, so I don't sit back on my laurels. I figure I might as well do this whilst, on most days, everything is still working adequately."
At the Edge of Light is much more than just "adequate," I'd say. From the dramatic thrust of "Under the Eye of the Sun" to the perhaps unexpected Americana vibe of "Underground Railroad" to the orchestral swells of "Those Golden Wings" to the poignant, of-the-moment wish of the album closer "Peace," Edge shows how intuitive collaboration often bears much great sonic fruit. "It feels like something special happened on it," agrees Hackett, "so it's an interesting place to be exploring right now."
Ever the restless troubadour, Hackett's upcoming 2019 schedule calls for him to play much of the new album live in both Europe and the United States during the Genesis Revisited Tour that will also feature him tackling the 1973 Genesis landmark Selling England by the Pound in full in addition to celebrating the 40th anniversary of his 1979 solo album Spectral Mornings.
Hackett, 68, called across the Pond to discuss the rudiments of the soundscapes this comprise Edge, the importance of physical packaging in the digital age, and, of course, his plans for future solo-catalog-derived surround sound reissues. New horizons, brighter skies. . .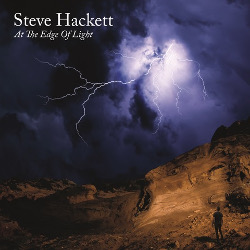 Mike Mettler: Prior to the album's release, you said you feel like we're living in a time where we're dealing with the contrast between the dark and the light, something you've captured expertly here. Did you know while you were working on the album that you were going in that direction with it?
Steve Hackett: It feels like a really good one, doesn't it? I think that when you're working toward something, you can have a master plan. But what happens is it reveals itself slowly, and you get an idea of the character of an album as it progresses. All the things you feel it lacks, you can start to add detail to suit your taste.
I don't really start off with the idea from the word go that I know exactly how each song is gonna go. I tend to write them as they go along, and then I record them. If I could record it all in one go I would, but it's in batches. It's not a kind of immaculate conception that happens to me.
Mettler: I think this also goes to show anytime the concept of ageism creeps into the conversation, you can point to an album like this one to show that somebody is creating something just as vital at a later stage in their career as they did at the beginning. As often as you feel the muse hits you, we're the ultimate beneficiaries.
Hackett: Yeah, it's been good. There are certain things I can do now that I couldn't do in, say, 1973, when, possibly, I was doing my best stuff with Genesis. Technically, I've changed. Techniques have changed, technology has changed — all those things, all those "techie" words — all of that has changed.
But there was something special that had happened back then, and there's something special that's happening right now. The difference is — um, how can I put it? You can't be "new," but you can reinvent yourself. You think, "Well, all of those limitations can't apply to me now." Yeah, it's great to be young and be a fresh face on the block and all, but I always wanted to seem like I had more experience when I was young. It was a case of wearing a beard and wanting to look plausibly about 40 years old when I was in my 20s and come across as a man of experience, and all that.
The truth is now, you want all those years to fall away, but it's all going really well. The fingers are doing things they couldn't do back in those days. I think I would have watched my older self with jaw-dropping jealousy — perhaps. (chuckles)
Mettler: A song like "Underground Railroad" captures the sense of breadth and depth of what you can do as an artist now, with all of that experience behind you. It's something you may not have been able to do back in the day.
Hackett: I don't think I would have written a song like that. The team I work with — my wife [Jo Hackett] writing, and [longtime keyboardist/programmer/co-producer] Roger King — we also work with other people quite flexibly: We ask for some input here, and some ad-libs there. That's what happened on that track. And with the McBroom sisters, the "soul sisters" [i.e., background vocalists Durga and Lorelei McBroom, best known for their work with latter-era Pink Floyd and David Gilmour], we got a gospel feel, probably using chords I wouldn't have thought had relevance at that earlier time. They were great to work with.
I also got out the dobro, and it was great to get the harmonica out as well and paint the picture — attempt to do something that basically was Americana once again. There's something you might see on Broadway: "British band goes Americana."
Mettler: You and Mark Knopfler are two of the best practitioners of Americana not born in the United States. You don't have to be from a certain place to understand that style of music.
Hackett: Well, I would like to think that was the case. If you're sufficiently a big enough fan of something, you can let the story lead the way. You can people it with characters. The [2016] book The Underground Railroad by Colson Whitehead was the impetus for the song, which I hope becomes a movie at some point. I hope Hollywood calls, but they'll probably call up some other guy, as they do. (chuckles)
You know, I did play harmonica about 10 years before I played guitar. And I was lucky enough in 1966 to see the Paul Butterfield Blues Band with Mike Bloomfield on guitar. I think Paul had inherited Howlin' Wolf's rhythm section at that point — which was Jerome Arnold on bass and Billy Davenport on drums — and that band absolutely floored me. After seeing that, I thought, "What is he [Butterfield] doing with that small harmonica, making it sound absolutely limitless?" That was a revelation for me, watching that, and it was something very special at the time where you had this integrated band showing what everyone could do if they worked together.
Mettler: I think we could apply that "working well together" concept to Edge's epically grand 11-minute track "Those Golden Wings." If Game of Thrones hasn't snatched that one up for their last season, I don't know why they haven't called you about that yet.
Hackett: Well, that's very nice, thank you! There are some very ambitious moments on the album, and in that song in particular in twinning heavy rock with gospel and orchestral stuff, and a choir. There are a lot of influences that show through, but it was worth being influenced by all of those Tchaikovsky arrangements of strings and the "invisible" instruments as well. Within orchestras, you can make the strings sound more round by adding brass and doubling it with flute — which we do quite a bit of, just to sweeten it. I'm still finding out about orchestras. There are infinite number of sounds that can be produced that way.
Mettler: When it comes to such a well-arranged track like "Those Golden Wings," I just couldn't wait to hear the surround sound mix of it.
Hackett: Once again, I think Roger King has done a stellar job on that. He did such a great job with the surround mix of [2017's] The Night Siren, which was one of the most creative I had ever heard. There were some great moments on that one.
Mettler: "Fifty Miles From the North Pole" is the Night Siren track that comes immediately to mind. It's quite a special piece in 5.1.
Hackett: That worked out very well, yeah.
Mettler: I also just picked up your Broken Skies Outstretched Wings box set (2018), which has one disc of surround material I'm glad you were able to include. [BSOW is an eight-disc box set anthology focusing on the 1984-2006 era of Hackett's solo career, featuring six albums on CD with bonus tracks and two DVDs, one with live material and one with 5.1 surround remixes of seven choice studio tracks by Roger King, and three videoclips.]
Hackett: The surround mixes are really the outstanding feature for me. It's great to have those things, because they give you an idea of just how much was going on in those songs. At that time, we had less technology than we have now, but we were still able to add a lot of layers to things.
I've used the word "orchestral" broadly, but it might be applied to a number of keyboard layers, or the amount of people we have in there on certain tracks. It comes down to the amount of detail and how Roger can match things up. He's so imaginative and comes up with things I wouldn't have thought of. My job is to push and see how far we can go, and how many plates we can balance in the air.
Mettler: "How Many Plates" should be the title of a future track you do.
Hackett: "How Many Plates" indeed, for an act with so many plates spinning around at one time — and probably still are somewhere. (both laugh)
Mettler: Somewhere, Ed Sullivan is smiling about that. Besides the great 5.1 mixes for "Set Your Compass" and "Wolfwork" [both from 2006's Wild Orchids] on that disc, there's also a new, expansive 2018 version of "When the Heart Rules the Mind," the well-known GTR track. ["When the Heart Rules the Mind" reached No. 14 on the Billboard Hot 100 in 1986. Hackett's guitar partner in the short-lived GTR was Steve Howe, of Yes fame.]
Hackett: They were made for it, yeah. And I'm glad you mentioned "Set Your Compass," because we had so many vocal tracks on that, so I thought it would be lovely to divide that one up and get the idea of all the perspectives. We had two singers on that one [Hackett and Gary O'Toole], plus lots of production and effects and different perspectives. Very detailed, but I felt I lost myself in the song when we did it in stereo, and I lost myself even further when we did it in surround sound. And like I said, that was a song I felt was really made for 5.1.
Mettler: Is it possible you'll do other full albums from that era in surround?
Hackett: I think we will, especially for some of the more recent stuff that wasn't done in surround. I'm thinking of ones like Out of the Tunnel's Mouth (2009), and we might even go back to Wild Orchids (2006) and do the rest of it. There's a huge amount of detail on that album in the first place.
Mettler: Some of the layers of your arrangements probably had to be compromised in the vinyl days, as we'd discussed before, so the surround palette gives you that option of, "If we had this in the first place, this is how we would have done it." Same goes for stereo versus 5.1 on the latter-era albums.
Hackett: Funny enough, we've been talking about addressing some of that with InsideOut, and if given the green light, we'll certainly do it. This sort of thing takes a certain amount of time in order to do that, and there has to be a willingness to undertake the dream once more. You can't rush it if you want to do a decent job with it. Each of those albums, for instance, might take a month to do, though maybe Roger can be a lot quicker than that. He's quite surprising. He'll tell me it's going to take amount of time, then he'll do it in half the time.
With a track like "Down Street," for instance [from Wild Orchids], there are three or four different band lineups, from The Underworld Orchestra to all the calliope stuff. There's a lot going down to breakdown there, and I think he said to me at the time we recorded it, "You realize we're up to something like 212 tracks on this?" We joke about it now, and we also blame each other for that. (both chuckle)
Mettler: At least the medium has finally caught up with the creation. You don't have to be held back by any format limitations.
Hackett: Well, that's true; that's true. We like to release in all formats as possible, and whether we do that with all the retrospective stuff, that's another story. We're certainly busy these days, with what's going on with the new stuff and also honoring the past and bringing that forward again for audiences whether it's by way of re-records or doing it live. For example, we're going to do [Genesis' 1973 masterstroke] Selling England by the Pound in 2019 in its entirety, and we're going to do the same thing for [his 1979 solo album] Spectral Mornings, and as much of At the Edge of Light as I can fit in as well, for both my European and U.S. dates.
Mettler: It'll be great to hear all of Selling England done live, because I love the Blu-ray version of the surround mix Nick Davis did of it for the Genesis DVD-A/SACD cube box set series a number of years back. Both Mike Rutherford and Tony Banks have told me "The Cinema Show" is one of their favorite Genesis surround mixes, and Phil Collins agreed with that assessment when I sat down with him in New York in 2016.
Hackett: Ah. Well, there's a lot to "The Cinema Show," which I had been doing live again for a couple of years. It'll be wonderful to thrill audiences with it once more when I do the entire album. Some of those tracks I haven't played for a very long time.
Mettler: Have you ever done "After the Ordeal" much at all?
Hackett: Once a year, I have this Christmas party thing, and I played it at a place called Trading Boundaries in East Sussex [where he performed acoustic sets on both December 8 and 9, 2018]. From time to time, I do things like that. And most of those songs I've done in recent years but not really in one go, so we'll get to celebrate that in 2019.
Selling England is close to my heart for all sorts of reasons. For me, it was the best Genesis album that involved the five of us. [In this case, "the five of us" means Peter Gabriel, Hackett, Tony Banks, Mike Rutherford, and Phil Collins.] It was around the time John Lennon gave an interview in New York and said that Genesis was one of the bands he had been listening to [circa 1973]. And that was when we couldn't really get an American tour. We were in New York, and then we had to fly straight through to L.A. to play several nights at the Roxy, but we couldn't get anything in between. It was crazy.
Mettler: And now you've probably personally toured the States more yourself than Genesis ever did back in those days.
Hackett: Now that's a funny thing — you may well be right with that. I haven't been counting, but I do come back and do it each year, at least once. I'm very much looking forward to coming back and doing this in 2019. I have a lot of friends in the States and it's one of my homes, if you know what I mean.
Mettler: I do. One of the things I like that you continually do is take extreme care with the packaging you do for each release — you have something special for vinyl, as well as the oversize editions with the bigger artwork. That must still be important to you, to present a complete package like that for your albums.
Hackett: Yeah, we take a lot of trouble over that. The people who have been involved with the way we present things visually in recent years have developed an excellent style for it, and it's a labor of love for them. We take pains over that.That's Maurizio and Angéla Vicedomini, and they do a great job.
The idea of people owning the package and other versions of the package is worthwhile in an era of prominently downloaded and streamed listening. It ought to be something where you think, "Yeah, I'm pleased to have that," and have that feeling of pride I certainly had when I was buying things as a teenager. Each album that I bought was life-changing for me at the time, and I was so proud to hold that in my hand.
Mettler: It's a talisman that you attach yourself to. I'm sure you've seen that with the younger generation getting attached to vinyl and listening more closely than they ever did because they have to physically interact with the actual playback.
Hackett: It's extraordinary, isn't it? What we often do is, that if we sell a vinyl copy, we often have the CD inside the box for those who want the cleanliness of that experience. But the size of the package, and the interaction with the technology, as you say, that's probably the influence of dance music and scratching — there are people who have another sort of perception of what vinyl does. They're coming to it from another angle.
Mettler: Even so, being able to drop the needle on an Edge track like "Beasts in Our Time" is a nice thing to hear in clean, analog form, with the flutes and other elements of its arrangement.
Hackett: Oh yeah, and that's my brother [John Hackett] on flute there. It is a track that I'm particularly fond of. It's like a waltz, and I find myself fully immersed in it whenever I listen to it. I bask in that one! (chuckles) It's one of those things that starts up in luxurious fashion. That one was really layered up very carefully.
Yeah, something special happened when we made this album. It's an extraordinary thing to be part of it, really. And bringing together the team that did it — and it's always a team, of course — it was an extraordinary team that did extraordinary things on it.
Mettler: I can't disagree with that. You have some kind of intuitive interplay with people you've worked with for a while, some kind of intuitive muscle that gives you a sense of what you need to do in a new situation.
Hackett: There's a certain amount of bravery that goes with it too. I often write in the middle of the night or first thing in the morning, at times when I'm not putting up too many emotional blocks. You've got to let yourself go and give in to those things that move you to do it, really. There's quite a lot of resistance that comes from the logical brain, and you've got to let that go.