Star Wars: The Padawan Menace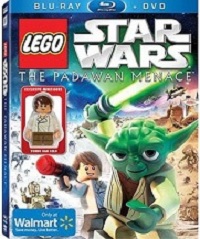 Yoda takes a group of Jedi younglings on a field trip to the Galactic Senate chambers when he suddenly feels a disturbance in the force and must leave the children. C-3PO and R2-D2 take over and find themselves in over their heads with the rambunctious force-sensitive group. As the Sith prepare to wreak havoc, it's up to Yoda and a young stowaway to save the day before the children are torn to bricks.
LEGO and Lucasfilm have collaborated on multiple projects including other mini-films, over 200 LEGO models, 275 minifigures, and Saga-inspired videogames (which are extremely well done). Featuring situations, characters, and locations from throughout the entire Star Wars Saga, writer Michael Price captures the spirit of the franchise with a story is filled humor, adventure, and a surprise guest or two.
The animation is simply amazing and looks stunning on Blu-ray. The image has stable contrast, deep hues, and inky blacks. Featuring a plethora of discrete effects, strong dynamics, and John Williams powerful score, the DTS-HD MA 5.1 soundtrack is very impressive in its own right.
The two-disc set includes a Blu-ray and DVD of the feature, five mini-episodes, and a collector's minfigure of Han Solo. Unfortunately, the set is only available at Walmart at this time.
I'm a lifelong fan of the Star Wars universe and couldn't pass up this opportunity to review this film. The animation is top-notch, the story is a lot of fun, and hey, it's Star Wars! Highly recommended.
Ratings
Picture: 5/5
3D-Ness: N/A
Sound: 4.5/5
Extras: 4/5
Interactivity: N/A

Disc Specs
Studio: FOX (2011)
Aspect Ratio: 1.78:1
Audio Format: DTS-HD Master Audio 5.1
Length: 22 Min
MPAA Rating: G
Director: David Scott
Starring: Anthony Daniels, Nika Futterman, Tim Gaul, Tom Kane

LATEST VIDEO