Star Wars Celebration: My Kind of Hive of Scum and Villainy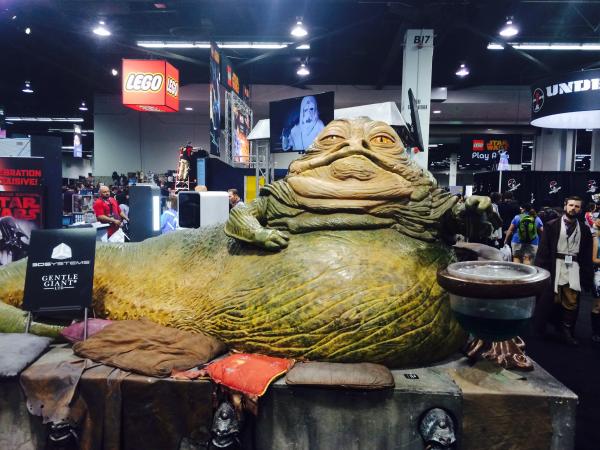 If you felt a disturbance in the force last week, it was likely due to fans everywhere emotionally geeking out at the newly released Star Wars trailer. In case you were trapped in a Sarlacc pit, last week Anaheim played host to the annual
Star Wars Celebration
, a gathering for fans of all things Star Wars. Attendees from around the world were treated to panels, demonstrations, and the very first look at the trailer for
The Force Awakens
. Couldn't make it? Want to know what you missed? Read on, Padawan.
For the uninitiated, Star Wars Celebration is an annual convention that moves to a new global location every year. (As they say, to better avoid the Empire's grasp) This year, anticipation was especially high thanks to the Force Awakens' upcoming December 2015 release.
"Awakens'" director JJ Abrams, as well as actors Carrie Fisher, Anthony Daniels, Mark Hamill, Peter Mayhew, Billy Dee Williams, and many, many, others were on hand to discuss the films, take questions, and sign autographs over the four day con. Every aspect of Star Wars was represented in panel or discussion form, from product licensing, to movie score composing, to voice acting in the animated series and video games. There were exhibits of movie-used props, demonstrations of droid building, light saber fight exhibitions, speed dating, and even officially Lucas licensed tattoo artists. (Yes, you could get a tattoo on the show floor. No, Mom, I didn't get one.) From LEGO builds to art galleries, cosplay to Jedi Training Academy, if there was a facet of enthusiast, Celebration had a representative.
These are the droids you're looking for: Home droid builders show off their creations.
An artist creates fan art on the show floor.
And, of course, there was shopping. So. Much. Merchandise. Anything and everything was for sale; the convention even had its own packing/shipping area for those who didn't want to stuff their purchases into suitcases. To give you an idea of the scale: on Saturday, folks who wanted to buy from the "official convention-exclusive" kiosk had to wait in line for an hour just to shop, and another hour to check out. (Yes, I did it too.)
The hour-long line to get in to purchase Con-exclusive merchandise.
Yes, that's a Wookiee Furby, which apparently will be available soon.
Admittedly, lines were a large part of the experience. When I first stopped by the exhibit of props, the current wait time was 120 minutes. But unlike theme park queues, there was a constant parade of other fans walking past in costumes, droids rolling by, and other forms of creature/people-watching to enjoy while waiting. To tackle the convention was an exercise in planning, prioritizing, and strategy. Factoring in wait times and food breaks, one really needed more than one day to experience everything Celebration had to offer. And, as with most conventions of this scale, the most popular panels required extreme-queueing dedication: the JJ Abrams panel had fans waiting in line beginning the evening before.
Life sized AT-AT signed by George Lucas.
Fortunately, most of the panels and interviews were available to stream online live, for free. So even if you were unable to make it to Anaheim to see Luke and Leia discuss the future of the franchise, every fan had a way to access the experience, even from home. For those at the convention, screens broadcast the largest stage's panels for anyone who didn't make it into the room, though personally, the walla of the con floor made it tough for me to hear the panels, so I think those at home on their computers likely had the best, if not most participatory, seats.
All in all, Celebration was exactly that, a friendly, delightfully nerdy, inclusive, enthusiastic celebration of all things Star Wars. And, yes, in proper Star Wars fashion, that included a lot of merchandise, but also a lot of creativity and artistry. Despite long lines and aching feet, as a fan, you couldn't help loving every minute. In a way, attending Celebration was akin to seeing a movie at a midnight showing on opening night: hardcore fans coming together to share the experience of their mutual admiration en-masse. Personally, I couldn't help feeling a little like Han: "Chewie, we're home."
Couldn't resist a meet and greet with this scruffy-looking nerf-herder.