Stand By Me (Blu-ray)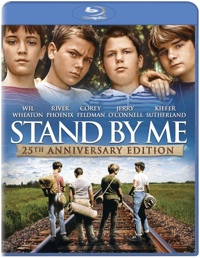 During the Labor Day weekend in 1959, a group of friends go in search of a young boy's dead body on the outskirts of a woodsy Oregon town. The two day trek turns into an adventure of self-discovery as Gordy (Wil Wheaton), Chris (River Phoenix), Teddy (Corey Feldman), and Vern (Jerry O'Connell) must overcome some town bullies and find an inner strength they never knew they possessed.
Based on the Steven King novella "The Body," Stand by Me is one of my favorite films from my high school years. Director Rob Reiner takes you on a wonderful journey and reminds me of some of my own adventures (although I never went looking for a dead body). The performances from the young cast showed each had the talent to become Hollywood stars, but Phoenix threw it all away with a drug overdose in 1993.
Video Highlights

AVC/1080p encode on a BD-50 disc
Solid detail
Adequate color saturation
Occasional black crush
Preserved film grain
Audio Highlights

DTS-HD MA 5.1 soundtrack
Strained dynamic range
Intelligible dialog
Compressed soundstage towards the center speaker
Occasional ambience from surround speakers
Sony delivers a solid 1080p video encode with adequate detail and color saturation, but the black levels are a tad too dark resulting in some occasional crush. The audio track shows its mono roots with little stereo spread and some strained dynamics, especially during the train sequence.
Bonus Materials

PIP commentary with director Rob Reiner and actors Wil Wheaton and Corel Feldman
Audio commentary with director Rob Reiner
Making-of featurette
Stand By Me music video
BD-Live with MovieIQ
Stephen King is better known for his horror novels, but his novellas have turned out two of the best pictures of my lifetime; The Shawshank Redemption and Stand By Me. The presentation isn't to die for but the standout performances by the young cast and the timeless story are two reasons that I can watch this film countless times without ever getting bored. Highly recommended.
Release Date: March 22, 2011
Studio: Sony
Movie: 10/10
Picture: 8/10
Sound: 7/10

Review System
Source
Oppo BDP-93 Blu-ray player

Display
JVC DLA-RS40 projector
Stewart FireHawk screen (76.5" wide, 16:9)
Electronics
Integra DTC-80.2 pre/pro
Anthem PVA-7 power amplifier
Belkin PVA-PF60 power conditioner
Speakers
M&K S-150s (L, C, R)
M&K SS-150s (LS, RS, SBL, SBR)
SVS PC-Ultra subwoofer
Cables
Monoprice HDMI cables (source to pre/pro)
Best Deal analog-audio cables
PureLink HDC Fiber Optic HDMI Cable System (15 meters) from pre/pro to projector

Acoustical treatments from GIK Acoustics
LATEST VIDEO