Space Chimps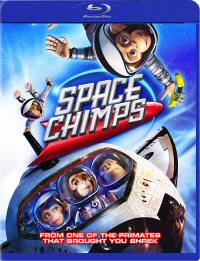 Ham III (voiced by Andy Samberg) is the grandson of the first chimpanzee into space who's recruited to join two other NASA chimps on an important mission to retrieve a wayward spacecraft that disappeared into a wormhole. With the help of Lieutenant Luna (Cheryl Hines) and their trusty pilot Titan (Patrick Warburton), the three must work together to save the inhabitants of a distant planet from their evil dictator (Jeff Daniels) and find a way back to Earth.
Even though Space Chimps doesn't measure up to the level of Pixar—in both story and animation—that doesn't mean it's a bad film. Geared toward younger audiences with its simplified script and a villain that's more silly than scary, it still has quite a few laughs for the entire family.
The digital image exhibits fine texture and is highly detailed, as is the norm with computer animation. The vivid color palette delivers a near three-dimensional experience with inky blacks and great depth. Occasional banding appears sporadically in the AVC encode, but the kids won't mind.
The DTS-HD MA 5.1 soundtrack is a solid effort with ample use of the surround channels, creating a very spacious environment. Dialog is crisp and clear and the LFE channel is used liberally, especially during the rocket launch that looks and sounds surprisingly like an animated version of the Saturn 5 blasting into space in Apollo 13 with foundation-shaking bass.
The sparse bonus features include a Fox Movie Channel feature on the casting, a still gallery, and some TV spots. Sadly, all of the supplements are in standard definition.
Younger audiences should have a blast with Space Chimps, but they may grow tired of it after the first viewing. The A/V presentation is very good with a slight edge to the audio. If you have small kids, it's definitely worth a rental for some good, clean family entertainment.
Release Date: November 25, 2008
Movie: 6/10
Picture: 8/10
Sound: 9/10

Review System
Source
Panasonic DMP-BD55

Display
JVC DLA-RS1 projector
Stewart FireHawk screen (76.5" wide, 16:9)
Electronics
Onkyo Pro 85 pre/pro
Anthem PVA-7 Amplifier
Belkin PF60 power conditioner
Speakers
M&K S-150s (L, C, R)
M&K SS-150s (LS, RS, SBL, SBR)
SVS PC-Ultra subwoofer
Cables
Monoprice HDMI cables (source to pre/pro)
Best Deal analog-audio cables
PureLink HDC Fiber Optic HDMI Cable System (15 meters) from pre/pro to projector
LATEST VIDEO