Sony VPL-VW90ES 3D SXRD Projector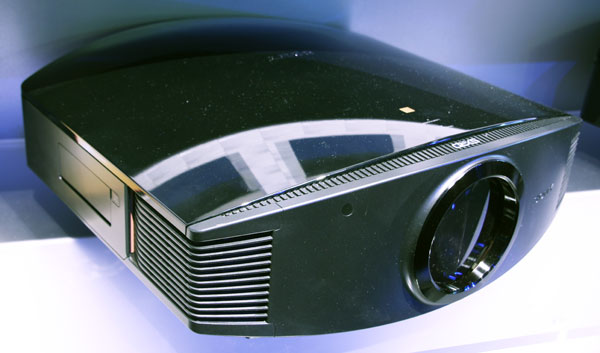 The big story at Sony's press conference was the VPL-VW90ES SXRD projector with 3D capabilities. This is the first projector to carry the company's ES (Elevated Standard) designation, which includes a 5-year warranty among other things.
The VW90ES uses the third generation of SXRD panels with reduced pixel spacing and faster response time, and the dynamic contrast ratio is spec'd at 150,000:1 with a peak light output of 1000 ANSI lumens. Other features include 240Hz frame rate for less 3D crosstalk and reduced motion artifacts, 2D-to-3D mode, built-in IR emitter that bounces the signal off the screen for the active glasses (of which you get two with the projector), and 144-zone panel alignment, all for $10,000.
The demo was on a 100-inch (diagonal) Stewart Ultramatte 150, which made sense when we were told that the projector was putting out only 800 lumens. The 2D clip of Resident Evil: Afterlife looked great, but the 3D gaming images had lots of breakup and a lack of continuity. The 3D video demo was a preview of the upcoming Green Hornet—scheduled for release in January, which hints that it is not expected to be a blockbuster or they would be releasing it for the holiday season. I thought it looked better than the game images, but still not great.
LATEST VIDEO