Wolf SDC-3 3D DLP Projector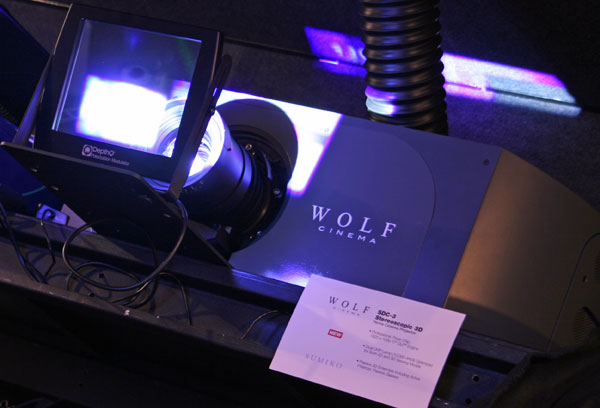 In addition to demonstrating its DCC-100FD and DCL-200FD projectors, Wolf Cinema also showed the new SDC-3 3D projector, which provides dual UHP lamps and 10,000 ANSI lumens (uncalibrated) for $75,000 with one of eight lens options.
The SDC-3 can be configured to work with active-shutter or passive-polarized glasses—the demo used passive glasses on a Stewart Silver 3D screen (2.35:1, 132 inches wide, 2.5 gain) and a DepthQ commercial-cinema polarizer, which adds $10,000 to the cost, though 40 pairs of glasses are included. I like being able to choose which 3D approach you want—more expensive active glasses on a conventional screen or less-expensive passive glasses on a silver screen.
The demo included three clips—side-by-side frame-compatible (broadcast 3D) race-car scenes, frame-packed (Blu-ray) outer-space shots, and 2D clips from Casino Royale, and Wolf's Variscope lens memories adjusted for different aspect ratios without an anamorphic lens. The frame-compatible material was not completely cohesive, which the Wolf rep attributed to imperfect timing in the projector, while the frame-packed images were better but exhibited some ghosting. The 2D clip looked pretty good with the glasses on but way too hot without them. The rep said he had tweaked the 2D calibration with the glasses on.
WHERE TECHNOLOGY BECOMES ENTERTAINMENT