Gone But Not Forgotten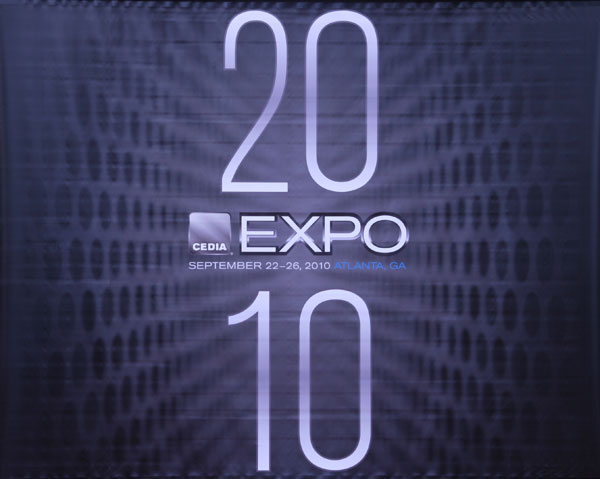 The 2010 CEDIA Expo may be over, but the memory lingers on. In fact, I saw so much that I couldn't post all of it during the show, so I'll be posting more stories—along with my photos from the floor—all this week. Meanwhile, here's my take on the event as a whole.
Attendance was clearly down—the aisles weren't nearly as crowded as even last year. But the general mood was surprisingly upbeat, and there was a ton of new products being introduced. I suspect the custom-installation industry is getting used to a new normal.
Of course, 3D was everywhere, especially in front projectors, which ranged in price from $4500 (JVC DLA-RS40/X3) to $80,000 (SIM2 C3X Lumis 3D) and everything in between. Most 3D projectors used active-shutter glasses, but a few used passive-polarized glasses (Runco, LG, Wolf), which requires a special silver screen, while the SIM2 system used Infitec color-filter passive glasses, which is the same as Dolby 3D and requires no special screen. The Runco and Wolf 3D projectors can be configured to use either passive-polarized or active-shutter glasses, depending on the user's needs.
In general, I preferred the passive systems, which looked smoother and more cohesive to me—and the glasses are much lighter and more comfortable. Speaking of comfort, I found the LG CF3D to be the most easy on the eyes, though the image was rather soft. But the motion was exceptionally smooth, and objects far in front of the screen plane were rock solid. I don't like having to use a silver screen, but that's what Stewart's Daily Dual is for—it provides a fixed silver screen behind a retractable white screen for the best of both worlds.
In 2D projector news, Epson's new flagship LCD model, the 9700UB, was outstanding—among the best projected images at the show for only $3100. And the company's new Reflection series of pseudo-LCoS projectors, which will range in price from $3300 to $7000, have a lot of potential. I also really liked the image being produced by the NuVision ProVu P2 LED-illuminated DLP projector, which is based on the Vivitek H9080FD.
With so many projectors to cover, I didn't spend as much time as I'd like listening to audio. I was very impressed with the Wisdom Audio demo with its powerful but not overpowering STS subwoofer and top-flight in-wall speakers. The THX-certified Procella demo room on the show floor was whisper-quiet—with the door closed, I couldn't hear the noise of the show floor at all—but the playback volume was too high, and dialog sounded harsh and sizzly.
And so I bid Atlanta a not-so-fond farewell. It was very hot and muggy all week, and even with most of the exhibits in Hall B—which is much closer to the shuttle stop and Omni hotel than they were last year—I put a lot of miles on my shoes. On the plus side, I really enjoyed my visit to the Georgia Aquarium, which you can see in the lower left of the photo above—it's the blue structure that looks like the bow of a ship. If you're ever in Atlanta, it's a must-see.
For the next two years, CEDIA will be back in Indianapolis, which I much prefer to Atlanta. Then, the two years after that will be in Denver, my favorite convention town so far. It should be very interesting to see how the industry evolves over the next four years, and I'll be blogging about it all along the way.
Meanwhile, I hope you enjoy my remaining stories from CEDIA 2010, which I'll be posting throughout this week.
LATEST VIDEO