Sony DVP-NS9100ES DVD/SACD Player
Your DVD collection flies first class.
Why pay $1,300 for a DVD player when you can get one for $100? You might as well ask, why fly first class when you can fly coach? Membership in the club of videophiles has its privileges. There will always be people who can afford to pay extra for tangible benefits, like top picture and sound quality, and intangible ones, like pride of ownership.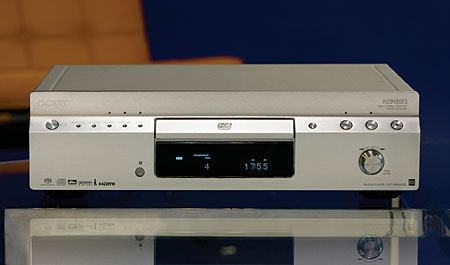 Next question: Why invest heavily in the DVD-Video format when Blu-ray is on the way? One of several possible answers is that Blu-ray, despite its tantalizing possibilities, is not as well established as regular DVD—after all, how many Blu-ray discs do you have in your library? But a better answer is that the Sony DVP-NS9100ES is also an SACD player.
What can SACD do for you? How about exploding alarm clocks, like those on the mind-bending surround remix of Pink Floyd's Dark Side of the Moon. Think about the entire Rolling Stones catalog up to Let It Bleed in high-rez stereo that matches or exceeds the vinyl originals. And Layla by Derek & the Dominoes sounds better in SACD surround than it ever did in analog stereo.
And, if you love classical music as much as classic rock, that'll seal the deal. SACD is the format for orchestral music, with a large and growing catalog of releases from Telarc, PentaTone, Naxos, and, of course, Sony BMG's own Sony Classical and RCA Living Stereo labels. If you haven't heard Telarc's SACD of Miklos Rozsa's soundtracks from Ben-Hur, Quo Vadis, and King of Kings—as recorded in voluptuous surround by Erich Kunzel, the Cincinnati Pops, and the Mormon Tabernacle Choir—then you're in for a sensual shock. There may be reports of SACD's impending death, but serious music lovers, inundated with great new surround mixes, know better.
If you already own other recent Sony ES products, you may have even more reasons for getting the DVP-NS9100ES—reasons both visual and sonic. The player bears a strong family resemblance to the STR-DA7100ES surround receiver, with the same dramatically angled, pale brushed-aluminum front panel. Where is it written that the components in your rack needn't match? Mating Sony's player with Sony's receiver would also allow the two to pass signals using the i.Link interface, Sony's version of FireWire IEEE 1394, providing uncompromised digital signal transfer for SACD signals.
Note, however, that this is not quite a universal player. Sony does not support the DVD-Audio format.
Stairway to Heaven
The front panel is not an unbroken surface. A downward step cuts it into three planes, the middle one facing upward and outward. This cascade is a brilliant design idea, both visually and functionally, and here Sony makes good use of it. In the middle of the angled panel is the disc drawer. To the right of it are four transport controls. To the left are smaller buttons that switch between multichannel and two-channel audio, switch between a disc's SACD and CD layers, dim the display, turn off the video circuitry for purer sound, and activate the i.Link interface.
Although the front panel includes a handy jog dial, other aspects of control ergonomics seem to be an afterthought at best. Getting into the main menu—or, as Sony calls it, the Custom Menu—requires five keystrokes: press the Display button, joystick up, joystick right, joystick down, and press the joystick to enter. This never ceased to annoy me. Transport keys on the remote are not easy to find by feel or with a quick glance. I always had to look for the legend to be sure I was hitting play.
The drive mechanism moved in a slow and stately manner. Powering up took 15 seconds, while the display read "please wait" and "reading." Starting a disc took about 20 seconds, ejecting a disc in play took 12 seconds, and powering down took 5 seconds. It's not the mechanism itself that's slow—it's the elaborate array of video circuitry. There are three buffers each for red, green, and blue, in addition to a large buffer that allows the video digital-to-analog converter some extra headroom for noise shaping.
Having mastered the player's idiosyncrasies, I was pleased by its video performance. The Silicon Optix test disc includes an especially tough detail test with race cars whizzing around a track as the camera pans over empty seating. The player took a split second to lock onto the seating and then delivered it as cleanly as I've ever seen it. Noise reduction on broad color fields was immaculate. On the tough "fair/good/best" jaggie test, the player scored good, with very few, minor visible jaggies. The Stars and Stripes waving in the wind appeared subjectly perfect, even when I walked up to the screen and looked closely.
Moving on to full-motion video, I was never less than satisfied with the player's performance. The fast-moving action in The Island with Ewan McGregor went by with no major visual distractions.

You can set the HDMI output to precisely match a 1,920-by-1080i, a 1,280-by-720p, or a 720-by-480 display. Whether the player's video processing will outperform that of your projector depends, of course, on the projector. The DVP-NS9100ES certainly improved on my 3-year-old LG LCD front projector.
Multichannel Mate
While the DVP-NS9100ES is no slouch as a video performer, its high-rez multichannel audio chops are likely to make it useful long after the now-venerable DVD-Video format has reached its sell-by date.
How long will Sony and other manufacturers take to combine Blu-ray and SACD in a single new-generation universal player? I don't know, but, when it happens, it'll be quite a trick to accommodate a new video format that requires an entirely new disc drive while maintaining the ability to accurately read and correctly process SACD and other high-rez audio material. While we're waiting for that to happen, the DVP-NS9100ES will enjoy its moment in the sun, coexisting in many cutting-edge racks along with first-generation Blu-ray (or whatever) players.
If you're like me and you still require a player with high-quality multichannel analog outputs, that moment may last longer. I happen to love my Rotel RSX-1065 reference receiver both for its cinematic dynamics and its unforced musical clarity. Much as I would like my universal player to feed it with an uncompromised high-rez digital signal, I don't want it badly enough to dump what is still the best receiver I have ever heard. If you feel the same way about your receiver or preamp/processor, you may be in the market for something like the DVP-NS9100ES.
It's hard to describe in positive terms what happens when a disc player passes an analog signal accurately. Describing what may go wrong is much easier: If the design team simply doesn't have a good ear between them, the leading edge of the midrange may be either hard or mushy. Even if the first impression is just right, prolonged listening may reveal a skeleton without much harmonic flesh on it—a problem with budget players with relatively primitive digital-to-analog conversion.
I can tell you that, when I spun the PentaTone SACD of Mozart's Violin Concertos Nos. 3 and 4 with Julia Fisher, the lead instrument had a sweetly euphonic intensity that kept my attention. And, even during low-level passages, the player didn't lose the legato of the Netherlands Chamber Orchestra, led by Yakov Kreizberg. The music simply flowed and carried me along with it. A budget universal player can impress you with a dramatic music-in-surround mix or a bombastic action-movie soundtrack. But it takes a better one to rivet your attention with the gossamer eloquence of Mozart.
As the flagship of Sony's 2005 DVD line, the DVP-NS9100ES is not exactly cheap. But its real peers are top-line SACD players and high-end turntables. There is a small but significant audience for premium signal sources like this beautiful, pokey, powerful player. Patient, thoughtful, critical listeners—people who can really hear the difference in a superior disc player—will appreciate this product.
* Audio editor Mark Fleischmann is also the author of the annually updated book Practical Home Theater (www.quietriverpress.com).
Highlights
• Plays high-rez SACDs
• High-quality digital and analog outputs
• Best-looking universal player out there