Sony DHG-HDD500 High-Definition DVR Page 2
PERFORMANCE Once the source of interference was removed, every channel looked as good as my cable system delivered, whether buffered "live" or recorded. A San Francisco Giants game recorded from the InHD channel was particularly pristine. The Sony's four-speed slow motion allowed me to keep my eye on the ball no matter how fast the play. Surround sound effects such as gunfire on CSI: Miami were especially startling. Switching live channels between the HDD500 recorder and the Scientific-Atlanta box, I was unable to discern any difference in video or audio quality.
The Short Form
SONYSTYLE.COM / 877-865-7669 / $1,000 / 17 x 3.25 x 14 inches
Plus
•Huge storage capacity. •Adjustable commercial skip. •Chapter markers. •Four-speed slow motion.
Minus
•Only one tuner. •TV Guide On Screen.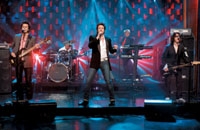 Key Features
•500-GB capacity for recording 60 hours of HDTV or 400 hours of standard TV •CableCARD slot •TV Guide On Screen for searching listings and setting recordings •Live TV can be paused for up to 90 minutes •Dolby Digital 5.1 via optical digital output •Chapter marking in live and recorded programs
One of the features on the HDD500 that I like is the ability to mark favorite points in both live and recorded programs. These bookmarks can be placed anywhere. Then you can use the Next or Prev button on the remote to jump to the closest mark. In a recording of Late Night, I put a chapter mark 50 minutes into the show as Conan O'Brien held up Duran Duran's new CD, allowing me to replay the rock group's performance without scanning through the program. If you record an ad-infested program, placing a mark at the end of each commercial block lets you leapfrog directly to the next program segment.
The Advance button comes set for a useless 5-second skip, but you can change it to 30, 60, or even 300 seconds to get past long commercial blocks. And I liked the adjustable buffer for pausing live TV up to 90 minutes. As for the uncluttered infrared remote, its best feature is the central scroll bar. Roll your thumb over it, and the highlight bar on screen moves up or down; press and hold it to select an option.
Unfortunately, none of these features make up for getting stuck with TV Guide On Screen, which has a number of inherent flaws that Sony, and apparently other manufacturers, have decided to live with. First, this box and all the TVs we've tested that use it load the channels into the guide in arbitrary order that bares no relationship to the cable system's channel order. A TV Guide On Screen spokesman said the channels were listed in the order of popularity, though it's funny how Fox always seemed to be at or near the top. (Fox and TV Guide are owned by the same company.) You can manually reorder the lineup yourself, but with hundreds of channels to rearrange, that's a huge pain.
Next, two advertising panels appear every time you call up the grid, leaving room for only a very small picture window. And the guide, at least in the HDD500, was clumsy to use when I tried to do simple things like moving ahead several days to check program listings. As for doing a search by title, you can enter only the first letter of a show, which produces hundreds of listings.
TV Guide aside, my biggest gripe is that the HDD500 has only one tuner at a time when the major cable companies are offering two-tuner boxes such as the Scientific-Atlanta 8300HD or the Motorola DCT6412. With only one tuner, you can't record two high-def programs at once. If you've lived with two tuners, you know that's a big drawback. To be fair, part of the fault rests with the first generation of CableCARD modules, which don't support simultaneous tuning of two channels. But it puts the HDD500 at a strong disadvantage.
BOTTOM LINE Sony included some great features in the HDD500, including awesome storage capacity, a handful of very convenient viewing options, and excellent picture and sound quality. But its reliance on TV Guide On Screen, rather than a proprietary guide (or even a paid service like TiVo), the lack of a second tuner, and the $1,000 price tag makes it a hard sell compared with the $8 or so a month it costs to lease a box from your local cable provider. Sony has to be admired for trying, and I was really rooting for this product to succeed. But in this first generation, anyway, the HDD500 isn't likely to break the cable companies' set-top box monopoly.
LATEST VIDEO