Sony DHG-HDD500 High-Definition DVR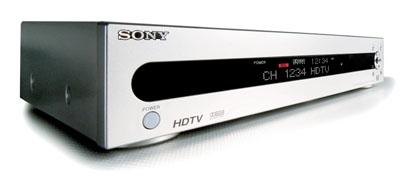 About 73% of the country is watching cable TV these days. And as HDTV has caught on with this crowd, so have digital cable boxes that include TiVo-like hard-disk recorders for high-def programming. But these boxes, built almost exclusively by either Scientific-Atlanta or Motorola, have drawbacks: limited capacity, a less-than-elegant user interface, and, of course, a monthly lease.
Now Sony is taking on these cable giants with a CableCARD-ready super DVR offering greater capacity and more sophisticated features. Boasting half a terabyte of storage on two 250-gigabyte (GB) hard drives, the DHG-HDD500 should be an HDTV junkie's dream. It holds at least 60 hours of high-def programs - three times the capacity of high-def DVRs currently available from your cable company - letting you record an entire season of two of your favorite series in high-def without having to delete episodes. And if you love watching movies with Dolby Digital 5.1 sound on the high-def channels of HBO, Showtime, Starz, Cinemax, HDNet Movies, and others, the HDD500 can keep 30 of them at your fingertips. Given how much better movies look in high-def, the HDD500 could relocate your DVD player to the closet. (Sony also offers the similar DHG-HDD250 for $800 with a 250-GB drive.)
What We Think
Thoughtful features and massive storage can't overcome a clunky program guide.
Other empowering features you don't typically get from cable-leased boxes include the ability to receive and record analog and digital channels off the air (with the addition of an antenna), pause live TV for up to 90 minutes, zap a 5-minute block of commercials or a boring talk show guest with a single button push, and mark chapters so you can precisely quarantine blocks of commercials without having to scan through them. A universal remote and TV Guide On Screen - a free interactive guide for finding or recording programs - complete the package.
SETUP A CableCARD module supplied by your local cable provider lets the Sony receive premium and high-definition channels without an additional box (though it won't allow you to access a video-on-demand service). The monthly fee to rent a CableCARD varies by provider, but Time Warner in New York City charges me $1.75 a month vs. $8 to rent an HDTV-capable box with a 160-GB integrated DVR. Though you'd think that installing this PC Card-size device would be as simple as sliding a Wi-Fi card into a notebook computer, you have to schedule a visit with the cable guy so he can hand deliver the card (in my case, a Scientific-Atlanta PowerKEY), pop it into the HDD500's back panel, and activate service.
An RF-style antenna input for capturing off-air broadcasts and the cable connector are the only source inputs. You have a choice of component-video or HDMI outputs to your HDTV, and there's an optical digital audio output for sound.

Once the service was turned on, the Sony's auto setup found some 400 channels on my system. But CableCARD devices won't display your cable system's interactive program guide. To get grid-style program listings on the HDD500, you enter your Zip code and wait for the TV Guide On Screen database to load overnight.
I did encounter one unexpected problem during setup. The HDD500 turned out to be sensitive to a 2.4-GHz RF transmitter that the SkipJam iMedia Center - a couple of shelves away on our rack - uses to communicate with its remote (click to see review). Most of the channels below Number 50 - the most popular ones - exhibited severe blocking in which large parts of the picture pixelized and froze up along with continuous audio dropouts. Our regular box, a Scientific-Atlanta Explorer 8300HD, was completely immune to this interference when placed in exactly the same position as the HDD500. A 2.4-GHz Wi-Fi trans-mitter in an adjoining room caused no interference problems.
The SkipJam is FCC-approved for radio transmission, further suggesting an issue with the Sony. So we plugged in a 2.4-GHz cordless phone. Sure enough, the HDD500 exhibited the same picture and sound problems on the same channels whenever the phone's base was within about 6 feet of it. Two separate samples of the Sony showed the same behavior. Sony is aware of the problem and says it is working to correct it. If you encounter this issue, the company will fix it under normal warranty procedures.