The Sonus faber DOMUS Surround Sound System Page 2
If the weak point in Sonus's Concert line was the two-way center channel speaker, the Center DOMUS may be the new line's major achievement. I began the review with it mounted on a sleek, dedicated stand ($395) placed in front of a display then under review that did not accommodate a center channel speaker. Later I put the Center DOMUS atop my reference Hitachi CRT-based RPTV. In either location, the Center DOMUS produced the some of the most believable dialog I have heard yet from a home theater system. Voicing a speaker to reproduce the human voice is a daunting task. Make the speaker too warm, and male voices sound boxy, muffled and difficult to understand. There's too much chest and not enough throat. Go for intelligibility by lifting the presence region and you often get discontinuity in male voices, shrillness in female voices, and "mechanicalness" in both, particularly on sibilants, which take on a distinct, easily identifiable life of their own, thus destroying any hope of believability.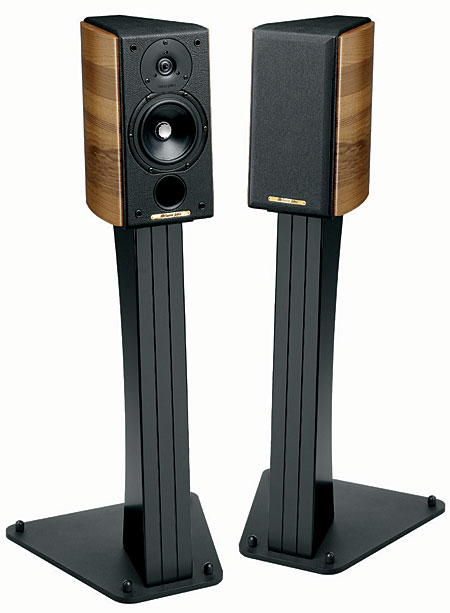 While I have heard better low level intelligibility from a few center channel speakers I've reviewed over the years, few have matched or beat the Center DOMUS's combination of intelligibility, believability and freedom from mechanical artifacts at normal to relatively loud listening levels (one such center channel is the far more expensive, more massive and more capable Aerial CC5).
No doubt Sonus chose to shelve down the presence region somewhat to compensate for the processed and somewhat hyped sound of most dialogue tracks. In this case, their feeling probably is that "accuracy" is best off taking a backseat to "believability." I can't disagree, based on my time with this system's center channel speaker, though the low level intelligibility drop off had me sometimes turning the overall volume up higher than I'd like during some late night movie watching.
The Concertino Surround Speakers
The diminutive Concertino is a two-way, front-ported speaker featuring a 6" woofer crossed over at 3.6kHz to a 3/4" ring-radiator tweeter in a lute-shaped box with decoupled sides. In addition to using the pair for surrounds I moved them to the front and drove them as a stereo pair for a Stereophile review of a two-channel Outlaw Audio receiver. With claimed 50Hz (including port contribution) response the Concertinos proved to be impressive performers, with a surprisingly robust, yet supple bottom end and silky-smooth mids and highs. (Add the $600 100w/100w Outlaw receiver and you've got the core of a great stereo system for $2000!). As surrounds, the Concertino's subjectively smooth on-axis response allowed them to disappear while firing at ear level directly at my listening position. Those seated closer to one side or the other on the couch lodged no complaints about being so close to the line of fire, and when I sat in those positions I found the speakers remarkably unobtrusive, hearing instead the 5.1-channel soundfield they helped create.
Gravis DOMUS
The Gravis subwoofer features a 12" front-firing driver powered by a 200-watt MOSFET amplifier, coupled to a downward firing 10" passive radiator. The built-in low pass filter offers six selectable crossover points (24db/octave) between 38Hz and 65Hz. There's a phase switch, and RCA and XLR inputs. Because of the passive radiator, floor distance is critical, so the speaker sits on four relatively tall, non-adjustable feet. Because of its graceful shape, and leather and wood trim, the Gravis is one subwoofer that doesn't require hiding.
The Gravis' specs don't offer low frequency response and I'm not sure if the Gravis goes as low as some other subs I've reviewed. And because my room has a "bump" where I have to place subs, I missed the parametric LF equalizer featured in the Infinity CSW10 and Revel Concerta B12 subs I reviewed a while back for UAV. But in terms of natural, not "thumpy" bass, the Gravis was as "musical" sounding as the Aerial SW-12, and it doesn't get more "musical" than that in my experience (although the Gravis certainly doesn't go down to the Aerial's subterranean under 10Hz lower limit, either). When properly dialed in, I felt the Gravis was more than capable of delivering "0.1" effects for movie, but that it truly excelled with music. When I watched the PBS HD feed of Cream's Reunion Concert at The Royal Albert Hall, I found the sub's rendering of the lower limits of Jack Bruce's bass was both well textured and dynamic while avoiding one note "boom." With the Gravis you may not get the very bottom-end room shaking some other subs provide, but thanks in part to the MOSFET amp and probably the tuned passive radiator system, you'd be hard-pressed to hear a more musically subtle and refined sounding sub.
All Together Now
Put it all together and with the DOMUS speakers you have a smooth-sounding high performance music and film surround sound system capable of producing the wide dynamic swings necessary to make both music and movies come convincingly alive. While the DOMUS system's smooth frequency balance was also a major step up from the previous Grand Piano system I reviewed, it was the system's improved dynamic capabilities and its ability to play louder without apparent strain that really set it apart from its predecessor. The center channel DOMUS was also a much better performer and among the most believable dialog reproducers I've heard, even when placed on the floor stand projecting well into the listening room.

A system with this level of sonic refinement demands to be driven by high resolution electronics. While the sound was pleasing when I had the $880 JVC receiver in my system, switching to the far more expensive and powerful Marantz SR9600 proved a revelation in terms of low-level microdynamic resolution and transient cleanliness. Reproducing some recently acquired Harmonia Mundi 5.1-channel SACDs that combo was definitely "audiophile quality," particularly in the way it dealt with the difficult-to-reproduce piano on Chopin's Piano Concerto No. 1 (Olga Kern and the Warsaw Philharmonic, HMU 807492). The bottom octaves were rendered with impressive clarity and freedom from "boom," while the upper end of the keyboard was free of the edge and "tinkle" common in modestly priced surround sound home theater systems. I'd rather have two great channels than 5.1 mediocre ones for music listening, but once you get to this performance level you've got impressive tonal balance, resolution and the spaciousness of surround sound. It doesn't come cheaply but if you plan on combining your music and movie listening into one system be prepared to spend, or seriously compromise sonic performance.

Movie watching was equally enjoyable through this system. With its dynamic and spatial capabilities coupled with its smooth, non-peaky frequency balance, the DOMUS system was equally effective handling noisy sound effects-laden movies and ones relying more on the music. Even though I'd already seen it, I felt The Red Violin deserved to be seen and heard again on this system and I was rewarded with a musically satisfying performance.

If the measurements show a somewhat depressed upper midrange, that's a purposeful design element and a deviation from "flat" I endorse. Next to the gargantuan and ultra expensive Aerial system I reviewed a while back, this DOMUS system ranks as my favorite and its sleek leather and teak Italian design makes a welcome addition to even the most elegant of living rooms. My wife was sad to see the DOMUS system go and that's saying a lot!

Conclusion
The Sonus faber DOMUS system represents a substantial investment at around $10,000 as reviewed. It combines gorgeous styling with suave, yet muscular sonics. Even if you're using your surround sound system for movies only, if you can afford it the DOMUS system is worth checking out. If your home theater also serves as your primary music system the DOMUS system belongs at the top of your list.

Highs and Lows

Highs
Musical refinement
Believable center channel dialog
Gorgeous looks

Lows
Dialog intelligibility suffers at very low SPLs
Vertical speaker terminal placement on Grand Pianos makes wire hiding difficult
Subwoofer expense not matched by ultra-low (subjective) response