Sonus Faber Chameleon T Speaker System Review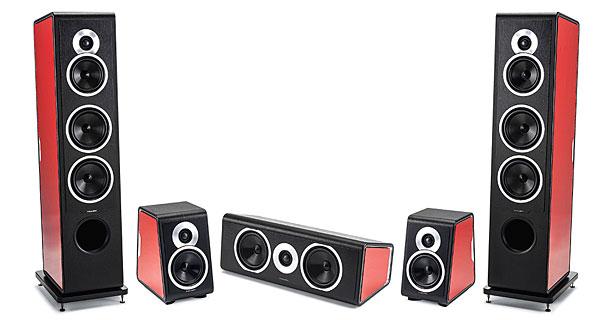 PRICE
$3,447 as reviewed
AT A GLANCE
Plus
Very honest, very capable reproduction
Unusual, and unusually attractive, cosmetics
Excellent center-channel off-axis consistency
Minus
Ever so slightly warm balance may not please more analytical listeners
THE VERDICT
Wide-range towers and solid tonal matching make for a system that will fulfill many, even without a subwoofer.
Italian technology doesn't get a lot of respect. (There's a version of the old joke where in heaven the police are British, the cooks French, and the engineers German; in hell the police are German, the cooks British, and the engineers— you guessed it—Italian.) But think only of Ferrari. Or Lamborghini. Better still, think of supercar maker Pagani, for which today's examinee, Sonus Faber, provides premium audio systems.
So I'll refrain from further perpetuating stereotypes or repeating tired Fiat jokes (to which I'd be fully entitled, having nursed one long-ago girlfriend's reviled 128 rust-bucket through a bitter Boston winter, at the cost of many a frostbitten finger). Instead, let me point out that Sonus Faber—Latin for "sound-smith"—has more than a 30-year history of producing serious loudspeakers competitive with the best from Britain, Canada, and the U.S., with a look and a feel that are distinctly Italian. Take the company's new Chameleon lineup. The Chameleon T tower, Chameleon B bookshelf/standmount, and Chameleon C center channel share an understated trapezoidal design that looks both formally pleasing and technologically no-nonsense. And as with nearly all other Sonus Fabers, the Chameleons' exteriors are lushly leather-wrapped, for a wholly unique look—and feel.
As their name suggests, however, the Chameleons' marquee feature is their interchangeable side panels, available in six colors (black, white, red, orange, gray, and blue) for each model—the idea being, of course, that as décors change or the whim bites, owners can keep the loudspeakers' look fresh. Such an attractive notion has been tried before, several times. I can specifically remember two such ranges, both perfectly respectable performance-wise, neither of which (if memory serves) reappeared in its respective maker's catalog the following season.
Absent the fashion-forward side panels, Sonus Faber's latest models follow conventional loudspeaker design. All three Chameleons employ vented enclosures, but in the case of the center-channel C, interestingly, the port is embodied by a passive radiator that takes the place of one of the horizontal speaker's seemingly dual woofers. On the underside of the B's plinth are routed three sides of a rectangular port, requiring the surface the speaker is placed on to provide the critical fourth side or suffer ill effects in the response from the midbass on down. Somewhat surprisingly, on all three models, the front baffle with the silver trims around the drivers turned out to be another snap-off panel, revealing drivers that are conventionally flange-mounted from the front.
La Disposizione
I arrayed the speakers as usual in my system: towers flanking my 52-inch LCD screen, center on a low stand below the screen's bottom edge, and surrounds on high shelves on either side of the listening position. Sonus Faber doesn't yet offer a Chameleon subwoofer, so I performed the bulk of my listening, both stereo and multichannel, using a no-sub setup, with the towers running full-range. For checks of subwoofer readiness, my everyday SVS SB-12+ had the advantage of being a thoroughly well-placed, known quantity, already fully integrated into my room.
Setting up the Chameleons means first snapping on your selected side panels. These affix via plastic snap-pins, much like a conventional grille, leaving visible accent stripes of the aluminum substructure. (The speakers' actual cloth grilles use auto-aligning magnetic tabs.) As already noted, the Chameleons' cabinets are otherwise wrapped overall in black leather. The com- pany's marketing materials say "leather," not "pleather," so I assume it's the real thing; at any rate, I'm not sure I could tell the difference. All in all, it's both a very elegant and a very unusual look. Cosmetic considerations completed, I hooked up the Chameleons—all three models furnish nice metal multi-way jacks, biwirable on the T and the B—and left them for a week's worth of break-in by way of casual use.
L'Audizione
Settling down for serious listening to the towers in full-range two-channel mode, I encountered a big, very slightly warm, and comfortable sonic signature. As with most other full-range towers in my studio, I had to pull them well out into the room (about 5 feet from baffle to wall) to mitigate midbass heaviness, but the Ts' natural back-tilt placed the ideal listening axis just about perfectly at seated ear height from 8 or 9 feet away. With the towers thus situated, tonal balance was very fine. Male announcers and baritone singers had just a touch of added fullness, as did the lower-middle bass span; the effect was overwhelmingly pleasant, and I never heard anything I'd characterize as boomy, bloated, or heavy.