Sonos SUB Subwoofer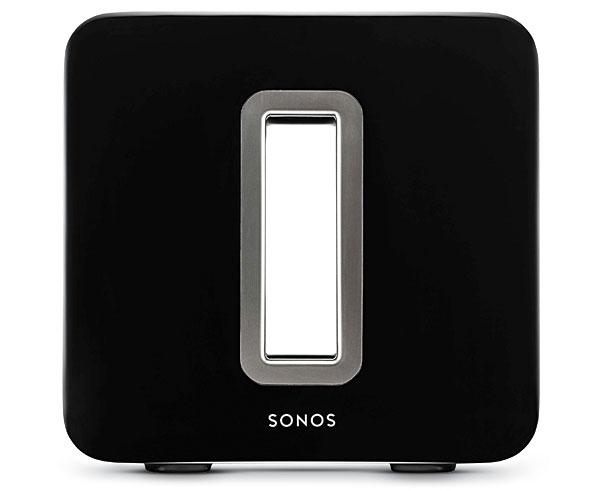 Price
: $699
At a Glance
: Dedicated sub that extends dynamics and musicality of Sonos speakers • Easy setup and simple control via iOS and Android apps • Unique design and stunning high-gloss finish • One-button setup to the Sonos network
The latest addition to the Sonos family of products is the Sonos SUB, which is specifically designed to work with the company's speakers—the Play:3 and Play:5. Either of these can be paired with another speaker of the same model to create a stereo pair for a wider soundfield.
Sonos sent me two Play:3s that I paired with a shiny new SUB. The high-gloss black finish is quite stunning, and so is the design. The enclosure is essentially a cube with a thin rectangular hole in the center, making it easier to carry and providing a distinctive appearance. It can sit upright or flat.
It's relatively thin for a sub, but it's deep (15.8 by 6.2 by 15 inches) and has some heft at 36 pounds. The cabinet is made from proprietary resin in an effort to create acoustically dead walls with maximum internal air volume, resulting in a fairly inert enclosure void of buzzes or rattles. It's carefully engineered on the inside with two force-cancelling drivers that are positioned facing each other to maximize low-bass performance while minimizing vibration; they're powered by two Class D amps that are tuned to match the Sonos speakers. The system automatically adjusts the audio setting to properly balance the sub with the paired speakers.
On the outside, the SUB looks like a decorative treatment and can easily fit in any modern décor. It retails for $699, and if you want something a bit more understated, a matte black version is scheduled for release in October for $599.
The Sonos SUB not only integrates with Sonos speakers, it also works with the company's other amplified products, the CONNECT:AMP/ZonePlayer 120 and ZonePlayer100. It won't work with the non-amplified zone players, which allow existing sound systems to connect to the Sonos network. When it's wirelessly connected to the proprietary SonosNet wireless network, you can use the Ethernet port on the bottom of the SUB to provide Internet connectivity to your set-top box, DVR, PC, game console, or network hard drive. Like all other Sonos components, the SUB is controlled (volume and loudness activation) from your computer, smartphone, or tablet using the free Sonos Controller apps for Android, iPad, iPhone, Mac, or PC.
Setup
Setup isn't particularly difficult when everything you need is in the same room; however, since my computer is upstairs, it was physically exhausting. You can only connect one new component at a time via the desktop controller. The Sonos components I was reviewing were, of course, downstairs, so I got my exercise that day running up and down the stairs quite a few times.
To use the SUB you must upgrade the Desktop Controller to version 3.8 and update your apps. Unfortunately, this is where I ran into a bit of trouble. I lost my entire imported iTunes Library, and I couldn't get it to re-import. After a quick call to Sonos' customer service (one of the best in the industry), I had to uninstall the old version and re-install the new update. When I tried to just overwrite the old version, it caused some issues. The good news is all I had to do was connect the one Sonos component near my computer, and the entire Sonos network was back up and running. It then recognized the drive with my iTunes music and I was finally ready to give the new SUB a good listen.
Performance
I've always thought the Sonos speakers were well made and sounded good, perfectly suitable for background music. (See review of the Sonos Play:3 music system, Home Theater, November 2011.) They have decent bass for their size but obviously have their limitations. However, with their stereo pairing capability (which they always had) coupled with the new SUB, Sonos has entered a new realm of audio performance. This is a serious two-channel system with excellent imaging and tonal balance. However, since it's part of the Sonos network, you're limited to your streaming content—so the resolution of your files is more critical than ever. For background music, you might not even notice or care about the lower-resolution MP3 files, but when you sit in front of a Play:3 pair and SUB you'll want nothing but high-bit-rate, or better yet, uncompressed files.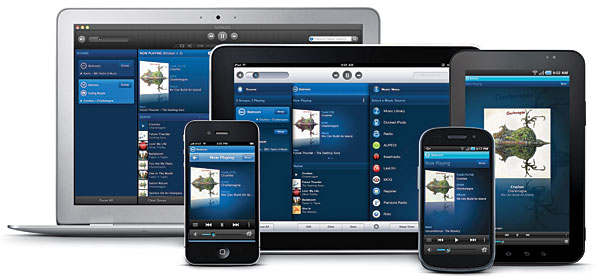 I pulled up some tracks that I'd ripped full resolution, including Lady Gaga's "Judas" on her CD Born This Way for its SUB-destroying synthesized bass. The Sonos SUB handled it effortlessly, delivering a super-tight and powerful sound. Adele's cover of the Cure's "Lovesong" has become one of my favorite demo tracks. The Sonos SUB treated the swinging bass line with finesse, and the stereo guitars were crisper and more articulate with the extended bass. Overall, the Sonos SUB's performance is controlled and musical. Moreover, the Play:3s perform so much better when they're not pressed to deliver bass on their own.
I'd venture to guess that, for most folks, this system will rock your world. It certainly beats the heck out of a single speaker, especially if you're hosting a party. I'm sure everyone will be impressed and ask how this medium-sized system can kick out the jams like this. Adding another Play:3 or Play:5 plus a SUB is a terrific upgrade for any of your zones, providing more energy and musicality. With the SUB, a Sonos system is no longer just for background music; you'll actually want to sit in front of it and really listen to your tunes. Wow, what a concept.