For a Song: The $59 Headphone Roundup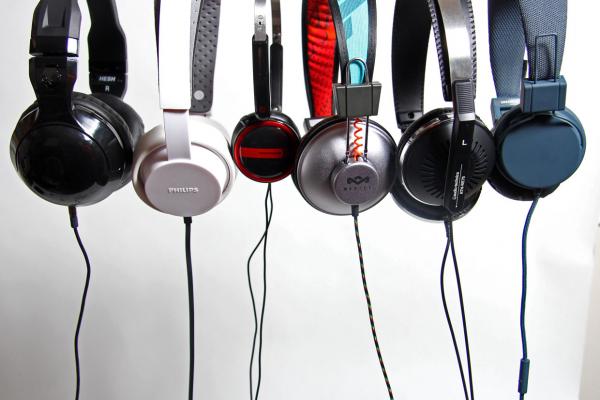 I had always assumed that all $59 headphones sound about as refined as Ski Johnson. That is, until I happened upon a marketing crew from House of Marley at my local Fry's Electronics. Encouraged by our experience with the company's $149 Exodus, I tried the $59 Positive Vibration — and was shocked to hear that much of what I loved in the sound of the Exodus was evident in the Positive Vibration, too.
Which got me wondering: Are there other good headphones available at this price point? Could those who have only three Andrew Jacksons to their name actually get a decent set of cans?
Of course, the only way to find out was to round up a bunch of products in that price range, have our listening panel check them out, then run them past my measurement gear.
I asked several manufacturers for headphones that list for $59, plus or minus $10. Five agreed to supply a testing sample. AudioTechnica didn't have any consumer headphones for $49 to $69, but offered to send me a $79 model. I agreed, thinking that while the AT might have an unfair advantage over the ~$59 models, it would look bad if it didn't best everything in the bunch.
For this test, the listening panel comprised me, L.A. voice actress Lauren Dragan, and Howard and Joe Rodgers, the father/son team who recently resurrected the Rogersound Labs (RSL) speaker brand. I taped over all the logos on the headphones, so except for me none of the panelists knew what brands or models they were hearing.
All of the headphones got at least six hours of break-in before testing. All were connected to my Rane HC 6S professional headphone amp for listening tests. I allowed the panelists to play any music they chose, sourced from CD or from their MP3 players or smartphones. Then I measured the headphones using my G.R.A.S. Type 43AG ear/cheek simulator, Clio FW audio analyzer, and Musical Fidelity V-Can headphone amplifier.
In this segment of the review, we'll examine the Skullcandy Hesh 2.0 and the Beyerdynamic DTX 300 p. On Wednesday, we'll hear the Philips CitiScape Metro and the AudioTechnica ATH-RE70 Retro-Face. On Friday, we'll wrap up with the Urbanears Plattan and the House of Marley Positive Vibration.
So did any of these ~$59 headphones sound smoother than Ski Johnson? Sure, that ain't hard, you say — but read on to find out.