Smart Budgeting
Deciding how much to spend—and for what—is the first and most important step in the journey to a fully realized home theater.
Building a budget for a theater room has all the earmarks of a track-and-field meet—and the participant's choice of event is no less crucial. As a potential home theater owner, your dream may be to complete the 26.2-mile New York City Marathon. Certain monetary constraints, however, might make you readjust your sights to focus on the 100-meter dash.
But, as with racers everywhere, just having all the financial endowments necessary to run an extended race doesn't automatically guarantee a winning experience. Even in a short-distance run on a small budget, if you are aware of your limitations and allocate your sparse resources wisely, there's no reason for you not to be totally content when you cross the finish line.
According to installers in the know, the key to smart budgeting—going the distance, either long or short—is informed execution.
What You Can Expect to Spend
You can slice up the budget pie for a home theater room in segments of many different sizes. But its fundamental ingredients, installers agree, vary little, whether the project is bare bones or big and bold. "There are three things in my mind that constitute a good home theater room, regardless of price, that you have to have," says Dudley Chicoine, custom-installation director for Missoula, Montana–based Vann's. "Great equipment, great atmosphere, and a great install team." Of these three, he says, the least negotiable is the gear you choose and the level of installation expertise necessary to do that gear justice.
A typical equipment budget among installations Chicoine has spearheaded might break down 50/50 between video—with a front projector and a screen or a flat-panel display as the centerpiece—and audio. "At the entry level," he says, "you can spend $5,000 and get a basic home theater system, with, say, $2,500 going toward a front projector and screen and $2,500 going to a speaker system, a progressive-scan DVD player, and a high-definition satellite-receiver box.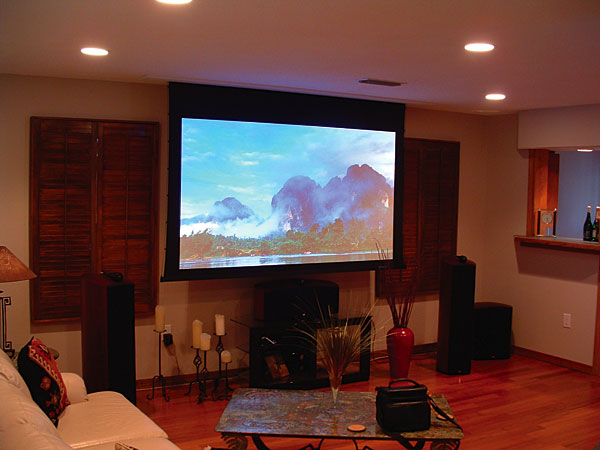 "We always stress that you should spend equal amounts on both audio and video, regardless of the total price," adds Chicoine. "When clients ask why, we explain that, if you went into a movie theater and saw only video without sound, how compelling would that be? But think about the reverse scenario: no video, just audio. It's more compelling to hear something without an image than to see something with no sound. Audio alone has a much higher performance value than video alone. We do demos one way and then reverse them, and our clients are always amazed."
What Price Looks Good?
Budgeting for the other two key elements—atmosphere and installer expertise—can seesaw, depending on several factors. New construction, where you're building the environment from scratch, is very different from a retrofit. "If a home is already built and customers are looking for a one-room solution, we discuss the level of complexity that will be involved," says Chicoine. "There's a definite difference in price between a dedicated room in a new construction and an existing room where you're working around a pool table or a wet bar and putting in A/V equipment."
Rich Harris, systems designer for Tampa, Florida–based Audio Visions South, concurs with Chicoine about conceding the largest slice of the budget pie to equipment—especially for a smaller budget. On a $10,000 theater, for example, you might allocate one-third of your budget to video and perhaps 25 percent to audio, he says. The balance is usually divided among elements including simple system design, labor, calibration, programming, and miscellaneous parts, including cabling.
"Budgeting is always a discovery process with our clients," Harris says. "We need to determine the space we're to work with in their home—and what we can control in the space acoustically and with regard to comfort, as in temperature and seating. You must also take into account that different families have different ways of using the space. Often, it's just one person who's a hobbyist. But we always advise that clients think long and hard about what they'll view in the room when they budget."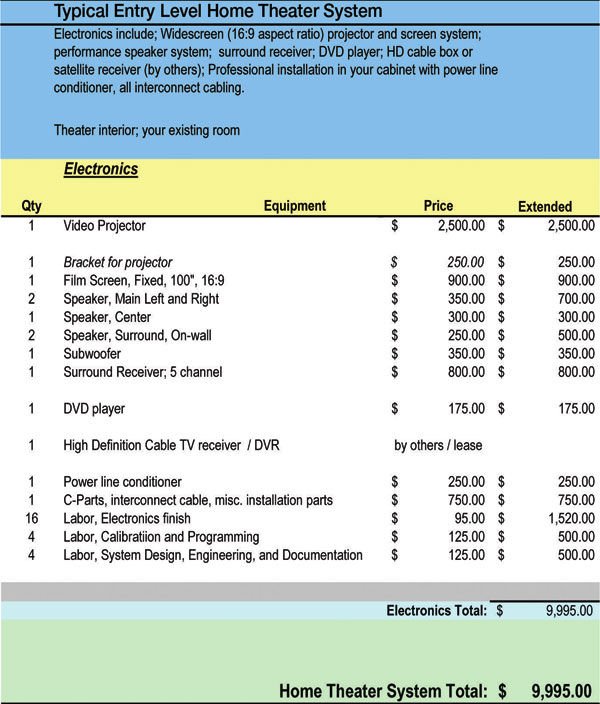 Harris advises clients never to cheat on gear quality in favor of aesthetics. "To keep down costs," he cautions, "don't direct too much of your budget into a room's looks if it means skimping on the performance of your audio and video components. When the lights are out, after all, who cares what the room looks like?"
With a medium-to-large budget, he says, there's more wiggle space, and you can start to budget for things beyond performance. "Some people want their rooms for watching a lot of sports with friends. So, you can think of your design in terms of who'll be in there most of the time. If it's lots of big guys with drinks and snack foods, the criteria for seating, carpeting, and space allocation will be different than that for strict movie watchers.
"People might not put much thought into how comfortable the room is," Harris comments, but, if they have the financial wherewithal, they should. Comfort considerations even extend to video placement, he says: "Ideally, you need to budget for proportional design, especially when it comes to selecting the video. You don't want a picture that's too large for the room's dimensions. And someone should figure out the sight lines and work out an air-conditioning design to cool the room but still keep the noise level down so it doesn't distract from movies or music. Room colors are important considerations, too. They ought to be dark, to cut down on reflections and ambient-lighting brightness."
To help clients make and execute these budgeting decisions, Harris says, he encourages them to use his team's consultative and installation skills. But what of the extremely budget-conscious consumer who wants to do it himself—or price-shop elsewhere for installation services? Harris says he doesn't turn away such clients. "We'll talk specifics and particulars and let them know we can do a solid design for them, which we would charge for, providing a schematic that they could subcontract out, if that's what they want. They may want to save money that way, but we make a point of saying that we're competitively priced. We have to be."
"We get do-it-yourselfers," says Chicoine. We don't discourage that and certainly offer them information. I'll take the time to explain what's involved—to make them understand that it's more than just pulling wire—which you can teach a kid to do. But it's always the final-stage equipment setup where a lot of do-it-yourselfers fail. They plug things in without a proper understanding, they're working from a manual that's been badly translated into English, and the signal flow isn't right. Then we're on the phone with these clients, and we become the tech support—and, in Montana, sometimes these people live 200 miles away. In the old days, the equipment hub was just a receiver. Then, it became an A/V receiver. Nowadays, we tell clients that it's really a computer with an amplifier. There's a lot more to it than you see, and it needs to be set up correctly."
What Labor Is Worth
The high value of labor, design advice, and technical follow-through, it would seem, is indisputable—but how does its cost typically break out within a budget?
"As equipment needs escalate, given a room's application, you may have to start enlisting some construction skills," says Chicoine. "The question then becomes, is it a week-long or a two-week-long job? It boils down to time and materials. It may require two men and one or two subcontractors. I'll give an estimate, but I'll be thinking a bit high so that there are no surprises at the end."
He also warns that oddities that crop up in the installation process can affect the labor costs. "In Montana, you run into certain kinds of construction—such as log homes, concrete homes, and even straw-bale homes coated with concrete glaze—and then the job becomes even more time and materials sensitive. But, if we're working in conventional construction with easy access points, then we can usually come close with a hard dollar figure."
Chicoine also suggests that budgeters leave some room in their pie for extras—upgrades they might agree to in the course of an installation that will enhance the end result. "Our installers have many conversations with clients during the course of the work," he says. "And a trust develops. The client no longer feels he's being sold by a salesperson," and the installer might often convey genuine enthusiasm about an alternative product directly to a client. "He might say, 'This product is great, but we just got this other one in,' and the client wants to upgrade—then you need to write a change order, and the budget goes up."
Whatever the home theater budget is, both Chicoine and Harris agree that finding expert guidance to help navigate the nuances of things like equipment placement, acoustics, programming, lighting, and much more is essential. If a client is willing to spend as much time researching for a great custom-installer coach as he spends on the Internet pricing equipment, he will be much less likely to stumble. Half of the race will be run—and won—right at the starting line.
What's in a Room?
Rich Harris of Tampa, Florida's Audio Visions South offers some possible theater scenarios at budget levels all over the map:
A dedicated home theater...
...could have two rows of seating, a built platform, a projector and a screen, a surround system, and theater-type seating. ($45,000 to $50,000)
A media room...
...could be a family room that isn't dedicated to equipment and entertainment. It could include gaming for the kids. It might be more utilitarian than aesthetic, with most of the budget going to gear and almost none to things like seating. ($10,000 and up)
A themed theater...
...could be done in several ways. Some companies offer interior packages where you would spend $20,000 or $25,000 for a six-seat theater interior and outfit it with, perhaps, $10,000 in equipment. Customized themed theaters, however, can run into the millions of dollars.