The Simpsons: The Complete Twentieth Season (Blu-ray)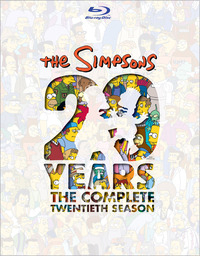 When
The Simpsons
first appeared on "The Tracey Ullman Show" in 1987 I doubt anyone would have thought it would win 25 Emmy awards, become the longest-running American sitcom, and eventually surpass
Gunsmoke
as the longest running primetime series with over 450 episodes.
In case you've been stranded on a deserted island for the past 23 years, The Simpsons is a parody of life in your average American family consisting of Homer (voiced by Dan Castellanta), his wife Marge (Julie Kavner), his son Bart (Nancy Cartwright), and his two daughters Lisa (Yeardley Smith) and pacifier sucking Maggie. Other characters who appear throughout the season are Grandpa Simpson, nuclear plant owner Mr. Burns, Homer's drinking buddy Barney, the annoying neighbor with good intentions Ned Flanders, and arch nemesis Krusty the Clown.
Celebrity appearances in the 20th season are Dennis Leary, Colm Meany, Julia Louise-Dreyfus, Ed Begley Jr., Anne Hathaway, Jodie Foster, and for sports fans Joe Montana, Mark Cuban, and Marv Albert. I was a freshman in college when it premiered on Fox in December 1989. Its first few seasons were on the cutting edge with controversial humor and creator Matt Groening wasn't afraid to ruffle a feather or two. There are many who say the show isn't as funny as it used to be—which is true—but I think television sitcoms have evolved towards The Simpsons model and what used to be shocking 20 years ago is mainstream today. Regardless, the show is an American institution and Time Magazine named it the 20th century's best television series.
Other than The Simpsons Movie, the 20th season marked the first time the series received a high-definition treatment. Sadly, this didn't come until the tenth episode, so this two-disc release is a mixture of 1.33:1 and 1.78:1 content. Disc one contains the first 9 episodes that sadly look like 480i upconversions with ample flaws. Banding, inconsistent color saturation between episodes and in some cases shot-to-shot and aliasing are prevalent throughout the first disc. Fortunately the second disc houses the last 12 episodes aired in HD and they look remarkably cleaner and brighter, more polished, exhibit deeper blacks, minimal banding, and sharper lines.
The sound design is very front-loaded, so don't expect much from the DTS-HD MA 5.1 soundtracks. Dialog is crystal-clear and is always intelligible, although the stereo spread across the front speakers is collapsed towards the center. The rear speakers rarely are called upon for anything other than general ambience, however there are a few episodes that will give your subwoofer a workout.
If you're a bonus feature junkie you'll be very disappointed because the only supplement is a three minute preview of the "20th Anniversary Special," that aired on Fox TV.
While the show is certainly getting a little long in the tooth, I have to admit I enjoyed revisiting it since I stopped watching years ago. The presentation is a bit of a letdown and hopefully Fox is able to improve on the quality of the SD episodes in future Blu-ray releases. Recommended for fans.
Release Date: January 12, 2009
Studio: Fox
Movie: 7/10
Picture: 7/10
Sound: 7/10

Review System
Source
Oppo BDP-83 Blu-ray player

Display
JVC DLA-RS1 projector
Stewart FireHawk screen (76.5" wide, 16:9)
Electronics
Onkyo Pro PR-SC885 pre/pro
Anthem PVA-7 power amplifier
Belkin PF60 power conditioner
Speakers
M&K S-150s (L, C, R)
M&K SS-150s (LS, RS, SBL, SBR)
SVS PC-Ultra subwoofer
Cables
Monoprice HDMI cables (source to pre/pro)
Best Deal analog-audio cables
PureLink HDC Fiber Optic HDMI Cable System (15 meters) from pre/pro to projector

Acoustical treatments from GIK Acoustics
LATEST VIDEO