Simaudio MOON Orbiter Universal Disc Player
The high end of high-end universals.
There are essentially two types of high-resolution audio: that which comes out of a high-end player and that which doesn't. Now, before I go on extolling the virtues of high-end players—and when I say high-end, I'm not talking about price alone—I should point out how impressed I am even by what inexpensive players can do with SACD and DVD-Audio. I've heard these formats sound good coming out of sub-$500 players, and that, to me, is one of the most telling indications that these formats are indeed living up to their promise of significantly higher-quality digital sound. But, as with CD, vinyl, or any other format that preceded SACD and DVD-Audio, they sound that much better through a top-shelf player. You can't say you've truly experienced a format until you've experienced it from a high-end system, and a true high-end system starts with a high-end player.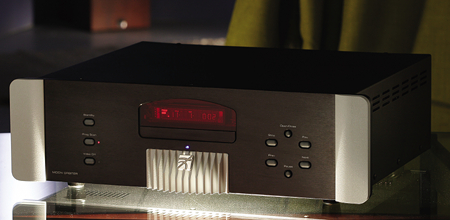 There's little doubt as to which category Simaudio's MOON Orbiter universal player fits into. At $7,200, it is clearly in the high-end price bracket. But, once you listen to it, you'll immediately know it belongs in the top performance bracket as well—and that's the real mark of the high end. Its outstanding video performance also helps considerably in making that case.
As any true high-end component should be, the MOON Orbiter is built like a tank and stuffed with top-shelf internal components. Whereas most players use a couple of power-supply sections, the MOON Orbiter uses no less than eight. That fact might explain why this player costs what it does and perhaps provides an insight into why it performs as well as it does. Three top-drawer Burr-Brown PCM1738E 24-bit/192-kilohertz stereo digital-to-analog converters are also in play, along with the highly regarded Silicon Image Sil504 video scan converter. The MOON Orbiter outputs stereo and 5.1-channel SACD and DVD-Audio, and it provides progressively scanned video images.
A look at the remote and onscreen interface indicates the use of a Pioneer Elite transport, which may dredge up those same high-end pundits who surface with the many other expensive players that use outsourced transports. Their argument falls short in my book, for a few reasons. First, it greatly overemphasizes the transport's role in the final performance of a player—power supplies, DACs, and other internal components play a far greater role than the transport. Second, it doesn't credit the transport in question with the quality it usually deserves. The Pioneer Elite transport is first rate, which is why several high-end players use it.
The MOON Orbiter is compatible with most 5-inch discs, including CD-R/-RW, DVD-R/-RW, and videoCD. It also plays MP3 files. A DVI-D output is standard, and you can add an SDI option at any time for $1,000. Also included are component video and S-video outputs, optical digital and coaxial digital outputs (via RCA or BNC connectors), and an AES/EBU digital audio output (XLR). For control, the Simaudio has an IR input and a bidirectional RS-232 jack.
Setup is quick and easy, thanks to a quality remote and intuitive onscreen interface. My only complaint about the remote is that it isn't truly backlit. The menu supplies a number of audio and video tweaks: Bass management is available for DVD-Audio and SACD. You can defeat the video circuitry for audio-only applications, although the internal shielding is highly effective. I mated the MOON Orbiter with top-shelf cohorts, including Simaudio's Titan amplifier and a Revel 5.1-channel F50 speaker system. Without one of Simaudio's pre/pros on hand, I used the outstanding Lexicon MC-12.

Everyone knows that speaker and amp performance are critical in defining a system's overall sound, and pre/pros are also key. But, if you think that player performance doesn't make that much difference in the digital age, you're simply not listening to the right players. The sound that this system produced was among the best I have ever heard from recorded music. Clearly, ample credit is due to the other components, but they can only reproduce what the player gives them, and it sounded to me like the MOON Orbiter was giving them every last bit that the discs had to offer. Resolution was just the start. The MOON Orbiter delivered the information with a near-perfect balance between forwardness and mellowness. It also leveled the scales perfectly between warmth and razor-sharp detail.
The MOON Orbiter's rich, fluid midrange was consistently the first aspect to grab me, whether the material I played was stereo or multichannel/high-resolution. Its treatment of some of my favorite vocalists—Doc Watson, Ralph Stanley, Muddy Waters, and Mahalia Jackson—was simply masterful. The voices were open, full-bodied, and distinctly separated from the accompaniment. And that accompaniment was no less impressive. Guitar styles took center stage, particularly Watson's flat pick (Songs From Home, CD) and Waters' slide (Folk Singer, SACD, MCA). I threw in Paco de Lucia's ripping Spanish style (Burmester II, CD, Capitol) for good measure and was highly impressed by all three. Whether the approach was fierce and frantic or slow and deliberate, the MOON Orbiter responded with silky-smooth detail that was never syrupy or candy-coated. Pace and perspective were entirely natural and engaging.
The ends of the frequency range were memorable as well. From the upper registers of Little Walter's harmonica sorties (His Best, CD, Chess), to the throbbing bass drum of Swing Live (DVD-Audio, SACD, Chesky), to the driving stand-up bass on Sara K.'s version of "Brick House" (Super Audio Vol.2 , 24/96 CD, Chesky), the MOON Orbiter was crisp and composed, with dynamic range to spare. The top end retained all of its natural potency but never screamed or screeched, even with older, harsher material. The bottom end was big and open but never overpowering or boomy. The bass consistently had a natural, punchy oomph to it that was altogether addictive. There was never a hint of compression on anything I put through it.
Considering the way it sounds with audio discs, I found myself forgetting that the MOON Orbiter does anything else. But it does indeed play video, and that will only add to its performance reputation. Hero, a feast for eyes and ears, offered beautiful color reproduction with deep, true reds and crisp blues. Black level was also impressive, given that it was truly black and consistently stable. It picks up the 3:2 film sequence very quickly. Processing on video material wasn't quite as good, with some jaggies on diagonal lines like the waving flag on Video Essentials. It passes PLUGE and only rolls off high-frequency video material very slightly.
Simply put, the MOON Orbiter is one of the finest-sounding disc players I have ever listened to. I was hard-pressed to find any flaws with its audio performance, and its excellent video performance only sweetens the deal. Obviously, $7,200 is a lot of money for a source unit—you could buy a complete quality system for this price. But, for those fortunate souls who don't have to concern themselves as much with budget and who are looking for the best components that money can buy, the MOON Orbiter demands a long and serious audition.
Highlights
• World-class audio performance
• Built like a tank, and the internal components are top-shelf