Shure SRH1540 Headphone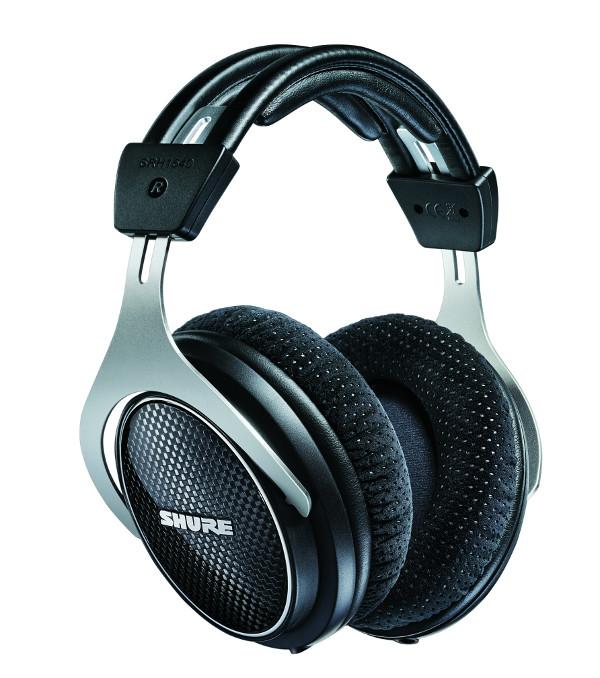 PRICE
$499
AT A GLANCE
Plus
Real carbon-fiber ear cups
Really hushes external noise
Really, really comfortable
Minus
Lacks mike and phone controls
Doesn't fold for compact storage
THE VERDICT
Shure's rich-sounding, full-size headphone flatters a wide range of music genres.
First impressions count for a lot. This is especially true for headphones, because, unlike other types of audio gear, you wear headphones. When you first try a pair on, do they feel good, or do they hurt? How do they feel in your hands? From the get-go, I knew Shure's engineers struck just the right balance of rugged build quality and elegant design with the new SRH1540 over-the-ear headphone. I could have written this review after just a few minutes into my first encounter, but I just kept listening to the SRH1540 and loved it more and more. It looks, feels, and sounds right.
The SRH1540 is a near twin of Shure's SRH1840 open-back, full-size cans, but rather than use a Mylar diaphragm, the SRH1540 sports a newly developed 40mm APTIV film diaphragm for improved linearity and lower distortion (the SRH1540 is the only Shure model with APTIV drivers). Aircraft-grade aluminum-alloy yokes support the closed-back ear cups, and the real carbon-fiber caps aren't just for show—Shure claims they enhance the mechanical rigidity of the ear cups. Which reminds me, the included hard travel case will protect the SRH1540 from the roughest handling. The two-year warranty is double the length of many headphone warranties.
The SRH1540's Kevlar-reinforced, oxygen-free copper cable feels like it can shrug off more abuse than the skinnier cables I see on a lot of headphones, and the cables' gold-plated MMCX connectors provide a reliable grip to the ear cups. I like that Shure provides two sets of 6-foot-long cables, terminated with 3.5mm plugs; a screw-on 6.3mm adaptor is also included. At the time this review was written, Shure did not offer cables with a phone mike or controls, but they may offer such a cable in the future.
The plush Alcantara ear pads are user replaceable and feature low-density, slow-recovery foam innards. These pads are sinfully comfy and let your ears breathe, so the SRH1540 won't make your ears sweat in warm weather. Shure throws in a second set of pads, so if you're the type that wears out pads every few years, you'll be set for a while.
The SRH1540's steel headband isn't hinged, and the ear cups don't fold flat, so it's not the most portable-friendly design out there. Even so, with the SRH1540 plugged into my iPod Classic, I never felt the urge to hook up an external portable headphone amp, which is what usually happens with a lot of audiophile full-size 'phones. Yes, they'll play with portable devices, but their sound isn't remotely on par with what they sound like at home. No problem here: The SRH1540's sound satisfies without any assistance from amps. Bass goes deep, and midrange/treble transparency was very respectable with my iPod.
A quick switcheroo over to the Bowers & Wilkins P7 over-the-ear headphones upped my appreciation of the SRH1540's comfort. The P7's head-clamping pressure is higher, and the ear pads are nowhere as plush as the SRH1540's. It's a much bigger headphone, and the SHR1540's ear pads' pressure is distributed over a larger area of my head, so it's no surprise it's easier to wear for extended periods of time. Sound-wise, the Shure is less immediate and detailed, but sweeter and rounder, with a more spacious soundstage than the P7. Steven Price's soundtrack score for Gravity rumbled and pulsed with greater authority over the SRH1540, but bass definition was a tad mushy, and the score's electronic textures and swooshes were slightly subdued. Even so, I preferred its sweeter, easygoing balance over a wide range of genres, compared with the P7.
So there you have it: Some headphone buyers crave the utmost accuracy, others want a fuller/richer tonal balance. The SRH1540 is for those in the second camp, which I sometimes play in.