Should I Get a Projector or 85" TV for My Man Cave?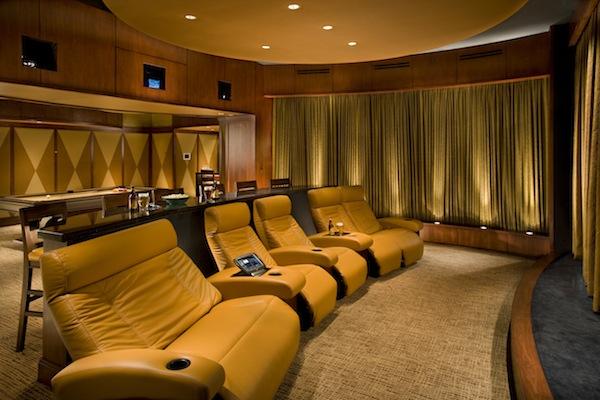 Got a tech question for Sound & Vision? Email us at AskSandV@gmail.com
Q I am looking to replace the 65-inch Panasonic plasma TV in my man cave/theater room with a larger, high dynamic range-compatible Ultra HD model that would be used for watching sports and movies. I was considering a Samsung 85-inch LCD, but am also looking into a projector like the JVC DLA-X550R, a Sound & Vision top pick. When all is said and done, I believe that the cost would be the same: roughly $8-10,000. My room is 30 feet long by 20 feet wide, so I have plenty of wall space for the new screen. What display should I buy? —Chris Amaral
A Since your room is a man cave, I'd say get a projector. To me, man cave implies an utter absence of aesthetic or lifestyle considerations that might interfere with the quest to get the biggest, best picture possible. It also means stuff like dartboards and mirrors embossed with the Jack Daniel's logo, but that's not our concern here.
There's only one 85-inch LCD model I know of that meets your specifications: Sony's XBR-85X850D, which costs $8,000. The 85X850D can deliver a bright enough image for watching sports with the lights on — important so you don't trip over barstools on your way to the kegerator. It's also high dynamic range-compatible (HDR10 only) and features Sony's Triluminos tech, which will let you enjoy the extended contrast and color available on Ultra HD Blu-rays and select programs from streaming services like Netflix, Amazon, and Vudu.
In this case, the downside to Sony's $8,000 LCD is...it's only 85 inches. You can get a bigger image for much less money. For example, the JVC DLA-X550R you mention is both Ultra HD and HDR-compatible and puts out an impressively bright image for its $3,999 price. That bill will increase when you add a projection screen and ceiling mount, but it doesn't have to be by much.
A brand-name 110-inch diagonal screen can cost in the $3,000 range for an ambient light-rejecting model and $1600 range for a standard model designed for dark room viewing , but there are other options. Companies like Visual Apex , for example, sell 110-inch fixed-frame screens for as low as $250 that provide satisfactory video performance. Add in another $100 for a projector mount, and you'll have saved plenty of cash — enough maybe to buy a vintage pinball machine.