Shootout: Three Wireless Multiroom Music Systems Page 2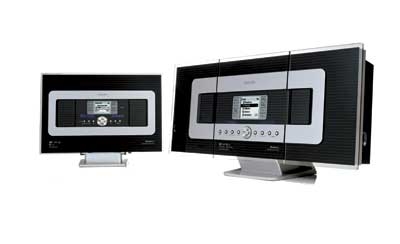 Philips Streamium Wireless Music Center
You have to admit that Philips came up with a pretty catchy name for the technology used in its Wireless Music Center: "Streamium." The $999 two-room system includes the WAC700 base station and a single WAS700 remote station (you can add up to four more at a cost of $299 per station). They share cool, high-tech styling - glossy upright control panels with LCD menu screens - and integrated amps and speakers. You also get a full-featured remote with LCD readout for the base station and a more compact wand for the WAS700.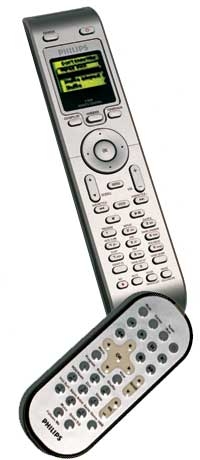 SETUP The base station's 40-GB hard drive holds about 450 hours of music ripped at a respectable 160 kilobits per second (kbps) - more than enough for an all-night rave. On its own, it's a very capable music system that can play from its own hard drive, CD player, or FM tuner, or from an auxiliary source. Ripping is easy: Load a CD, hit Record, select tracks via the screen, and press OK to rip to MP3 at four times real-time speed (4X), at either 160 or 128 kbps. The system's Gracenote database supplies disc and track information. You can even copy from CDs containing MP3 or WMA files (as long as they're not marked for Digital Rights Management) and rip from the FM tuner or an external source.
If you've got MP3 or WMA files on your PC, you can wire it to the base station through the Ethernet port and drag your files to the hard drive with the supplied Digital Media Manager software. The software also lets you create playlists and edit track information on your PC.
Cool as it sounds, Philips Streamium technology is basically Wi-Fi 802.11b/g. The company optimistically claims a maximum range of 750 feet over open space, but inside a home, 150 feet is probably about it. Setup was completely turnkey: A few moments after powering up the two stations, they recognized each other and I was good to go.
PERFORMANCE From three walls and 40 feet away, the meter on the remote station showed diminished signal strength, but it was still fully operational. Music arrived with no interruptions, and communication was essentially instantaneous. If I hadn't known that the files I was listening to in my office were actually stored in my home theater room, I wouldn't have guessed.
LATEST VIDEO