Shootout: Three Wireless Multiroom Music Systems Page 6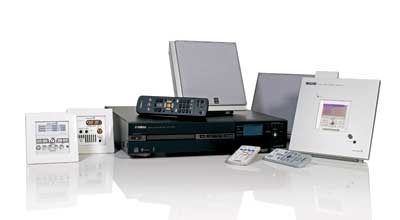 Yamaha MusicCAST
The Yamaha's MusicCAST system set an early benchmark for home wireless servers, proving that newfangled computer technology could successfully be merged with traditional audio. Its newest incarnation shows that convergence is alive and well. The heart of the system is the MCX-2000 digital audio server ($2,200). Housed in a formidable-looking black chassis, it has a 160-GB hard drive, CD-R/RW disc drive, FM tuner, and all the 802.11b/g Wi-Fi and Ethernet circuitry to distribute your music.
The MCX-2000 has numerous connections on the back, including input jacks for auxiliary components, an XM Connect-and-Play antenna jack, and both stereo audio and video outputs: The former connects to your main listening system, while the latter connects to your display for setup and operation.
The hard drive stores about 200 hours of music in uncompressed PCM audio format or about 2,000 hours worth of MP3s at the minimum 160-kbps bit rate. Song details are provided by Gracenote. The MCX-2000 can support as many as 15 remote clients, with up to five configured for wireless communication.
Yamaha offers two clients. The sleek MCX-A10 receiver ($600) is nicely styled in silver and white and features a small LCD readout and slim remote control. It can be wall-mounted or sit angled on a tabletop using the supplied stand. The MCX-A10 talks to the server via a wired Ethernet connection or Wi-Fi and plays music from any device on the network via stereo speakers connected to its built-in digital amp (matching speakers cost $120 a pair); there's even a line-level subwoofer output. You can also feed the A10's stereo audio outputs to an existing music system.
For custom installation, Yamaha also offers the MCX-C15 distributed audio controller and the MCX-CA15 distributed audio amplifier ($650 per bundle). Together they provide the same functionality as the MCX-A10 in an in-wall package, though the MCX-C15 has no wireless reception and requires a direct Ethernet connection to the server.
Yamaha's Windows-based DiXiM Media Server software lets the MCX-2000 access MP3, WMA, and WAV music on your PC via Ethernet and send it across your network.
LATEST VIDEO