Sherwood Hollywood at Home VR-670 Home-Theater-in-a-Box
You'll be hearing things that aren't there, like surround channels.
The wheels of compliance grind slowly, but they do grind. With the ongoing mad rush to embrace DVD's audio and video potential, many consumers have expressed an interest in wireless surround speakers to simplify setup, while others—spoilsports, really—insist that they lack either the room or the desire for dedicated surrounds. As a result, we saw and heard more products than ever at this year's Consumer Electronics Show that put all of the gear up front while creating an illusion of surround, some more successfully than others. So expect to see more reviews in this burgeoning category from me and the gang. Even your run-of-the-mill home-theater-in-a-box requires a dollop of basic HT know-how to configure: running wires, connecting speaker cables, and, of course, allocating space for five loudspeakers and the subwoofer. Don't get me wrong: I've never viewed these steps as a chore, but, for some, it's just too much, and it's perpetuating the schism betwixt DVD wannabes and DVD gurus.
Are We in Hollywood Yet?
Sherwood's answer to this quandary is their new Hollywood at Home line of home theater solutions. The middle child of three proposed models, the VR-670 consists of two satellite loudspeakers, a sub, and an especially pretty DVD receiver. Rather than creating yet another proprietary phantom-surround algorithm, they have entrusted their processing to the good folks at Dolby, whose Virtual Speaker technology enables twin sats to transmogrify the two-channel signal to sound like many. (In a welcome display of agnosticism, Dolby Virtual Speaker even works with DTS tracks, which the VR-670 also decodes.) Dolby Headphone mode is included, to enhance private screenings, and there are also analog stereo inputs for a pair of additional source components. The left and right channels are rated at 25 watts, while the powered sub contains a 100-watt amplifier. The main unit is not just slick but relatively compact and lighter than a typical DVD receiver, packing just two channels of amplification, at a total of only 50 watts.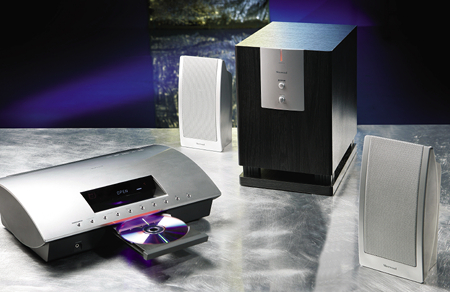 For the record, the step-up, $600 VR-700 adds audio/video switching for four source components through the Universal Video module that transcodes composite and S-video signals for component video quality. It also has a more sophisticated remote and a bigger, more powerful subwoofer. The VR-600 ($250) keeps the same power output, satellite speakers, and subwoofer as the VR-670, but it has a simpler remote control and less head-turning cosmetics for the DVD receiver. Each model arrives with handy features like AM/FM radio, a digital clock, a timer, and auto power off.
Quit Yer Drooling!
I stopped admiring the VR-670's comely, unique design long enough to hook it all up. The literature promises ten-minute installation even for the novice, five if you've got skillz. I keep a component video cable at the ready, which was fortuitous since only a composite video cable is included with the VR-670. The system doesn't come with audio interconnect cables of any kind, which is understandable since they would primarily be needed for input from other components. The bare-wire-terminated speaker cables required the most finesse. One touch of the I/P button on the clean, rectangular remote upgraded the component video output from factory-set interlaced to progressive scan. PAL is also supported. Ample on-unit controls, all in a straight line, do just about anything without the remote. And then it was back to oohing and ahhing, this time at the accent light beneath the receiver, which coordinates with the subwoofer's lights: amber when off or on standby, blue when powered up.
You might be inclined to spend some time fiddling with speaker placement, but, in keeping with the theme of simplicity, I will tell you, at no additional charge, that I experienced the best results when I merely aligned the left and right satellites with the two edges of the TV screen and placed the subwoofer off to one side, in the corner. When I cycled through the various Listening options—Stereo, Ref, and Wide being the Dolby Virtual Speaker settings—I noticed a definite improvement in movie watching while using the DVS modes, although Ref was the most natural. The VR-670 has a surprising ability to fill a room with sound with only 150 total watts at its disposal, including a convincing illusion of voices and other surround effects from the rear wall. Only slightly compromised are the more subtle 360-degree effects, such as the above-deck footsteps in the DTS track of Master and Commander. Turned way up, there was some clipping, and the sub and sats have a hollow quality when cranked high; not distorted, per se, just a sign that one might be asking too much of them. The sub offers phase control and a variable crossover from 50 to 150 hertz. The satellites offer a frequency range of 140 Hz to 20 kilohertz, and the entire system operates without a lot of mechanical noise. Component video delivery of color was adequate, never eye-popping, while image rendering suffered from visible compression artifacting in scenes where it didn't need to appear. It's not the worst I've seen, but it's not the best, either.
Hollywood at Home is ultimately about convenience and style, and it delivers heaping helpings of both. It will certainly class up the bedroom or den.
Highlights
• Dolby Virtual Speaker technol-
ogy makes two channels sound like many
• Sleekly designed DVD receiver is compact and lightweight