September Third: Dick's Part Two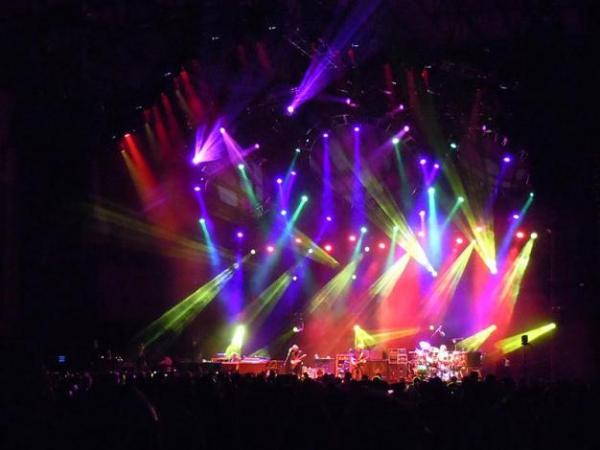 The second show of a three-show run can be a difficult thing. When they've played as well as they did on Sept 2, there's pressure to follow it up with something amazing. But, there's also the matter of the third show: in this case, that one had been slated to be Phish's last of the year (until they added the September 14 Benefit for Vermont Flood Recovery date), so expectations were particularly high. And while sometimes a mid-run show can find the band feeling free to experiment since they'll have the third night to redeem themselves, it''s understandable this time around that the band might have wanted to take things a little easy to save some energy to close the third night out in a big way.
So this particular date didn't end up with too much deep exploration. "Tweezer" gets interesting and the jam in "Light" definitely deserves a good listen, and "Divided Sky" in particular is played with a rare vigor that makes it a must listen in the context of what we've heard since 2009. Other than that, it's nice to see that they're continuing to play "Golden Age," and "Moma Dance" proved to be a lot of fun, even if it was strange to see it so early in the first set. While not quite as on the mark as they were the previous night, this is a fun show and worth checking out.
Set 1
Possum A mellow start for this song, which has been known to rock hard from the get-go sometimes. There's coherent soloing on the main theme by Trey, who leavs ample room for Page in spots - mostly by holding notes. This is taken to an extreme about 7 minutes into the song. By the end they're all in the zone.
Moma Dance Second song - a first set "Moma"? Either they're going to go for it big time tonight of they're throwing away a song that could have been huge in second set tonight or tomorrow. It starts with plenty of verve, then there's inexplicable trilling by Trey before the "a steady slap, a frothed cap" repetition by Fishman. Given the high energy and the way Trey's playing with rhythms in his solos, it's hard to tell if the sort of awkward fills three-quarters of the way through the song by Fishman were an invitation to a type II jam, a signal to bring it to a close, or just flubs. In any event, it's an enjoyable version of the song, though it definitely could've gone somewhere special if they went exploring a little.
The Wedge A good spot for this one. Trey does some fun runs through the fretboard breaking things up into short, semi-connected snippets.
Ocelot Laid back + good type 1 jamming potential = perfect placement. Mike and Fishman trade off keeping things grounded while Trey and Page go off simultaneously. It's complex and a bit crowded-sounding, but one of the better "Ocelots" I've heard.
Divided Sky A very fast paced intro, but still very well executed given the speed. Nice little flourishes by Page leading up to the quiet part. Trey takes a generously long pause, as has often been the case in Phish 3.0. Following the pause we get lovingly delicate playing by all. The last third of the song has some of the more interesting phrases I've heard Trey do on this song. Plus, the other three players delivered wholesale. A rager. Kudos to all.
Funky Bitch Welcome to the whirlwind. Very solid playing by all. Page shines both in his solo and throughout the song. Trey sounds like he got a new burst of energy when he kicks in to his solo and the whole band keeps it rolling in a swirl of jammed-out funkiness through the second half of this one. Very enjoyable.
Axilla I We're starting to approach the end of set one, but there's no letting up. I always love this as a first-set song and it has a perfect spot here. Well played.
Llama No relenting yet. This is one full-speed "Llama" and everyone is hitting it hard. Though I wouldn't say there are any actua flubs, some listeners might not appreciate the last 2 minutes or so. Trey steers things into a dissonant direction and the rest of the band follows wonderfully down that path. Granted, it could be him trying to cover for a mistake, but if so I certainly appreciate what he did and it makes for a fun version of this song.
Fast Enough for You Call me sappy, but I love this song. I'd also be the first to complain if it hit during set two, which in my opinion should be for songs that have some long jam potential, and this one has no room for that. Still, Page lays down a sweet solo a couple of minutes in to keep things interesting. To be nitpicky, there are a few rough moments in the vocals, but those are balanced out by some nice harmonies. All in all, it's a great little breather after three raging tunes and a helluva "Divided Sky" before them.
Wolfman's Brother Listening after the fact, we know that this song is closing the set. For a set that has had such a high energy level, I'd expect something a little more uptempo. But, this song does have good jam potential and about three and half minutes in they do start to get into it a little with Trey putting his plinko hat on. A couple of minutes later and he's laying into a scratchy, dirty sound for a jam unlike anything we've heard from him for a while. Honestly, he's seemed a bit all over the map with this and the last show. It's as though he's trying out some new ideas. This "Wolfman" could've gotten more interesting, really, but given the performance we saw in the beginning of the set, we can only hope that things will pick back up again in the second half.
LATEST VIDEO