Samsung SP-A800B DLP Projector
Samsung has an unusual history with high-definition video projectors. Its most recent 720p DLP model, designed in consultation with video expert Joe Kane, was superb, even standard-setting in many important respects. But dealers were rare, and worse, the projectors arrived on the market just as comparably priced 1080p models were becoming available. They ultimately sold out to lucky buyers at bargain prices.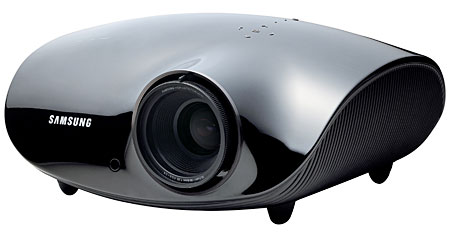 Today, 720p is largely an afterthought in the projector market, and Samsung has moved on. The new SP-A800B is an up-to-the-minute 1080p, single-chip DLP design, built as before to reflect Kane's video priorities, including state-of-the-art color reproduction. As always, this depends on a professional calibration, which might not be included in the projector's $10,000 list price, depending on the arrangement you negotiate with the dealer.
Features
The SP-A8000B's streamlined black case is of average size for a modern projector. The lens zoom, focus, and shift (vertical only) are all manual. It's equipped with a 6-segment color wheel, and the input set is typical for a projector, including two HDMI 1.3 and two component inputs.
The Samsung is very quiet in the lamp's low (Theater) mode. The high lamp setting (Bright) is louder, but the Theater mode should be more than bright enough for most reasonably sized screens. Some stray light does emerge from the side-mounted exhaust port, but it's only likely to be distracting if the projector is at eye-level and you sit directly abeam of the port.
There are five aspect-ratio options, including two zoom modes and a Wide Fit mode for taffy-pulling a 4:3 image to fit a 16:9 screen. There are also overscan and picture-position controls, whose availability depends on the chosen aspect ratio, input resolution, and type of input.
The projector offers DynamicBlack, a technology developed by Texas Instruments to enhance the black level of DLP displays. Normally, this feature applies to a dynamic or auto iris, but here DynamicBlack is used as a blanket term to cover all iris settings, four of them fixed (Off, Light, Middle, Deep) and a single dynamic option (Auto).
The Color Pattern control can shut off all colors or display just red, green, or blue. While this is useful for confirming the accuracy of the color decoder without having to use filters, which can be imprecise, the color decoding of the Samsung, after calibration, is accurate enough to render this feature irrelevant, though it's nice to have it if only for a confidence check.
Editor's note: the ability to turn off all but the blue color channel is important for setting the Color and Tint controls. Without this feature, a blue filter must be used, which, as Tom says, is imprecise. Also, the ability to isolate each primary color is useful for testing the accuracy of source devices.
The user can also choose one of three color standards: SMPTE-C, HD, or EBU. I used SMPTE-C for most of my tests and viewing because, according to Kane, most post-production and mastering facilities still use monitors calibrated to this color gamut.