Samsung SIR-S4120R TiVo DirecTV DVR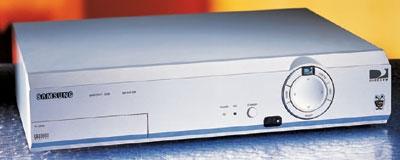 Photos by Tony Cordoza Samsung's SIR-S4120R neatly combines two of the coolest products in today's pantheon of A/V wonders - digital satellite TV receivers and TiVo video hard-disk recorders (HDRs) - in one trim component that looks more or less like an ordinary DirecTV receiver. The only clue to its dual-purpose nature is the familiar TiVo logo on its front panel.
I slipped the S4120R into my system using its S-video output and optical digital audio connector. Setup was a cinch: you simply follow the onscreen prompts and answer a few questions - your TV's aspect ratio, your Zip and area codes, and so on. Then you wait for channel-guide information to be downloaded via the satellite link and your account to be established via the phone link. So I could give the system a full workout, Samsung set me up with a month's worth of DirecTV's Total Choice Premier with Local Channels package, which gave me access to just about every channel on the service, including all of my local-area channels. The whole process took maybe 20 minutes.
FAST FACTS
KEY FEATURES • TiVo program-guide/hard-disk recording for DirecTV programs
• Up to 100 hours of recording time
• Dual tuner permits recording two shows simultaneously
• Preprogrammed remote can also control TV volume
• Widescreen setup option
INPUTS/OUTPUTS dual-tuner satellite RF inputs; RF bypass input and Channel 3/4 output; S-video and 2 composite-video outputs with stereo audio; optical digital audio output; serial and IR minijack control outputs; telephone jack; 2 USB ports ("for future home-entertainment use")
DIMENSIONS 15 inches wide, 3 3/4 inches high, 12 inches deep
PRICE $399
MANUFACTURER Samsung Electronics America, Dept. S&V, 105 Challenger Rd., Ridgefield Park, NJ 07660; www.samsungusa.com; 800-726-7864
The Samsung includes the full range of standard TiVo tricks. Besides being able to pause "live" shows for up to 30 minutes, you get three fast-scan and reverse speeds as well as slow-motion and frame-advance playback. You can schedule a show for recording by simply highlighting it on the onscreen guide, which includes two full weeks of listings, and hitting the remote's record button.
You can also search for shows by name, genre (sports or movies, for example), actor, director, or keyword. If you get a Season Pass to a show, the S4120R will automatically record all broadcasts, or you can select first showings only (no reruns). It's features like these that make TiVo the most powerful and flexible content-finding system that I'm aware of.
Of course, you also get TiVo's Suggestions list of upcoming programs you might like based on what you normally watch. Some of these are recorded automatically and appear on the Now Playing list of recorded shows you can select from and watch whenever you choose. At any time you're watching, you can rate shows by tapping the Thumbs Up or Thumbs Down key on the remote from one to three times, which helps TiVo get a better idea of your tastes. Unfortunately, there's no way to tell it that your wife likes cooking shows, but you can't stand 'em. So it's a good thing that you can also turn the feature off.