Samsung Enhances Neo QLED TVs, Adds New MicroLED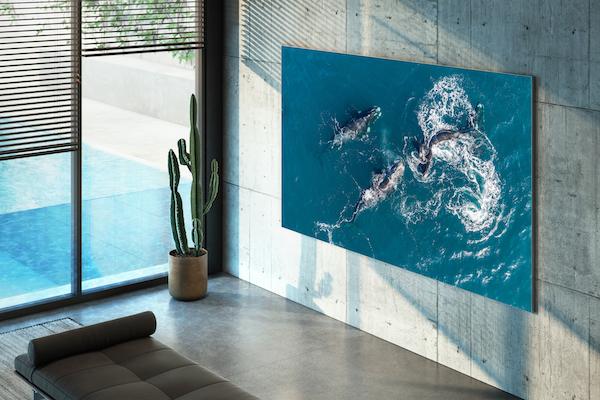 Samsung is first out of the gate with new TV news for CES 2022. The company's announcements cover ultra-bigscreen MicroLED models with a new form factor and pre-configured screen size option, Neo QLED 8K and 4K TVs with refined backlight control and gaming features, plus enhancements to the company's lifestyle-oriented The Frame TVs that significantly reduce screen glare and add more lifelike canvas and paper texture to displayed art.
Neo QLED
Samsung's new 8K and 4K TVs will feature the mini-LED technology first introduced in the company's 2021 models. For 2022, however, a new Shape Adaptive Light Control feature is being added that Samsung claims increases shadow detail and dynamic range by shaping light output of individual LEDs in the display using artificial intelligence. The luminance range of the backlight has also been increased from 12-bit to 14-bits, which is said to improve local dimming accuracy and HDR detail resolution.
Other new features include a Neo Quantum Processor with Object Depth Enhancer. According to Samsung, this is another AI-driven process that analyzes pictures to isolate objects from backgrounds and enhance the sense of 3D space in the image. The new models now feature a full array of HDMI 2.1 inputs, along with support for 4K/144Hz gaming. Higher-end sets from the company now also feature an Intelligent Calibration app with basic and professional for calibrating the display using Samsung Galaxy phone or iPhone. According to Samsung, this "obviates need for professional calibration."
Samsung is making its Smart TV Home Screen more user-friendly by dividing it into three categories: Media Screen, Gaming Hub, and Ambient Mode. When in Ambient mode, the set can display unique artworks purchased via Samsung's NFT Aggregation Platform, an online marketplace platform that lets you preview an NFT before buying and learn about its digital provenance. Samsung's 2022 TVs will also come with new eco-friendly solar-charged remote control that additionally collects energy at night via RF harvesting, gathering radiowaves from other devices in the home.
MicroLED TV
Samsung's ultra-large preconfigured MicroLED display lineup is getting a new 89-inch model to join the current 99- and 110-inch offerings. (Modular MicroLEDs are available from the company in up to 178-inch diagonal 16:9 configurations.) Unlike Mini-LED, which is the backlight technology used for Neo QLED TVs, MicroLED employs self-emissive pixels and no color filtering, both of which allow displays to deliver excellent brightness and 100% DCI-P3 color space coverage, according to Samsung. The company's MicroLED displays use 20-bit processing and feature both an Ambient mode and a multi-view mode where up to four video sources can be displayed simultaneously.
New for 2022, Samsung's MicroLED displays feature a bezel-free "Monolith" design. Along with providing an "all-image" look, the new design also contributes to its built-in audio performance, with Dolby Atmos processing working alongside the company's Object Tracking Sound Pro feature, which works to accurately lock sound to its onscreen counterpart.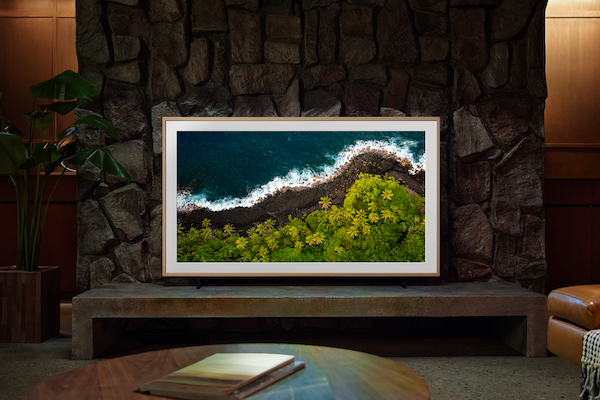 The Frame
Samsung's lifestyle-oriented, design-savvy The Frame QLED TVs will also see improvements in 2022. Specifically, they will be getting a matte anti-reflective filter that uses embossing to reduce onscreen glare during daylight viewing. Along with allowing for better appreciation of artwork displayed in Ambient mode, the enhanced screen contributes to a more lifelike rendering of paper and canvas textures, according to the company.
Pricing and model numbers for Samsung's 2022 TV lineup were not made available.